Cosmopolis: A city inhabited by people from many different countries.

Toronto is arguably the most cosmopolitan city in the world. While statistics help to quantify Toronto's diversity (more than half of the city's inhabitants were born outside of Canada), it is important to hear from the people who make up these statistics.
COSMOPOLIS TORONTO is the culmination of a yearlong journey to photograph 195 Torontonians; one born in every single country in the world.
This series features a portrait of each Torontonian in a location where they feel the most at home, and a second photograph of the participant holding something that connects them to their past.
This project was presented at TEDxToronto, to the United Nations Global Forum in Azerbaijan, and featured in a film by the National Film Board of Canada. It has also been featured widely in the media such as The Globe & Mail, CBC's The National, The Wall Street Journal, and National Geographic.
PAIVASTUN

Born in Kabul, Afghanistan |
First image: My religion is connected to both my cultural background and my birthplace. Toronto is where I found purpose in life and a central part of this involves worshiping my creator.
Second image: This cherished copy of the Quran was given to me by my mother when I left for Canada. My family had moved from Afghanistan to Uzbekistan when I was only a baby, but because of them, I have not forgotten my culture.
ENVER

Born in Berat, Albania |
First image: The Eastern Avenue yard is where, while doing my coop with the City of Toronto, I started my career as a surveyor. I have worked all over the city and have always felt a connection with the CN Tower. That "needle in the sky" has enabled me to orient myself.

Second image: The music that comes from the çifteli, a traditional Albanian stringed instrument, triggers memories from my youth. The distinctive B and E notes are unique to the north and central regions of Albania.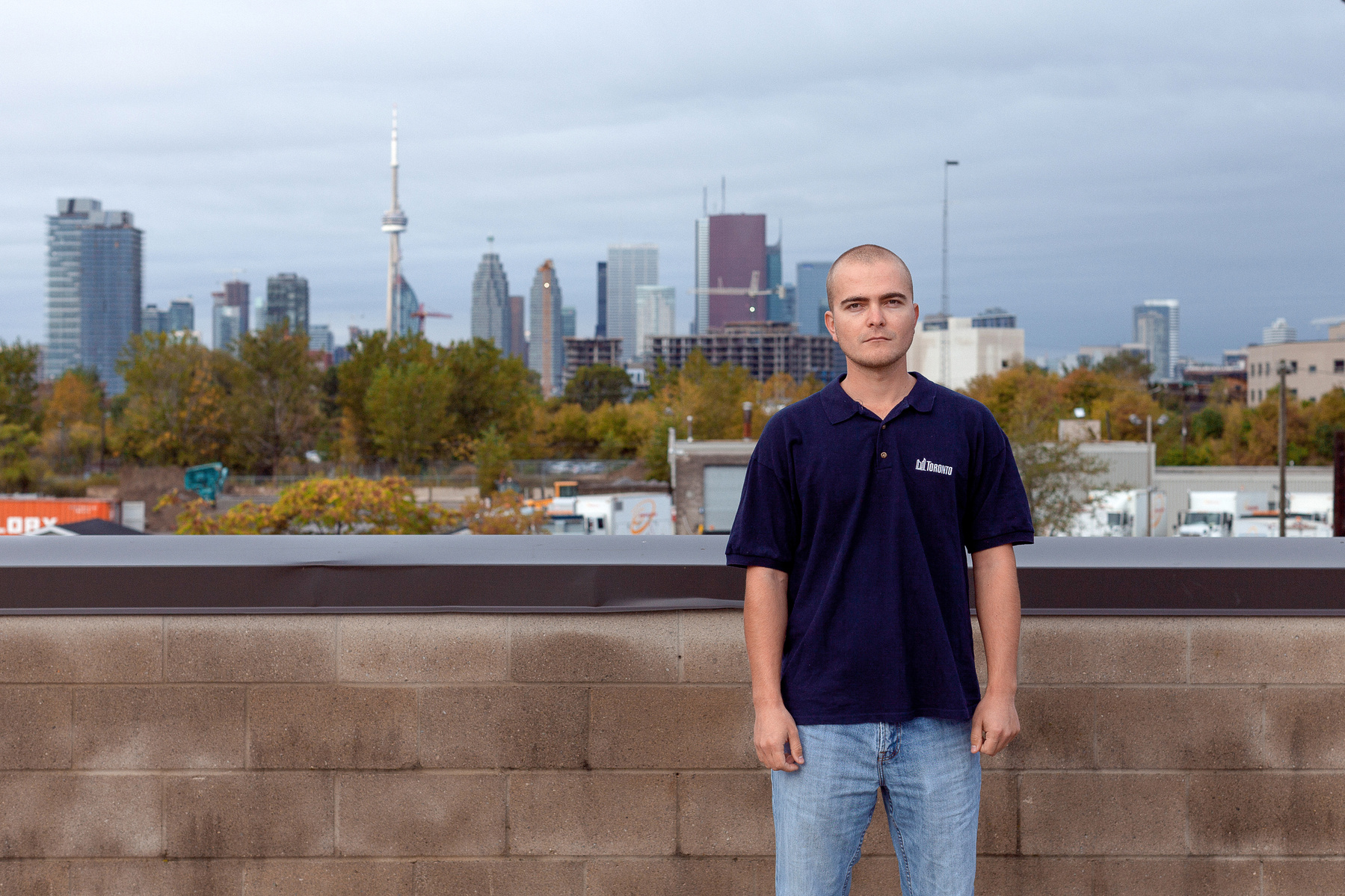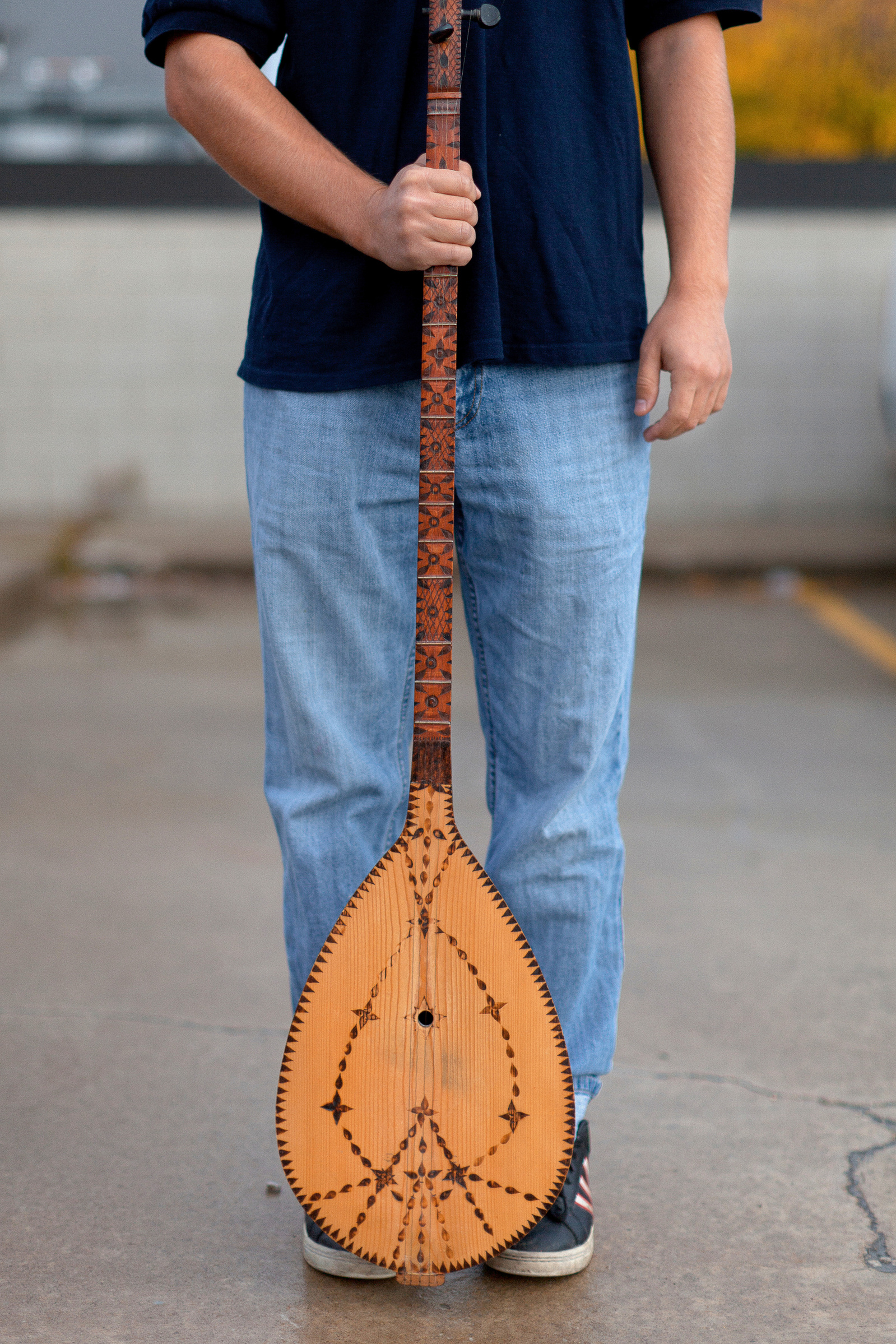 MOHAMAD

Born in Algiers, Algeria |
First image: Woodbine Beach is a special place for me: the spot where I felt my first real connection to Toronto. In the winter I run, and in the summer I cycle here.

Second image: My mother Yemma passed away in 2002. I have many fond memories of her baked goods, especially the Algerian sweet makrout.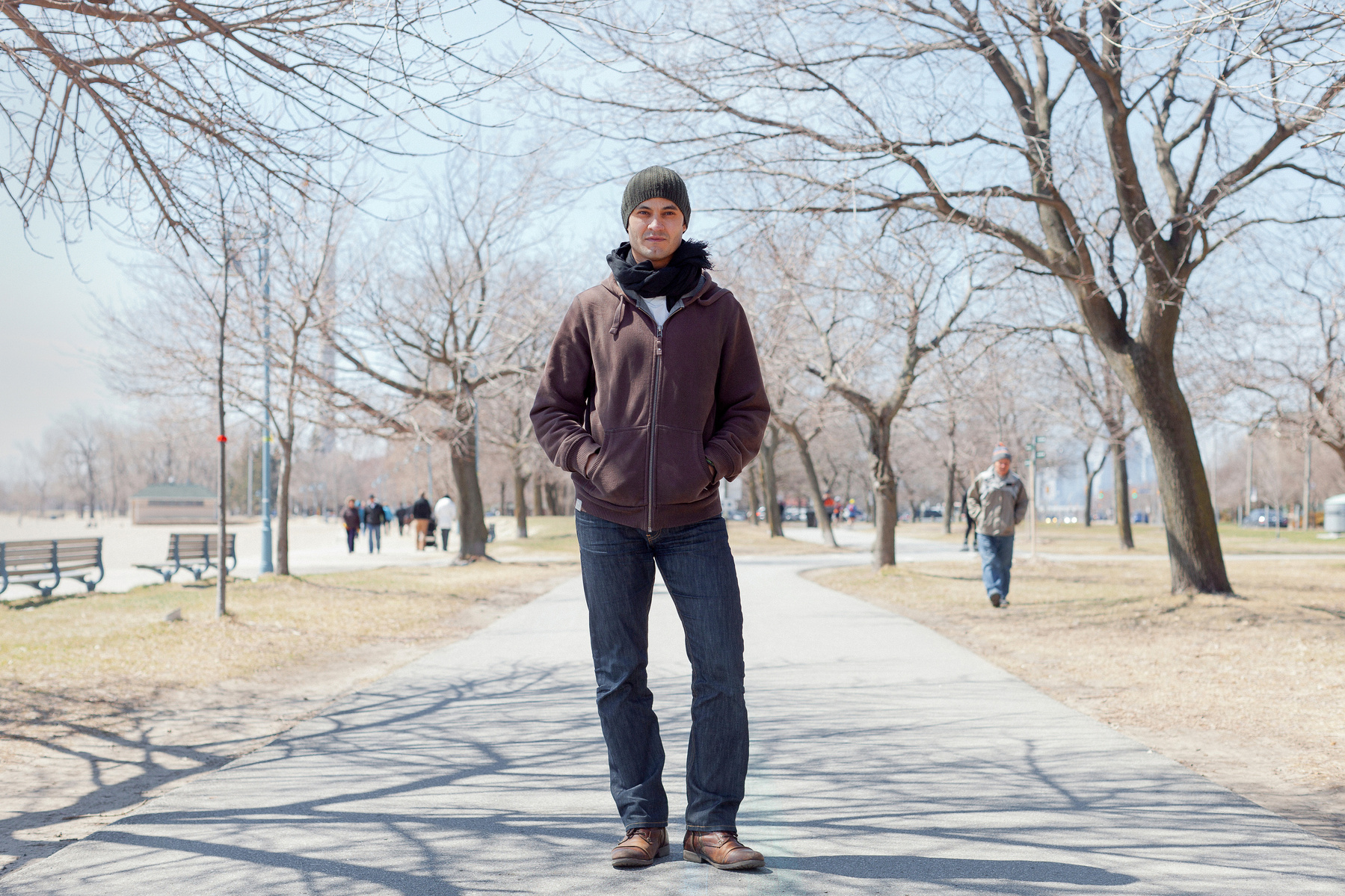 PERE

Born in Arans, Andorra |
First image: I love the wide selection of meats, cheese and produce found at the St. Lawrence Market. It reminds me of markets in France where you go not only for the food, but for the entire sensory experience.
Second image: Other than friends and family, the mountains are the only thing about Andorra that I truly miss. This six hundred ton fragment of the glacial shield in Yorkville is the closest thing I've found to a mountain in Toronto.
GLORIA

Born in Huambo, Angola |
First image: Angola is a basketball-crazy nation. I felt a great deal of pride when the Toronto Raptors had the NBA's very first Angolan player Carlos Morais on their 2014 preseason roster.

Second image: This traditional game called kiela is featured in our Angolan oral history. It is said to be a game of peace that can turn enemies into friends.
CHARLENE

Born in Liberta Village, Antigua and Barbuda |
First image: From the time that I was allowed to ride the TTC bus on my own, I would make the trip to the Scarborough Bluffs to sit and watch the waves. Being here with my family, allows me to appreciate how joyful and grounded my life is.
Second image: At Toronto's Caribbean festival Caribana, umbrellas like this are a great way for other Antiguans to spot us. This simple item has provided my family with many special opportunities to meet and connect with other Antiguans who've also made Toronto their home.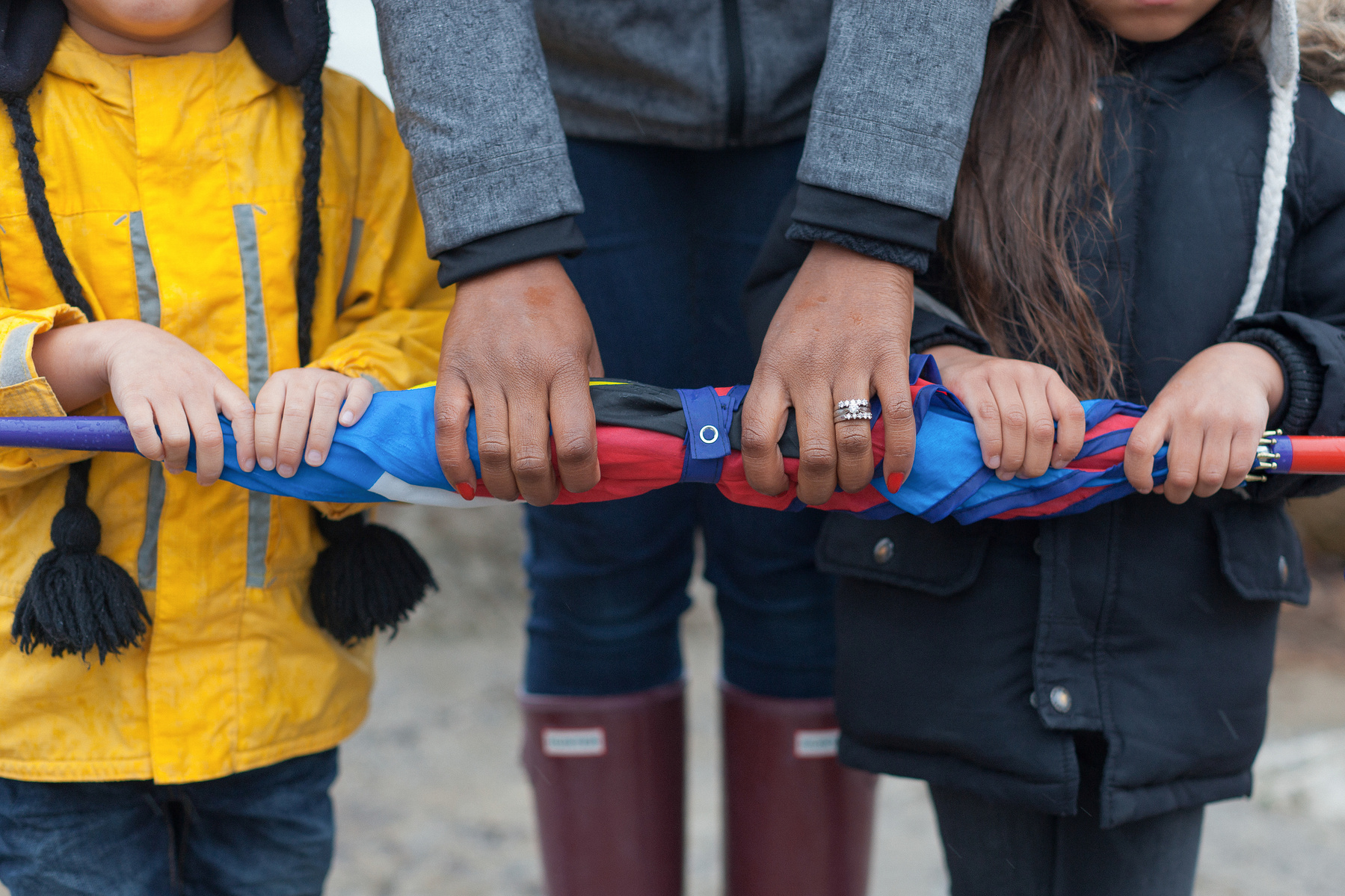 VALERIA

Born in Cordoba, Argentina |
First image: The fact that Toronto is where I brought my son into the world, makes it truly feel like home. Trinity Bellwoods Park is where we have had many happy moments playing together and picnicking on a polka dot blue mat.
Second image: Food connects me to my roots in Argentina. I cherish the stories my grand-mother shared with me in the kitchen while making empanadas.
LILIT

Born in Spitak, Armenia |
First image: The Holy Trinity Armenian Apostolic Church is where I discovered the meaning of multiculturalism. At this church I have met Armenians from many diverse cultures and learned that people can still keep their roots intact as they integrate into the Canadian one.
Second image: Every time I have lavash (flatbread) it reminds me of both the small family meals and the big feasts that I had back in Armenia. Everyone would be eating, chatting and laughing while sharing one big lavash.
EMILY

Born in Gunnedah, Australia |
First image: Every day since I came to Canada as an exchange student, I have walked through this beautiful forest on my way to school. As a "country girl", I enjoy being outside.
Second image: I have written in my diary every day since arriving in Canada. Sometimes I sketch to capture a particular scene. I drew this entry one morning when I was on holiday in Newfoundland, sitting on the jetty and looking out over the vast ocean.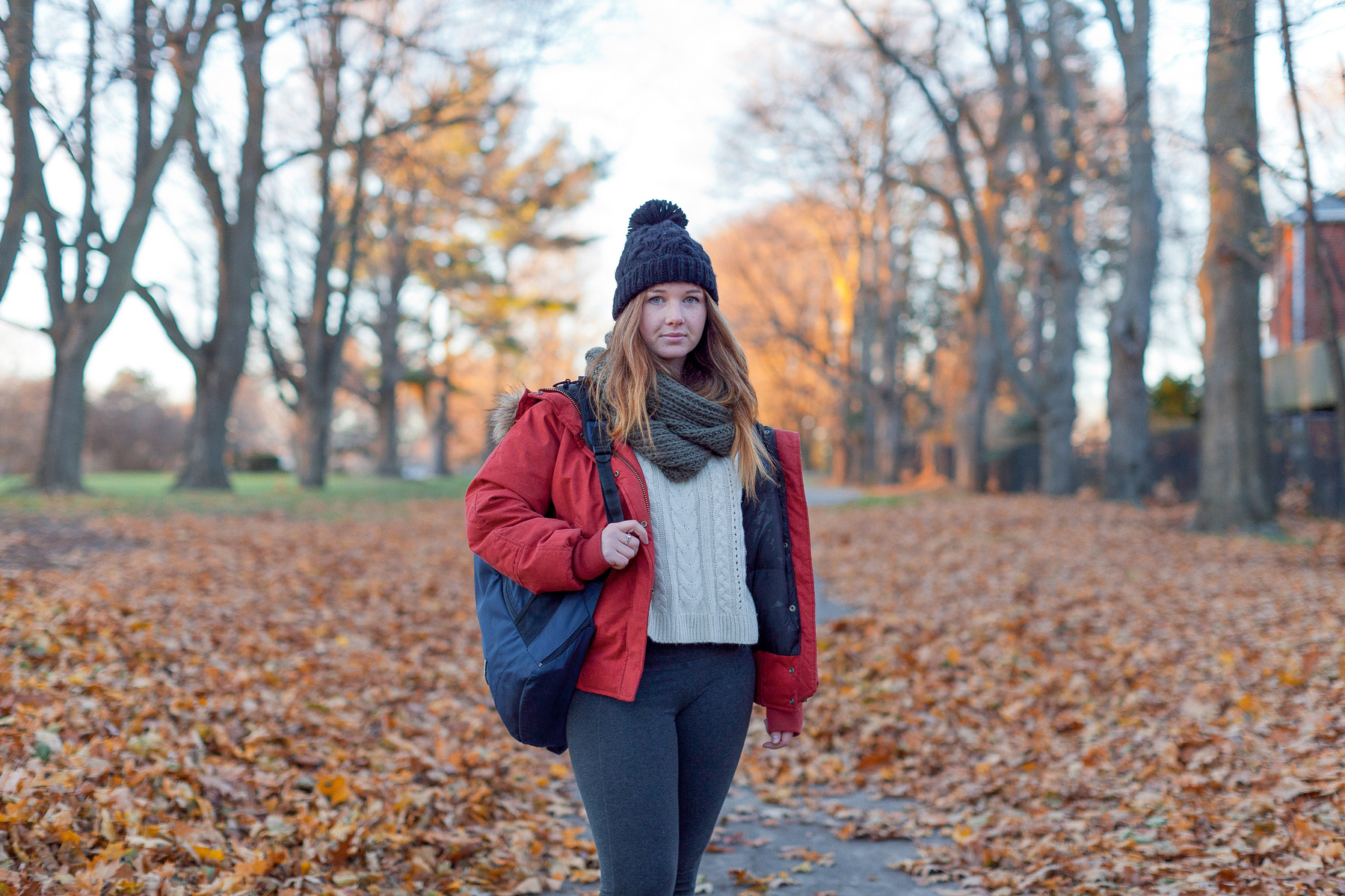 ELI

Born in Vienna, Austria |
First image: After losing most of my family to the Nazis and escaping my own persecution, I managed to get my first job in Canada at a Toronto music store. I went on to become a well established guitar instructor in this city. In my studio I have taught some of this country's notable talents such as Jesse Cooke and Liona Boyd.
Second image: In 1939, when I escaped during the Holocaust, I had with me one item of great personal value: my steel string guitar. This instrument has been a constant companion.
LEILA

Born in Baku, Azerbaijan |
First image: I'm pleased knowing that the bouquets I make will bring a smile to someone's face. Being continually surrounded by the flowers in the shop makes me feel happy, calm, and as if I'm exactly where I belong.
Second image: Recently I went back to my home-town Baku, with my brother. While there we discovered a shop selling unique floral arrangements. That is where we got the idea for our Toronto business Toy Florist where we now make everything from flower teddy bears to flower penguins.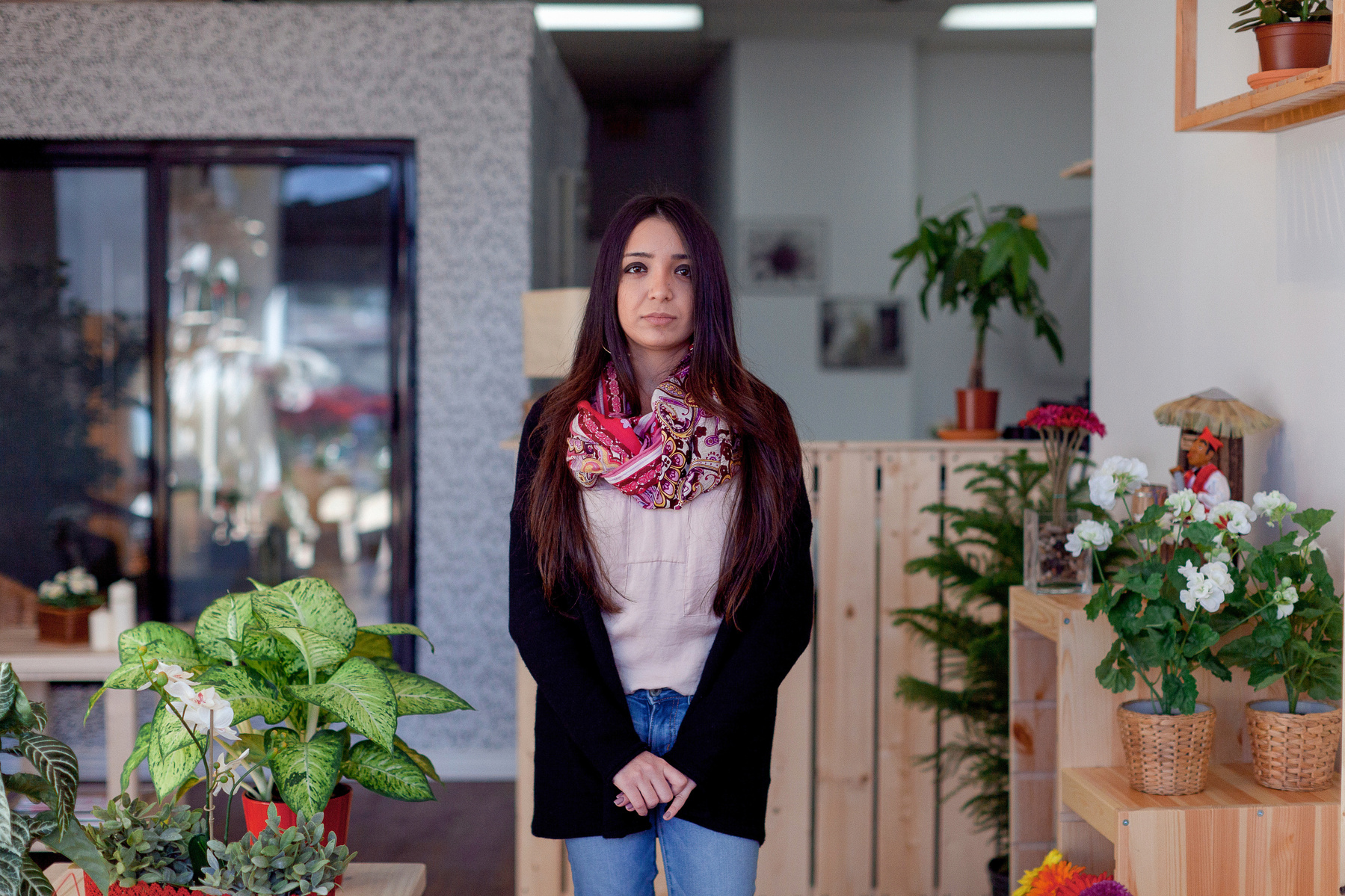 DESIREE

Born in Grand Bahama Island, Bahamas |
First image: My first apartment was down the street from the Art Gallery of Ontario. Since then, I always purchase an annual membership to the AGO and consider it my favourite spot in the city.
Second image: The house where I was born was located in Bootle Bay. Looking at this photograph triggers memories of a happy time in my life, and of the incredible natural beauty of the Bahamas.
NIYA

Born in Manama, Bahrain |
First image: While studying at the University of Toronto's St. George campus, I developed my sense of self, the ability to think critically and strategically, my passion for active and involved citizenship, my voice as a leader, and the lens through which I now view the world.
Second image: This book of handwritten recipes represents three generations of women who all left their home countries in search of a better life.
NADIA

Born in Dhaka, Bangladesh |
First image: Venturing off into the world to live on my own has been quite a journey. I feel comfortable riding the subway and knowing that other immigrants are also here.
Second image: My aunts in Bangladesh spent six months making this blanket. These are usually gifted when one marries, but I got mine early as they've sort of given up on me.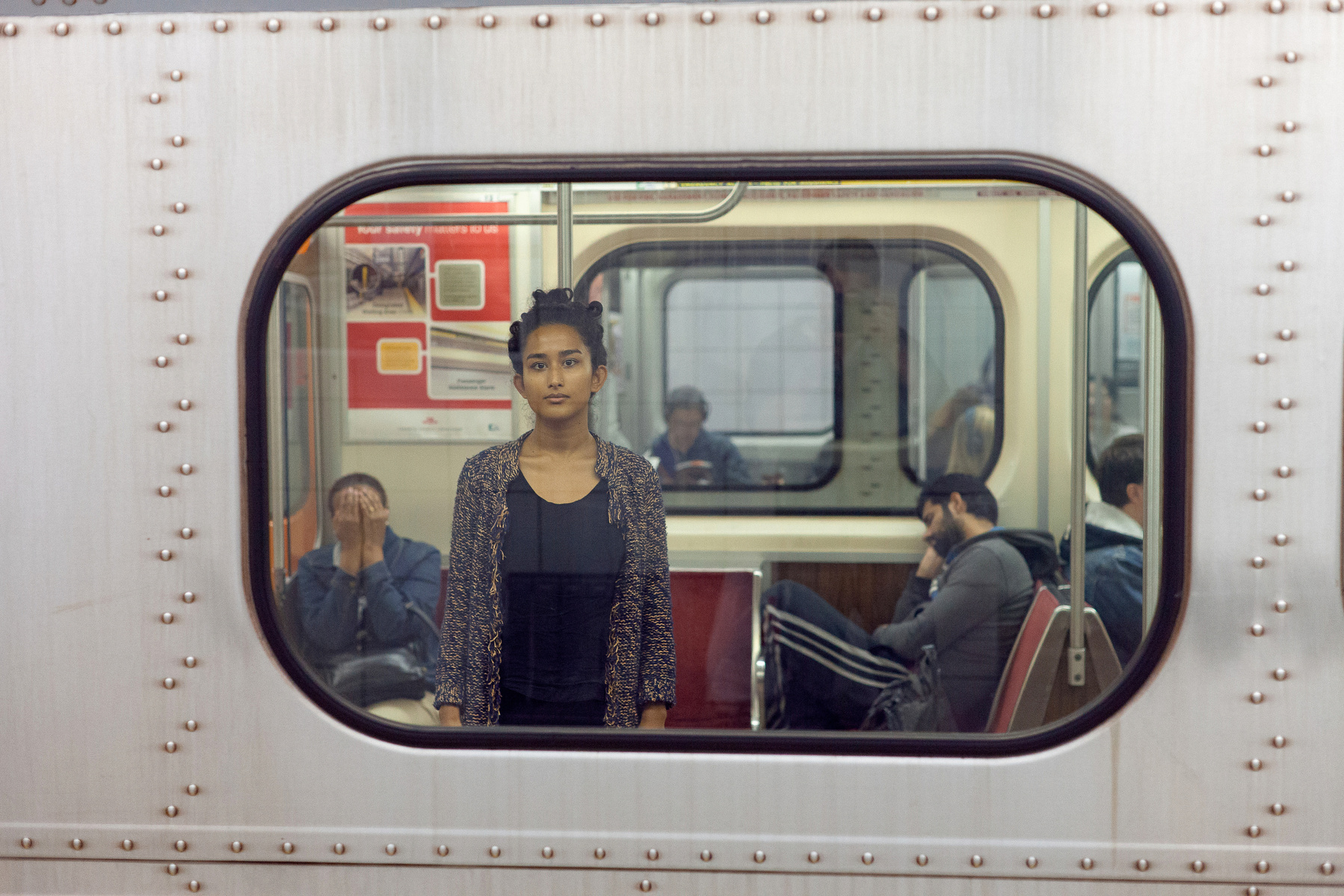 JAMIE

Born in Bridgetown, Barbados |
First image: My husband Jay and I married at the Steam Whistle Brewery. We had over two hundred Canadian and Bajan family and friends celebrate together with us on our special day.
Second image: My ancestors started Mount Gay Rum, the oldest existing brand of rum in the world. The business is no longer in my family, but it still ties my history to the islands.
ANYA

Born in Bobruisk, Belarus |
First image: Although it is nice to have the hustle and bustle of the big city when I want it, it is when I am in my condo by the lake that I get my cherished cozy downtime.
Second image: In Belarus, every household seems to have Russian nesting dolls on display and it was always easy for me to ignore them. Here in Toronto I appreciate their uniqueness and what they represent.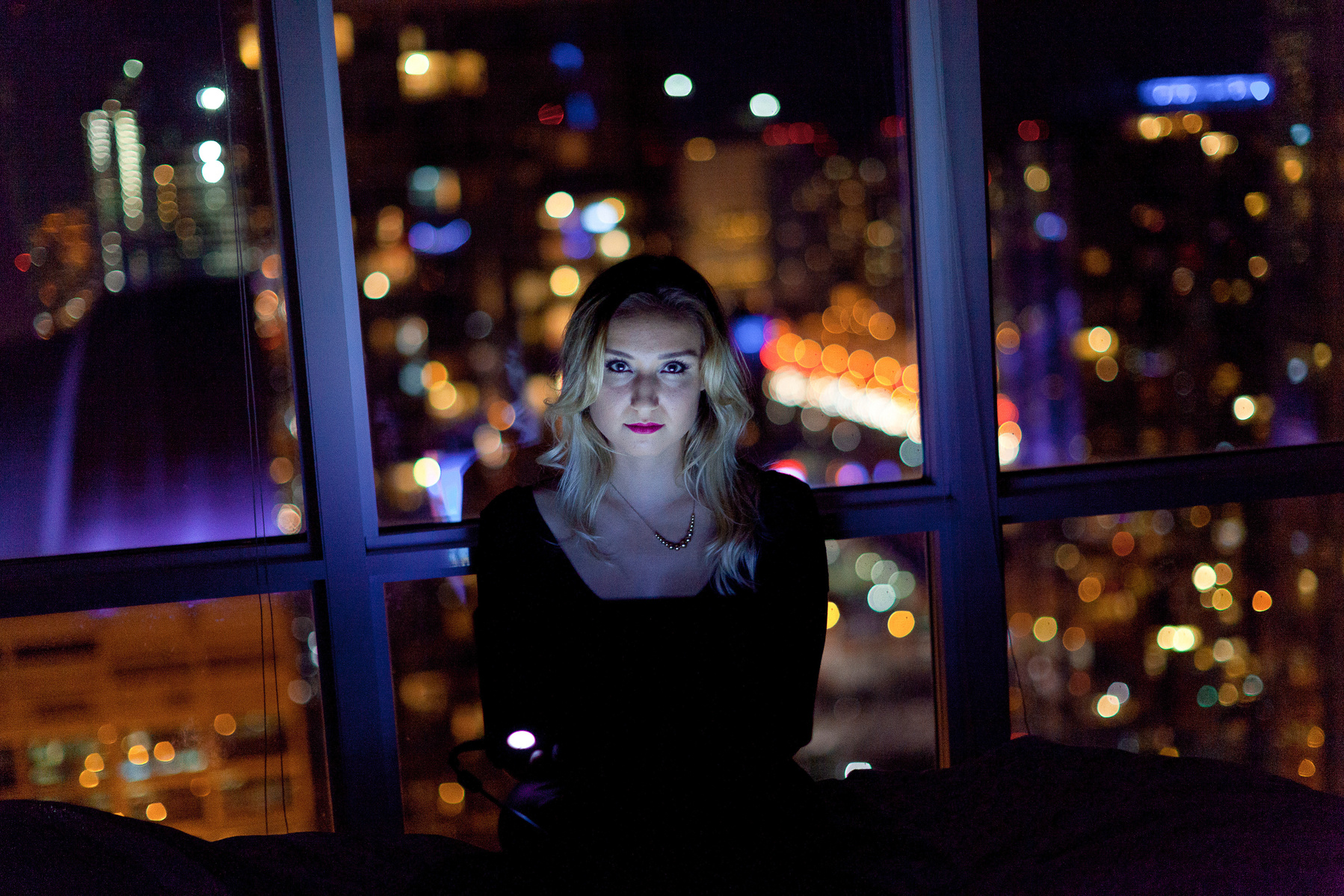 BRUNO

Born in Brussels, Belgium |
First image: As a pastry chef and chocolatier, I have a special connection to many kitchens; but I feel most comfortable and at peace when I am in my own.
Second image: I love the music of Belgian singer-songwriter Jacques Brel, a master of the "modern chanson". His songs are deep, lyrical and true.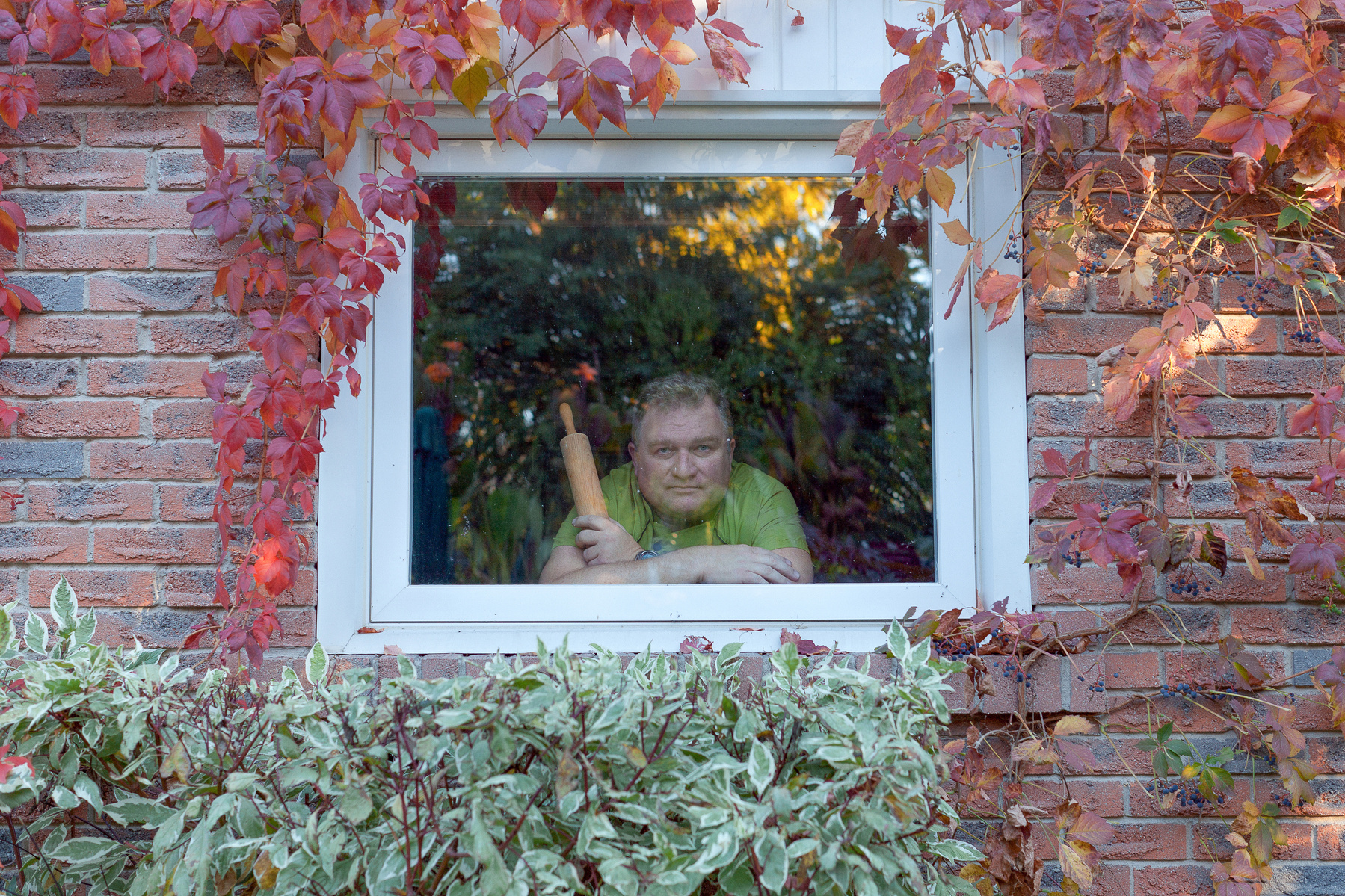 ADRIAN

Born in Belize City, Belize |
First image: Every time I pass by the Daniel Lamb house in Cabbagetown, it reminds me of my birth country. The architectural style is similar to houses in the old part of Belize City and the colours are reminiscent of those on the Belizean flag.
Second image: A few years ago I bought a pair of tree photo holders for portraits of those near and dear to me. One of these trees is here in Cabbagetown and the other stays in Belize. Like a tree, I remain rooted to where I came from. Life may change me, but my journey begins and ends with my family.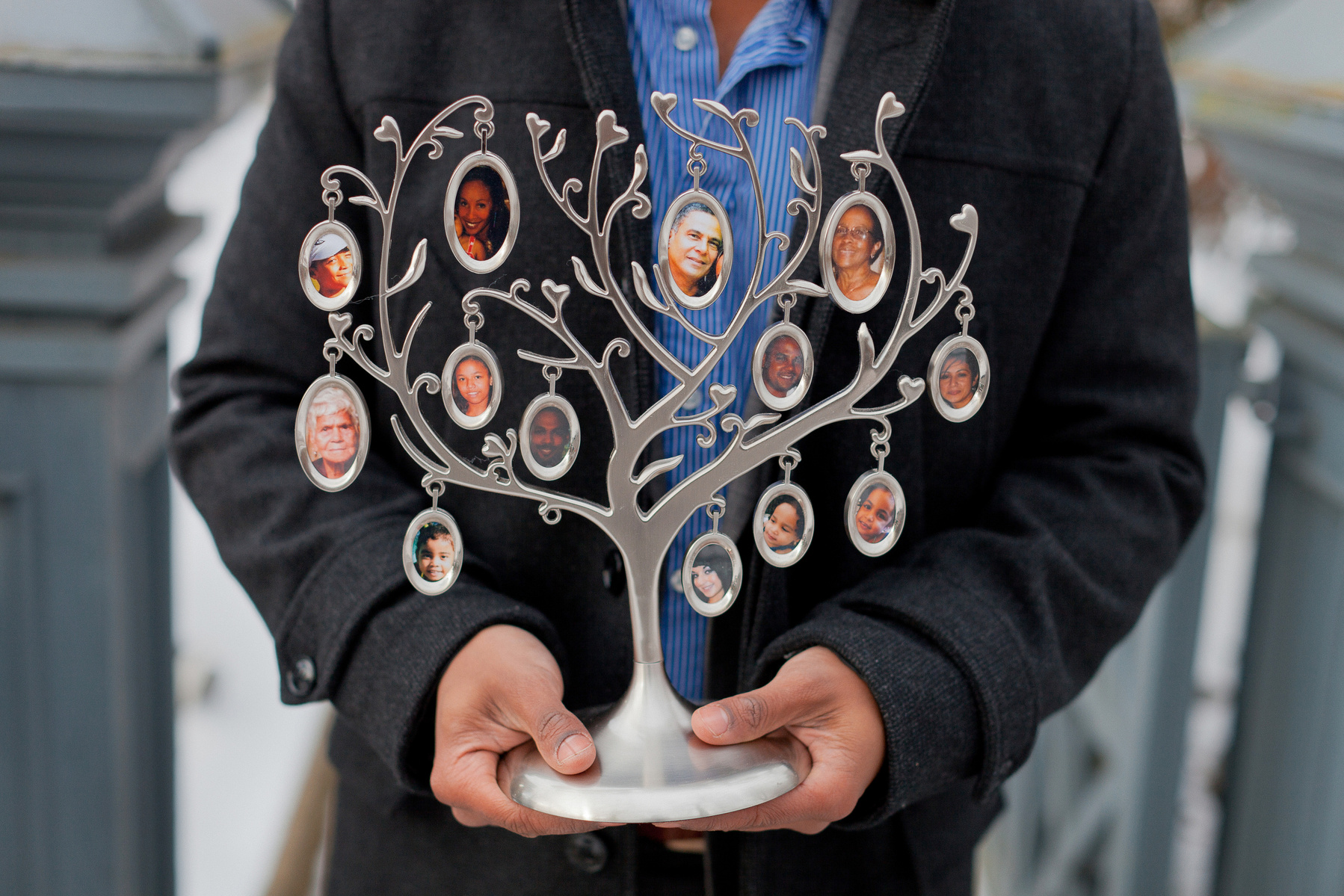 YUSSUF

Born in Cotonou, Benin |
First image: York University is where I have been able to pursue my goals. I have gained confidence, leadership skills and lifelong friendships here.
Second image: This handmade cloth map of Africa from my mother is written in French, my first language. I love how colourful it is, just like Africa.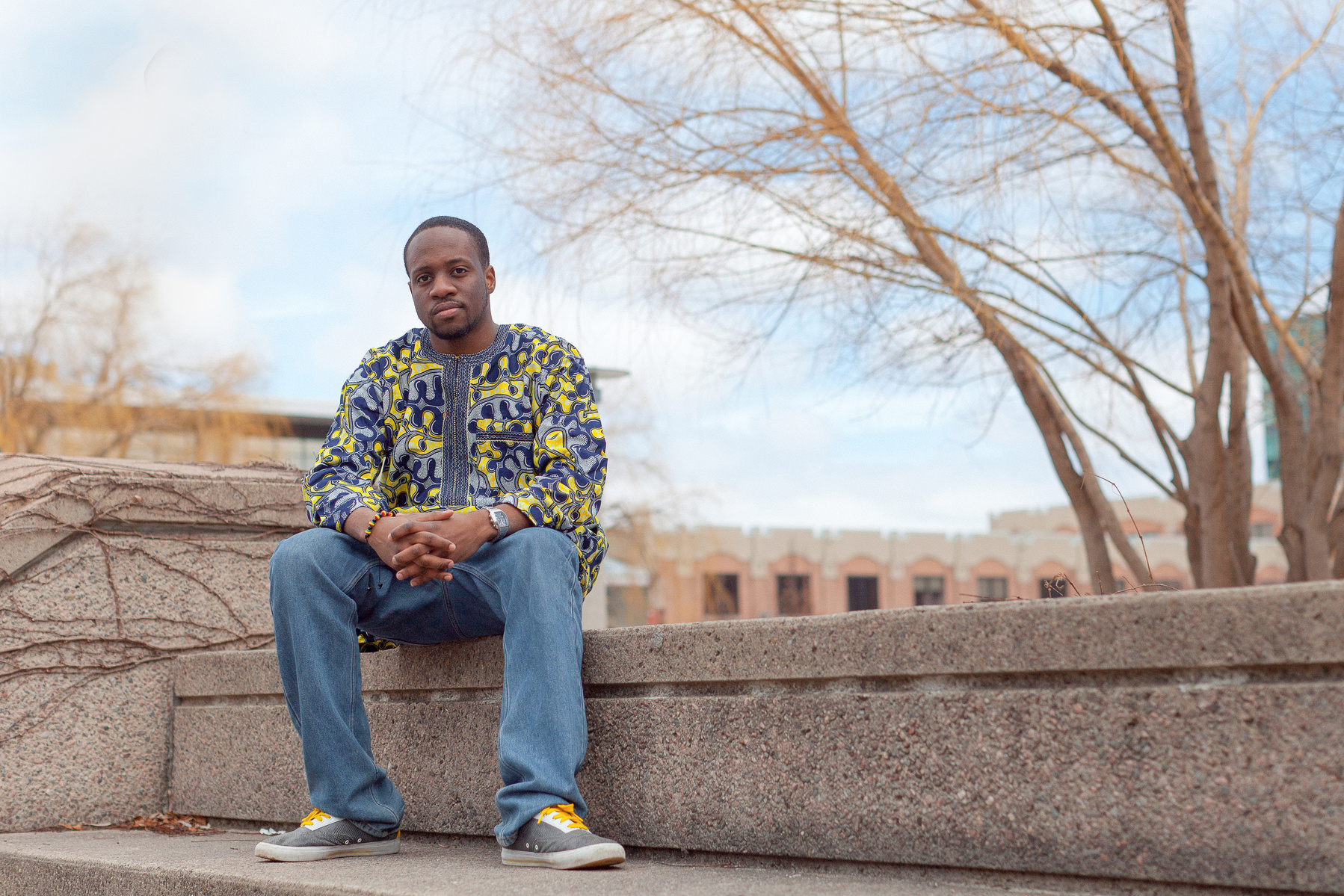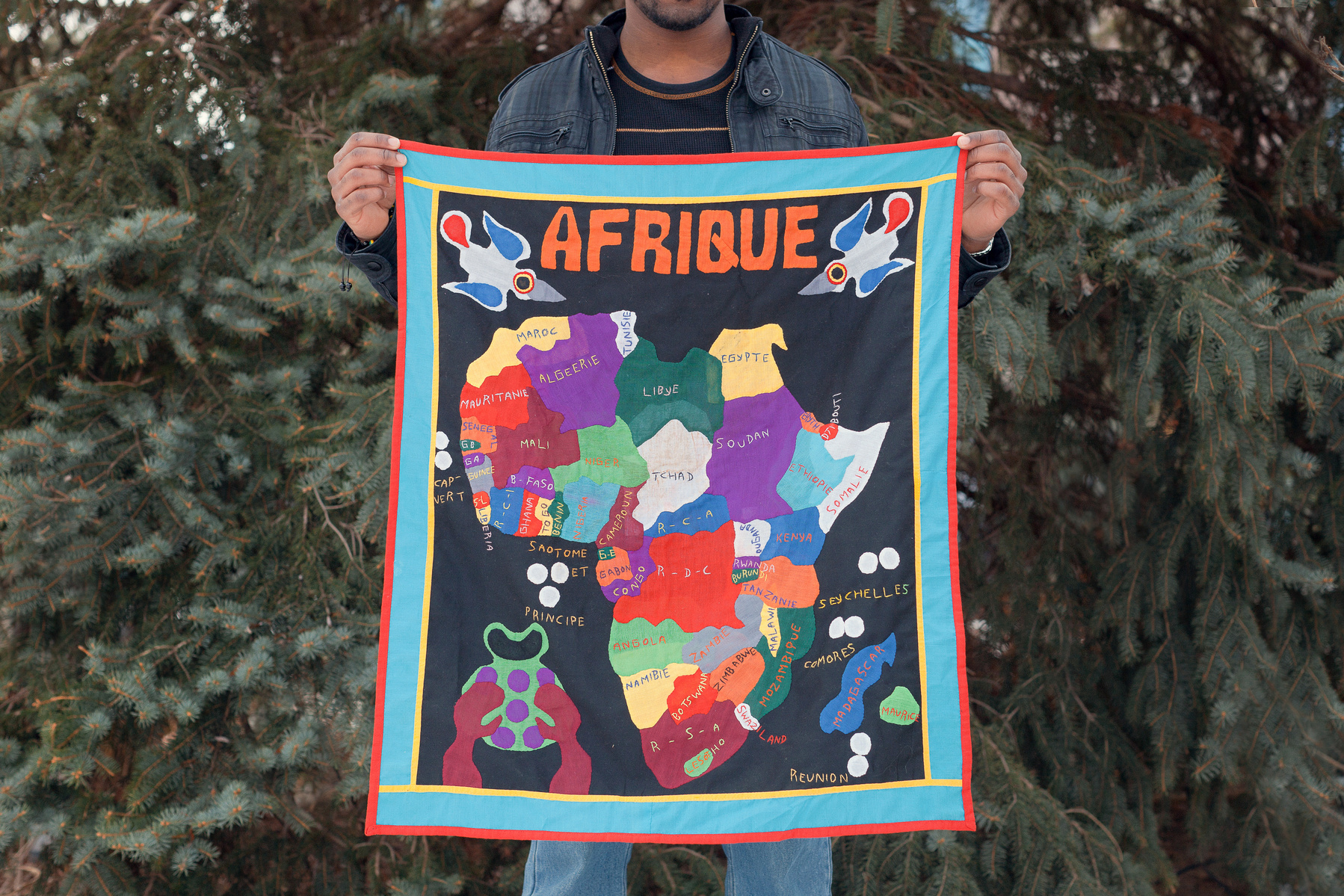 TSHELTRIM

Born in Thimphu, Bhutan |
First image: Mimico Waterfront Park in Etobicoke was one of the first places I visited after coming to Canada to be with my mother. Since then, I have spent a lot of time sitting by the lake reminiscing about all of the places and people I left behind in Bhutan.
Second image: This small dish made of bamboo sticks was once used for food, but now it is a decoration in my mother's house. Seeing this reminds me of old Bhutanese movies and the father I miss dearly.
DIANA

Born in Cochabamba, Bolivia |
First image: The University of Toronto's Convocation Hall reminds me of why I came here: to get a degree and make me and my mother proud. It also happens to be where I met my boyfriend.
Second image: The alpaca poncho brings back memories of my childhood and spending time with my mother. I see the poncho as a symbol of protection, love and identity.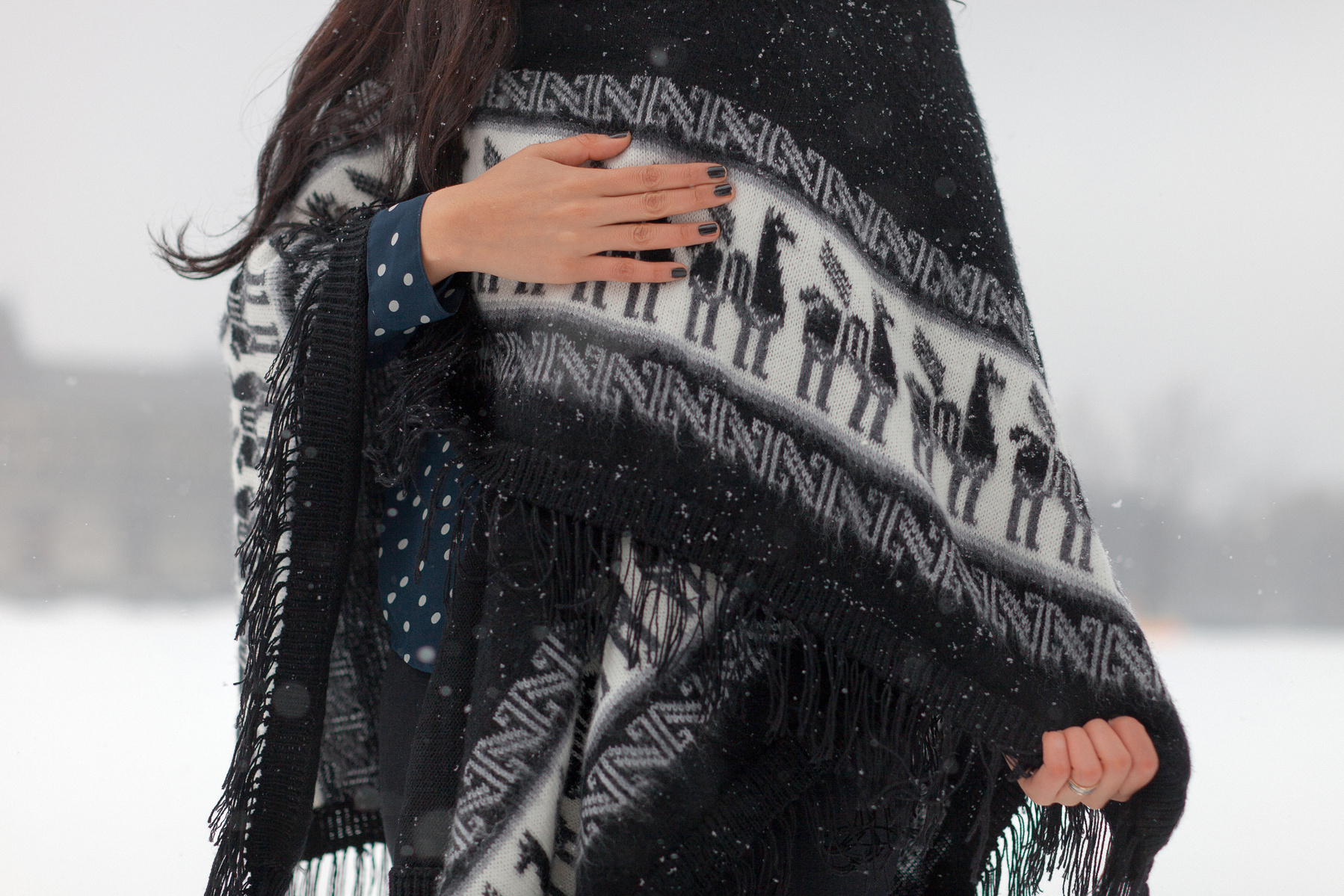 MARKO

Born in Prijedor, Bosnia and Herzegovina |
First image: The Women's College Hospital is a special place for me. Five years ago I spent a great deal of time here with my mother, who I lost to ovarian cancer. This experience made me want to work as a pharmacist in a place that focuses on women's health.
Second image: This old book of pharmaceutical compounds was handwritten by my mother and grandmother. The book uses many local herbs found in the region where I was born and as a pharmacist, I find it fascinating.
MELVYN

Born in Mochudi, Botswana |
First image: I am grateful knowing that each morning when I wake up in her apartment, my mother— a woman who fought for me to come to Canada after I lost my brother—is around.
Second image: My late brother Gert was never able to visit Canada. I will always remember him as a loving, caring, and protective sibling.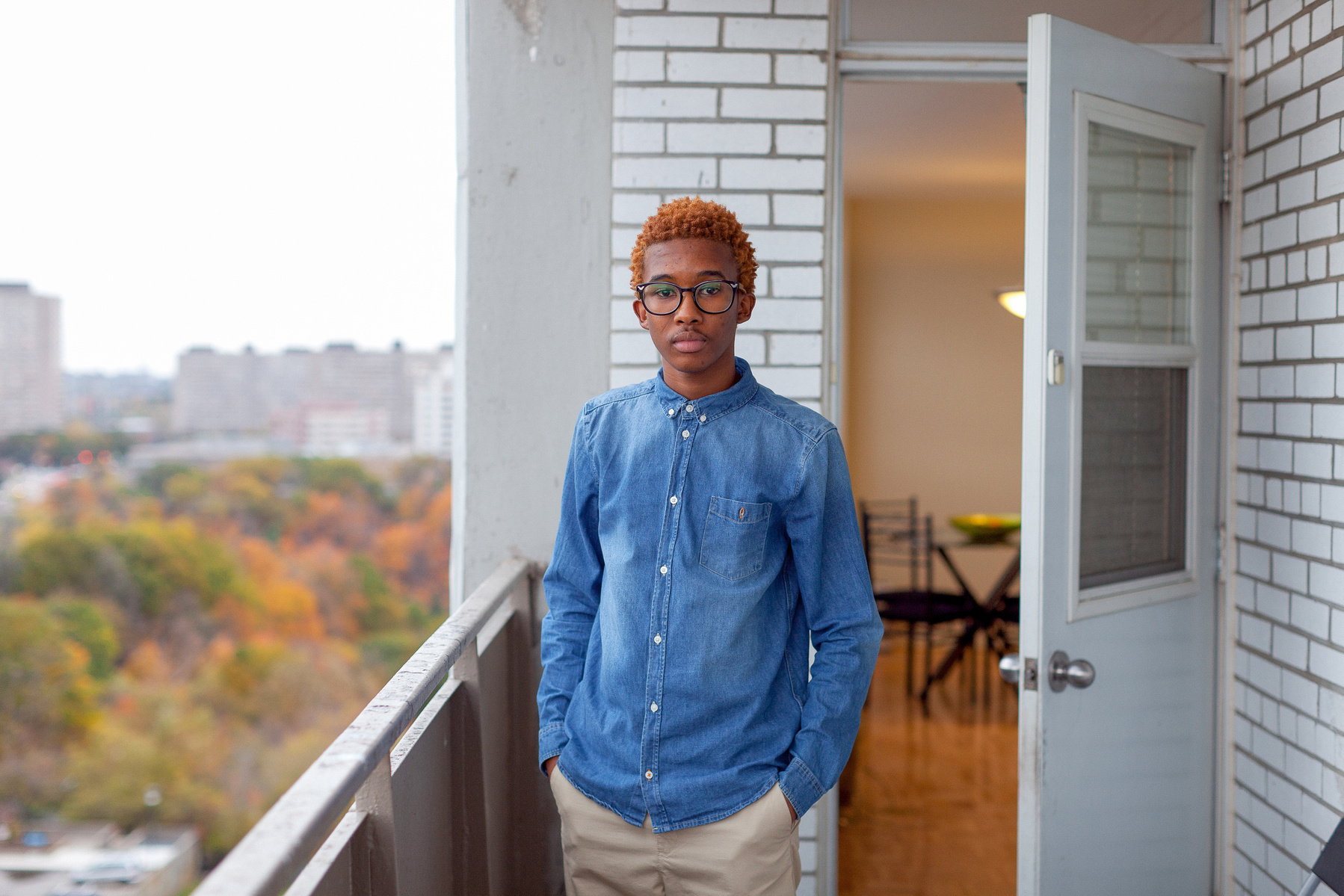 DIOGO

Born in Rio de Janeiro, Brazil |
First image: To travel from my house to work I take three buses, spending a total of three hours on public transportation. Even though I have a car, I prefer the TTC and consider it luxurious when compared to public transit in my hometown of Rio de Janeiro.
Second image: Many Brazilian households have a bottle of cachaca, which along with sugar cane and lime make up our national drink caipirinha. I'm saving this bottle for the celebration of the birth of my first child.
FARABI

Born in Bandar Seri Begawan, Brunei Darussalam |
First image: My first job in Toronto was in Little Italy working as a busboy at the famous Café Diplomatico. I've now worked my way up to serving and bartending. The loyalty of the customers and the café's history make it a special place to work.
Second image: On the final day of class at Jerudong International School in Brunei there is a tradition of getting a white shirt signed by fellow pupils and teachers. This shirt holds for me, memories of the special people I connected with while in Brunei.
INNA

Born in Plovdiv, Bulgaria |
First image: I arrived in Canada at the age of eight. One of my prominent childhood memories is of my mother taking me to the RC Harris Water Treatment Plant to explore. It may just be a coincidence but today I teach Geography and I'm particularly interested in water systems.
Second image: When I was born, my grandmother selflessly retired early to take care of me and for that, I'm very grateful. I feel lucky to have been raised with the love and support of my grandparents who taught me many valuable lessons that helped shape me into the woman I am today.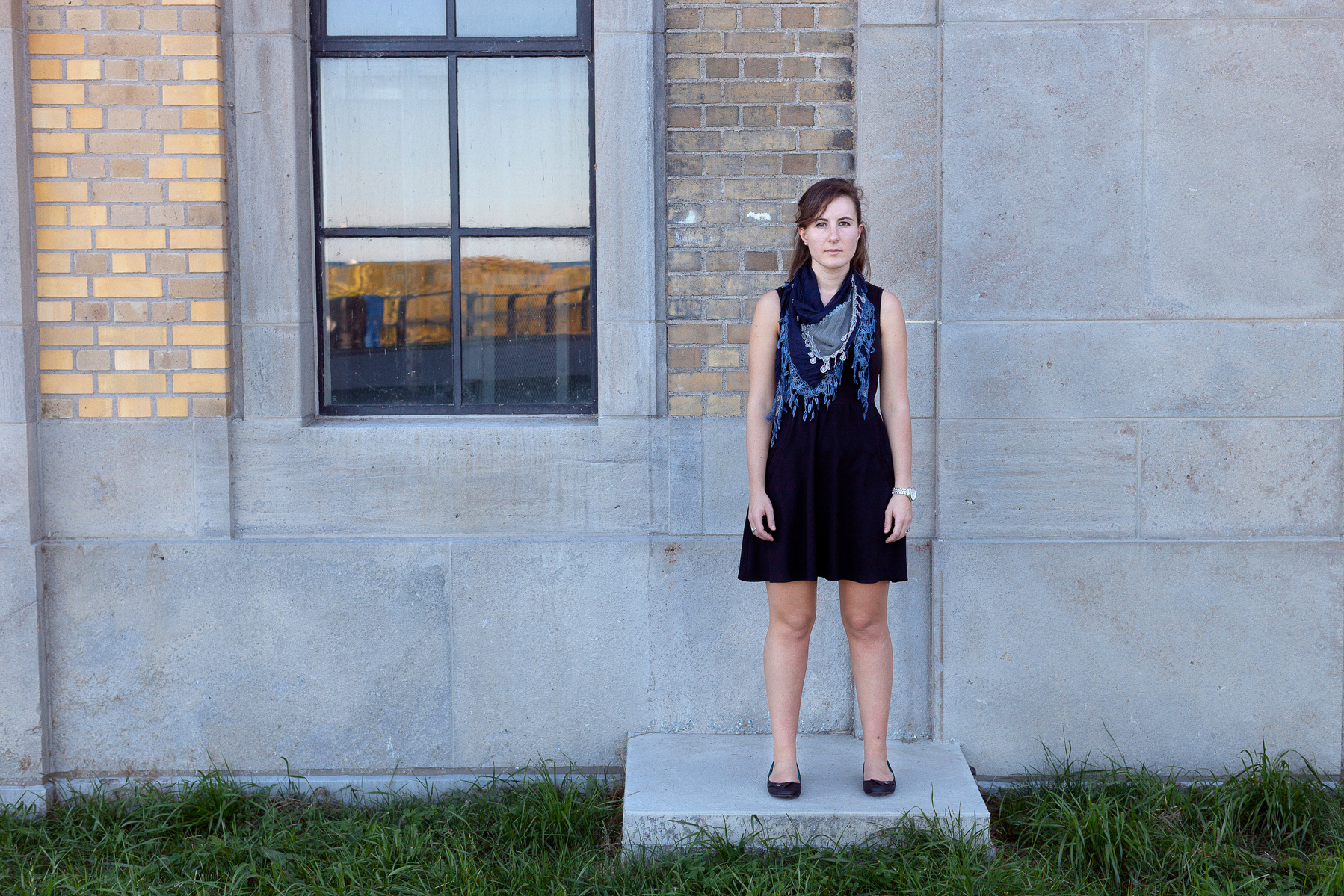 MICHAEL

Born in Ouagadougou, Burkina Faso |
First image: The Toronto Kickboxing and Muay Thai Academy is like my second house and family. I discovered my love for this martial art in Toronto, and I now teach Muay Thai two nights a week.
Second image: When I say I'm from Burkina Faso, people often say: "Where? What? Never heard of it before!" For that reason I proudly hold the flag, and try to be an
GRACIELLA

Born in Bujumbura, Burundi |
First image: I came to Toronto as a refugee with dreams of playing the guitar and being a youth pastor at a church. I set out to make this a reality.
Second image: This wooden item represents Burundi's culture of honour and servanthood. My brother gave it to me so I would never forget the place I come from.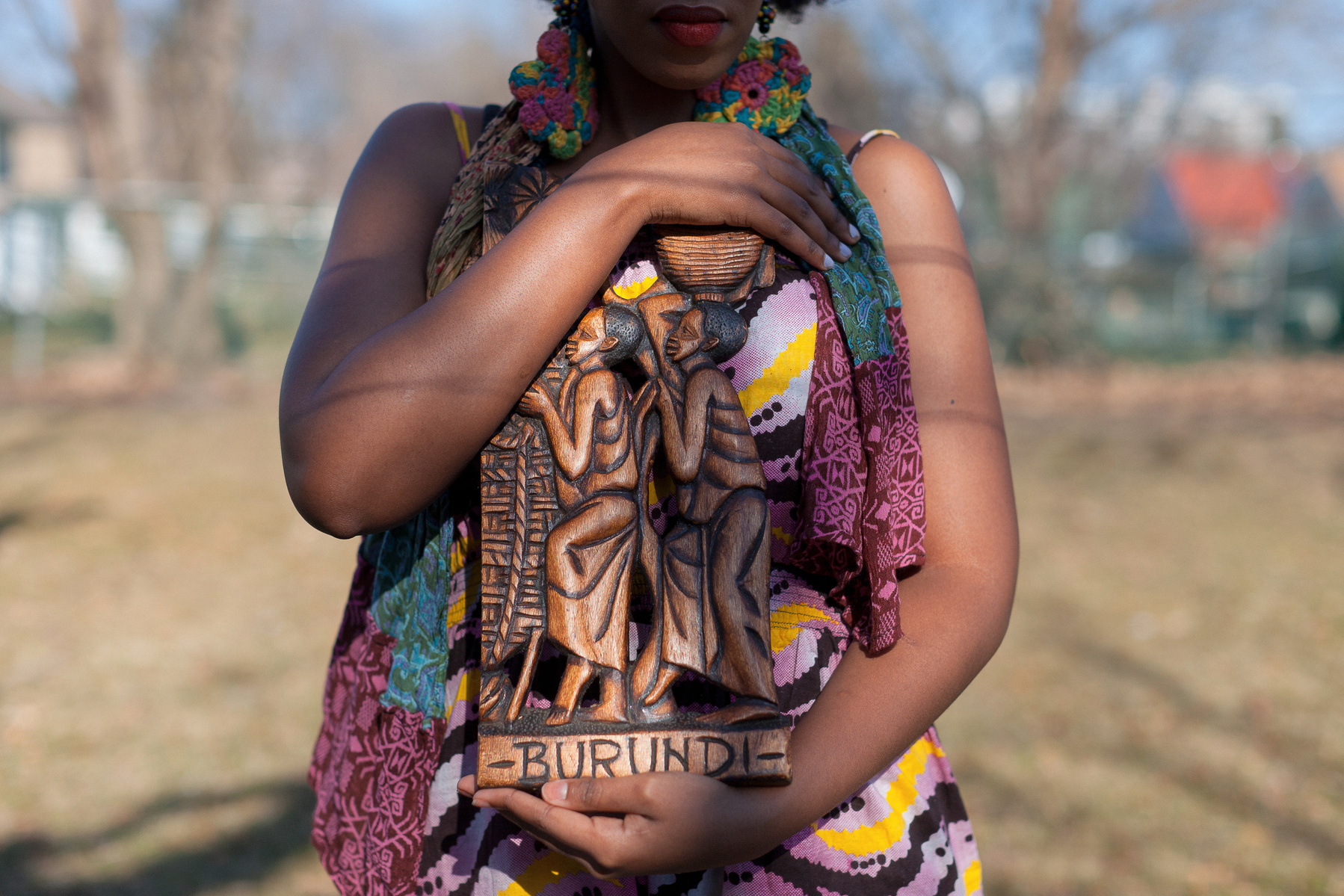 JEAN

Born in Abidjan, Ivory Coast (Côte d'Ivoire) |
First image: My basement office in Milton is full of my collection of instruments and posters from shows I have organized as the founder/artistic director of Akwaba Cultural Exchange.

Second image: The djembe is a drum made in Ivory Coast from a hollowed out tree trunk. I believe that music is essential to education and it is through song that African children learn history and morality. In traditional African society, there are no expressions of joy without rhythm.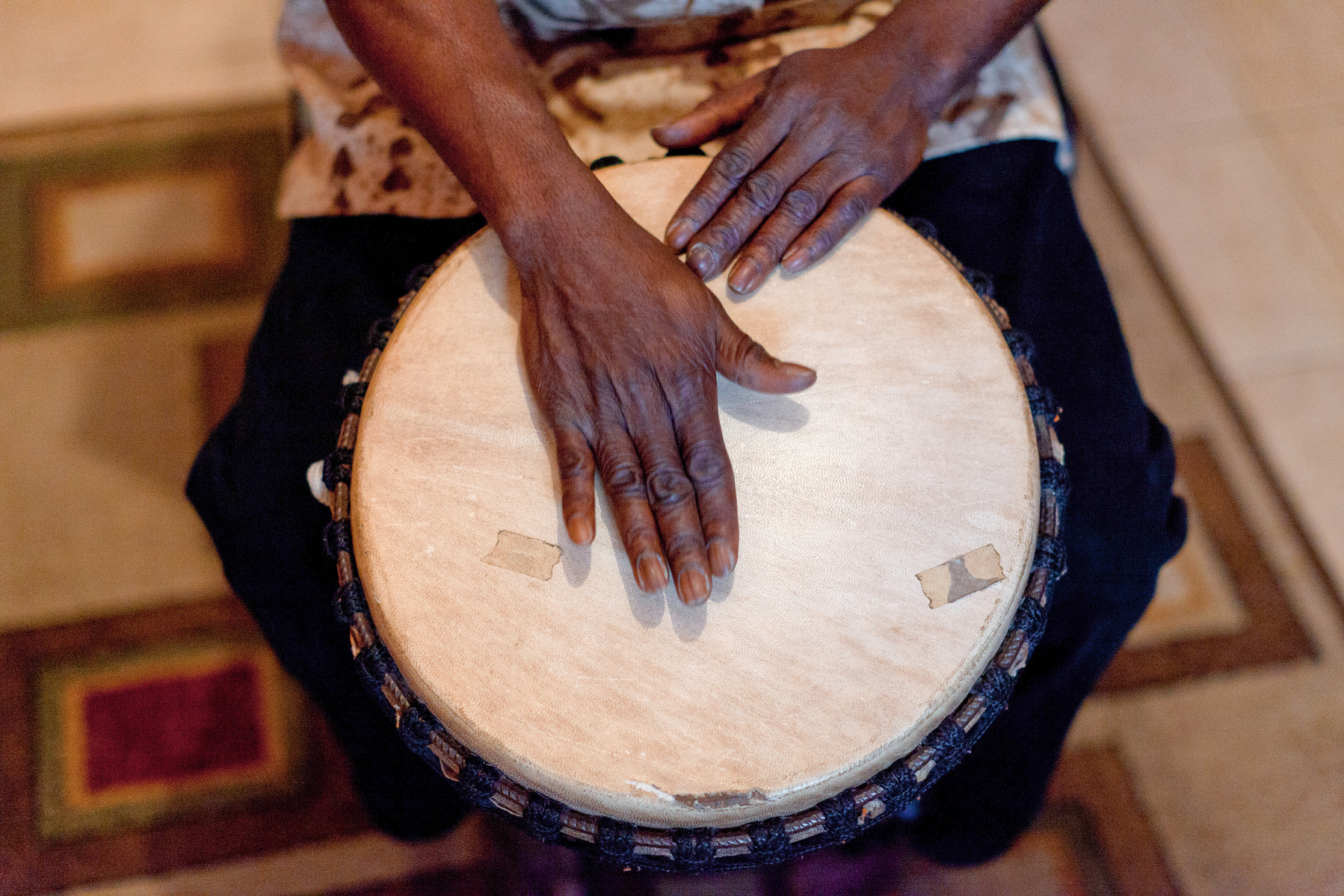 ADELTON

Born in Praia, Cape Verde (Cabo Verde) |
First image: Glendon College's Hilliard Residence, where I lived upon arriving in Canada, reminds me of the emotion I felt when I decided to remain here. I love how Toronto and its many cultures allow me to be as noticeable and as invisible as I choose.
Second image: I only have this one picture of my late mother, Maria da Graça. Having my daughter hold this picture with me represents the continuation of this Cape Verdean family, now living so far away.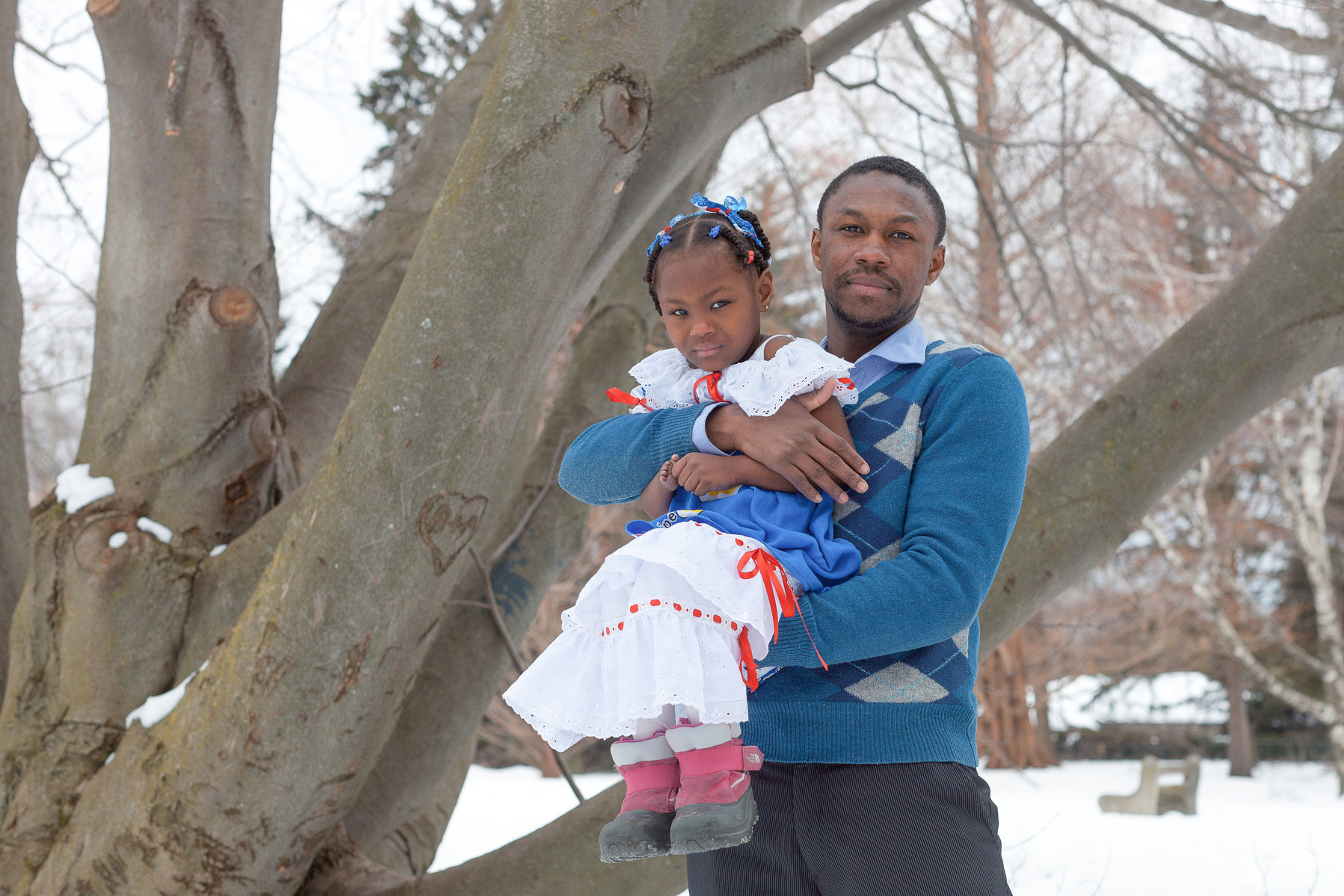 SOKHANY

Born in Pursat, Cambodia |
First image: My brother Sovatana and I were both adopted by Barbara, a Canadian woman. I'm now studying Organic Agriculture, and inspired by the vegetable garden behind our home. It is a place where neighbours can share the produce they grow. One day I hope to educate Cambodian farmers on how to improve their farming techniques.
Second image: My brother is an irreplaceable connection to my past. I left Cambodia with him, and we have been together ever since. When we arrived in Canada, we may not have had any friends, but we always had each other.
MICHELE

Born in Yaoundé, Cameroon |
First image: One week after moving to Toronto I discovered the Runnymede Community Church. It is where I made my first Torontonian friends, learned many things about Canada, and have been able to improve my English skills.
Second image: My mother taught me how to make deep fried plantains and red beans. It's through Cameroonian meals that I keep my origins, and revive important memories.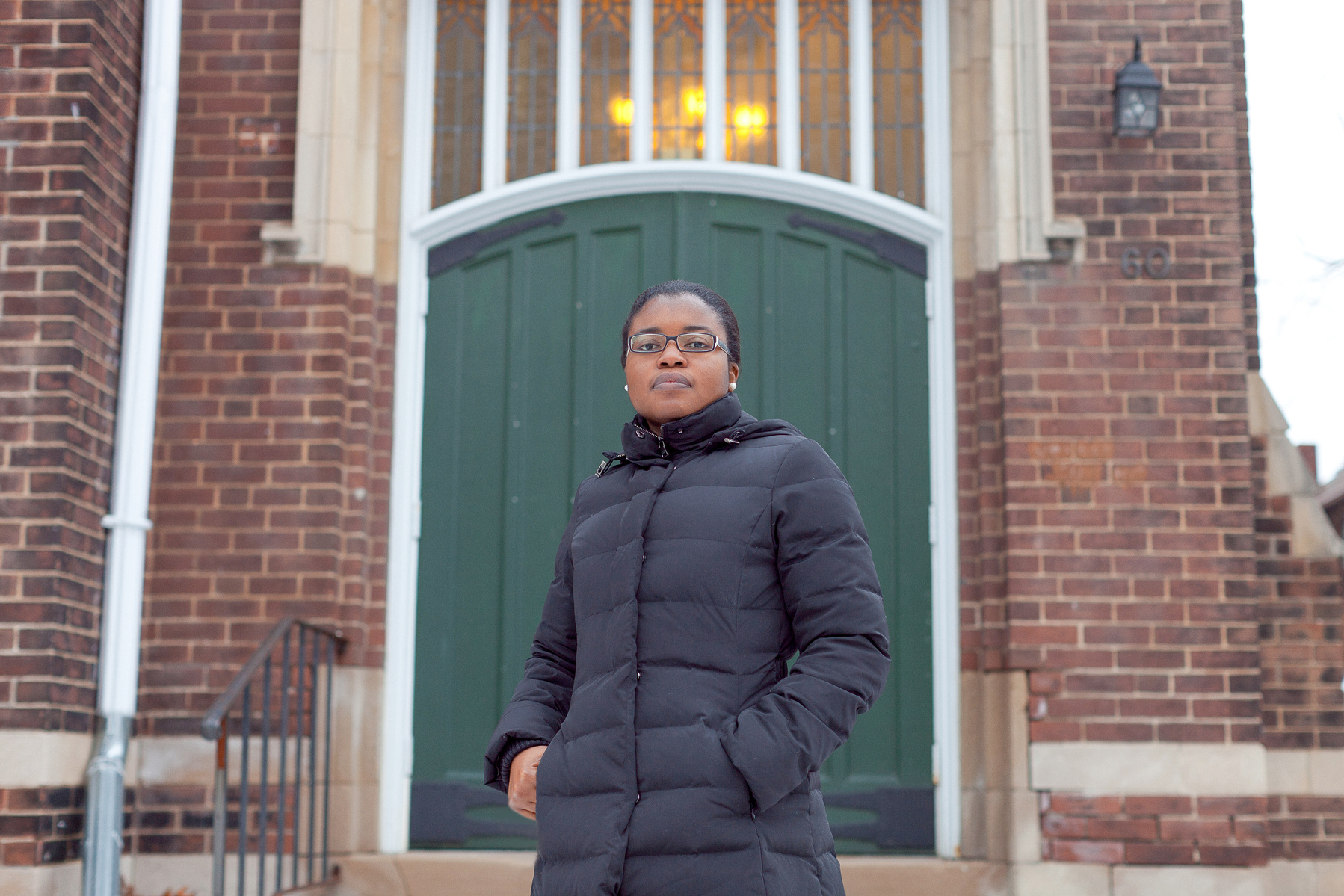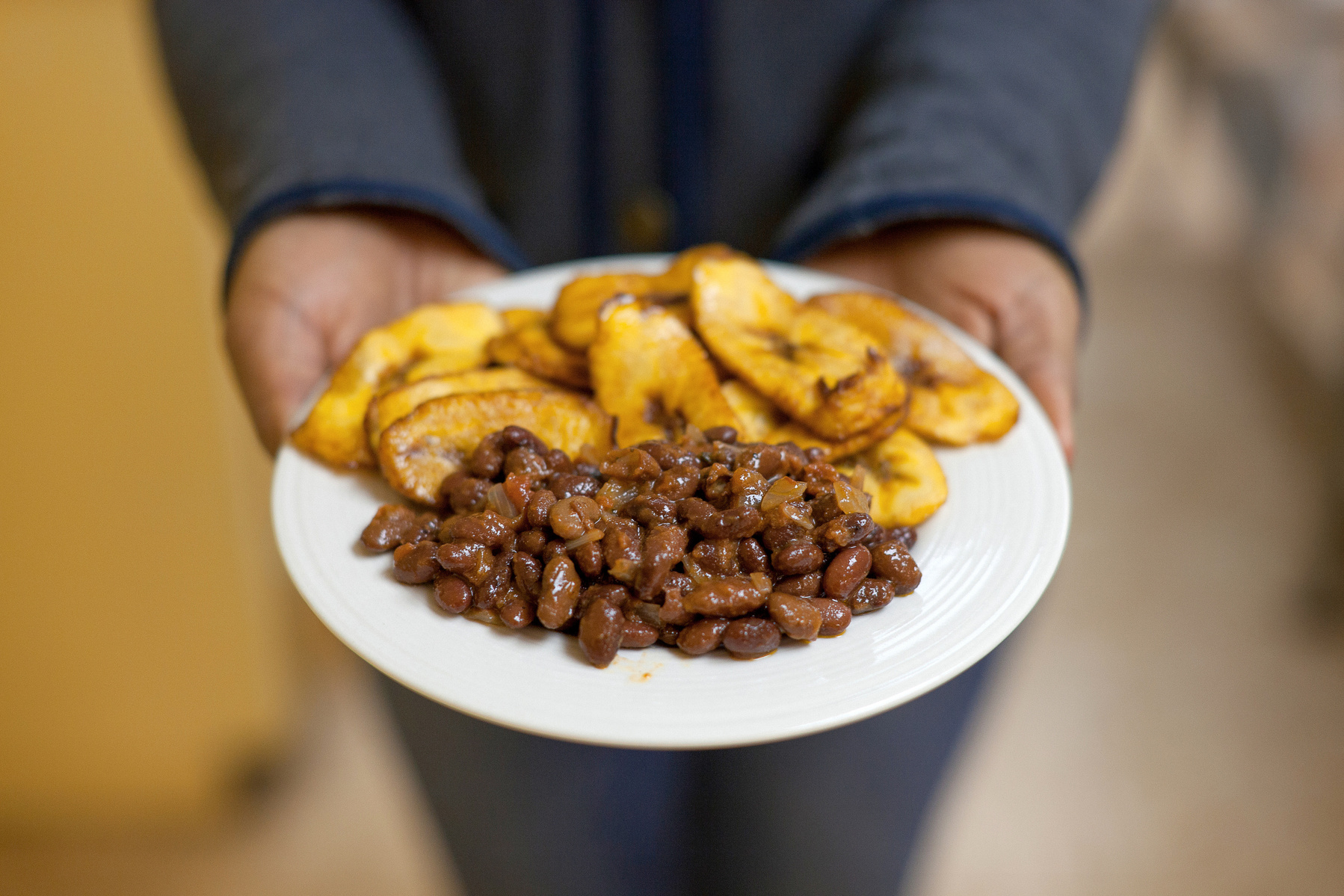 SANDRA

Born in Toronto, Canada |
First image: My family contributed to the construction of the The Trans Canada Trail with their names engraved forever on the plaques inside this kiosk. Although I did not have to migrate to Canada I am proud to say that my ancestors were some of the first Europeans who settled in this great country.
Second image: This is a photograph of my great, great grandparents, taken circa 1880 in New Brunswick. It wasn't until 1944 that my father and mother left New Brunswick for Toronto. I was born in here at the end of World War II and will always make this city my home.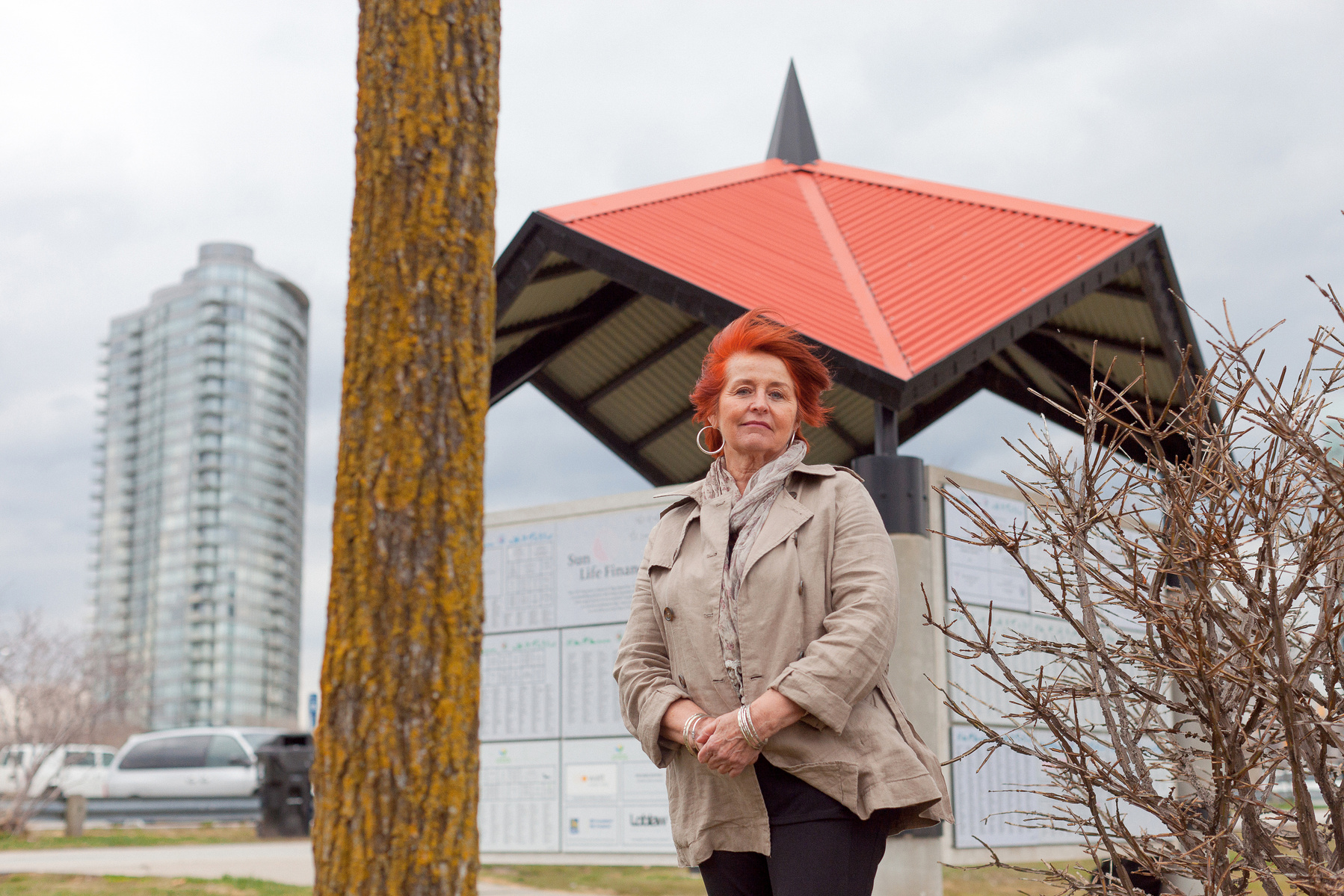 CLARENCE

Born in Whitney Pier in Sydney, Cape Breton Island, Nova Scotia, Canada |
First image: In the 1950s, my mother was told that Kensington Market would be the most accepting neighbourhood for us to move to. First Baptist Church is one of the oldest black churches in Toronto and provided my family with a sense of community after we moved here from Nova Scotia.
Second image: The top picture is of my Cub Scout troop when I was about eight years old. The whole troop from Whitney Pier in Sydney was black. The second picture was taken in the early 1940s at a military camp in Nova Scotia. My father is on the right.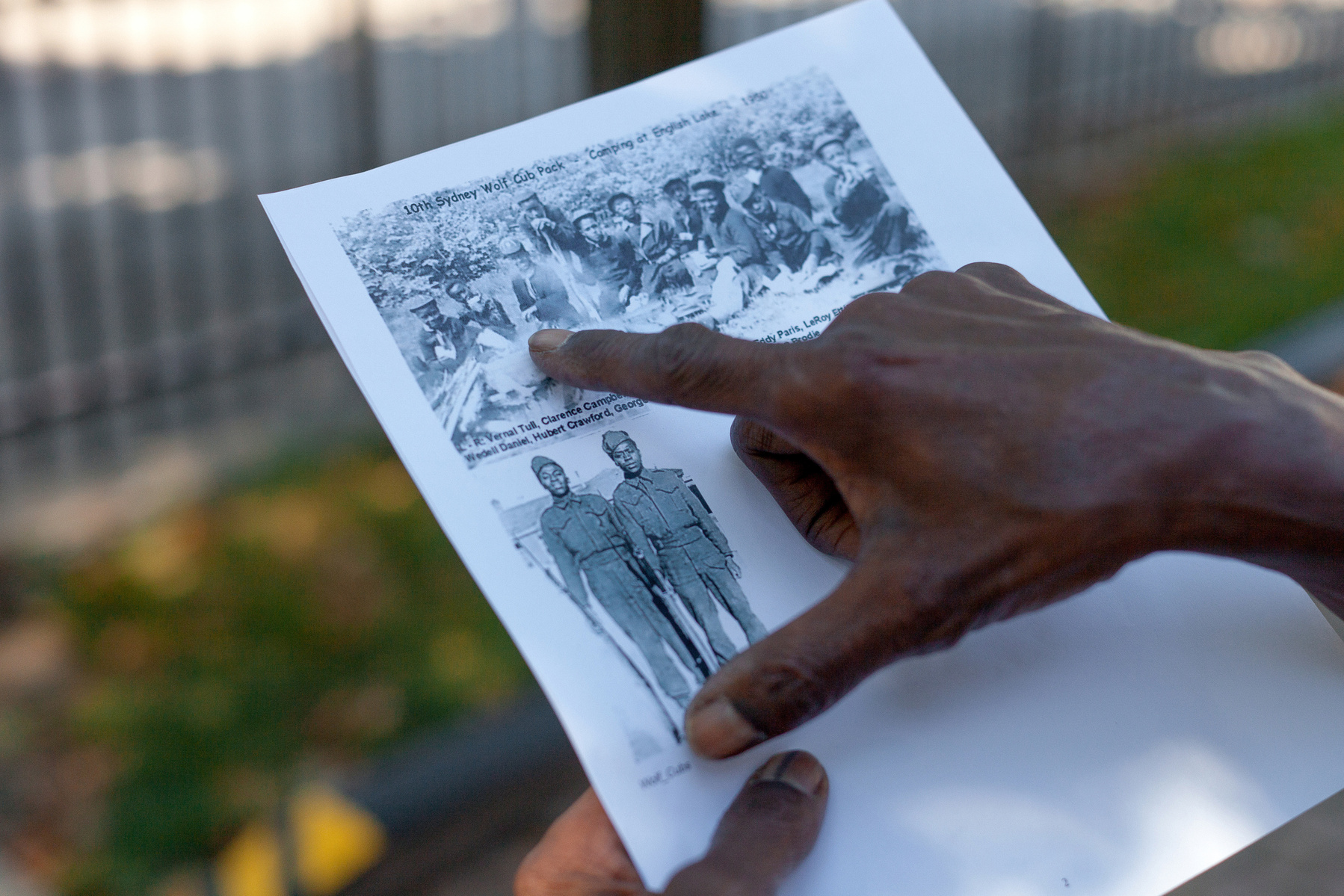 EMILE

Born in St. Jean Sur Richelieu, Quebec, Canada |
First image: Prior to moving to Toronto a little over a decade ago, I lived in Whitesand First Nation, north of Thunder Bay. Toronto presented a safe and welcoming opportunity for me to rediscover who I am, and to establish my role in the community as both an indigenous person and as a gay male. Ashbridges Bay reminds me that nature is never far away in this concrete jungle that I call home. Here I feel the most grounded, and yet vulnerable, given the vastness of the water.

Second image: There is incredible symbolism around water within traditional Ojibway teachings. Water is the essence of life, and it is what surrounds a child inside a mother's womb. Mainstream society does not view this element in the highest regard, but First Nations people do.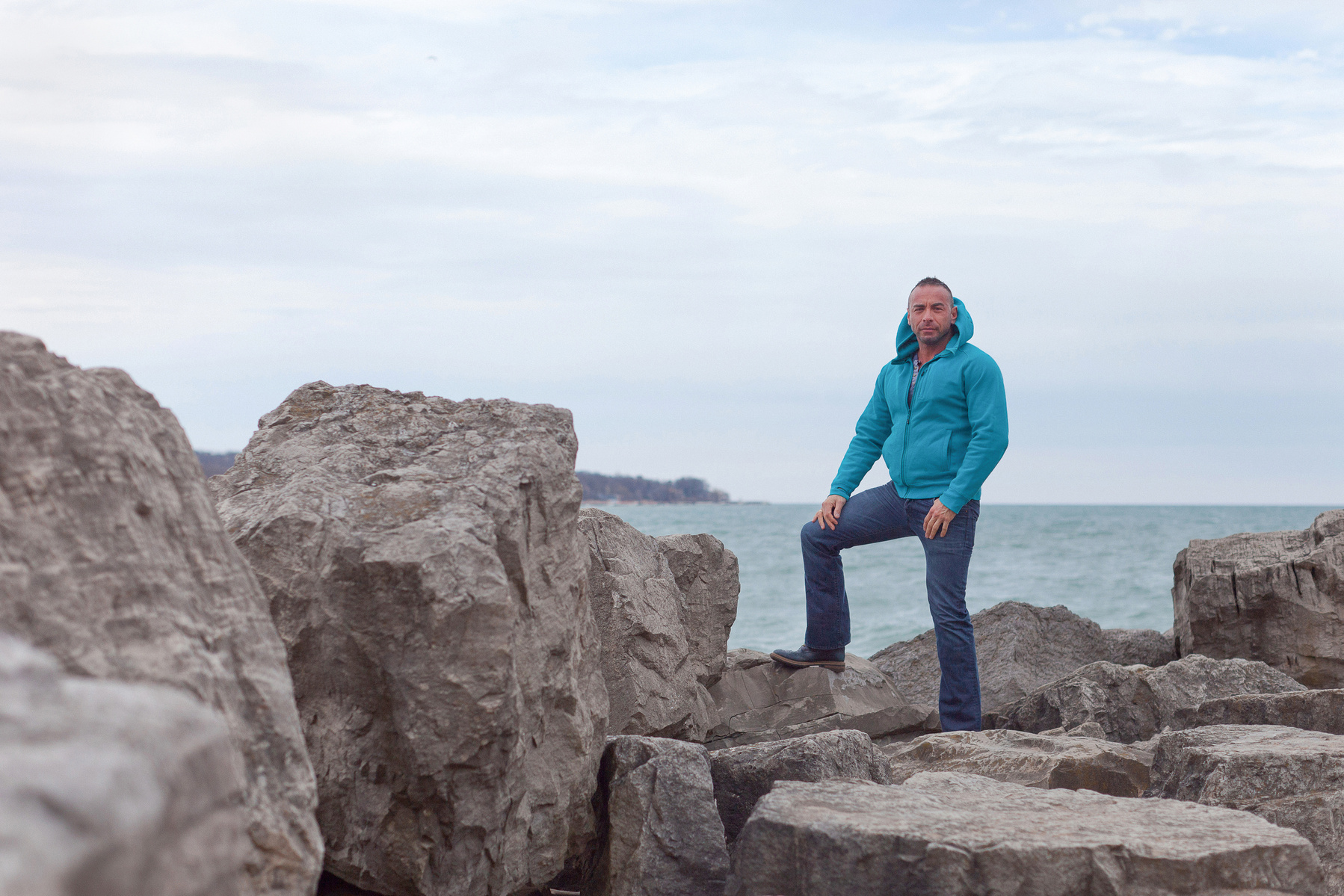 DAVILA

Born in Yaloke, Central African Republic |
First image: The Eglinton Avenue Tim Horton's is where my friends brought me in 2012 for a birthday surprise. A muffin with a candle in it was the first birthday cake I had had in seven years.
Second image: This is a photograph of my parents on their wedding day. My father was a mathematics professor and my mother a housewife. After they fled from the war, tragically both of my parents died from AIDS. The time I spent with them is the most beautiful souvenir I have of my country.
ABDEL

Born in N'Djamena, Chad |
First image: At the age of seventeen I was diagnosed with a rare and potentially fatal heart condition. Being in Toronto literally saved my life as the diagnosis was made quickly and the corrective surgery performed at SickKids Hospital. Today I'm healthy and finishing my degree in Kinesiology and Physical Education at the University of Toronto.
Second image: My mother is my inspiration and the person I most look up to. I could never come close to thanking her enough for the hard work and dedication she put into providing for me and my siblings.
MARILO

Born in Melipilla, Chile |
First image: Theatre Passé Muraille is one of many Toronto theatres I'm involved with. Theatre has been my greatest ally in my journey to try to figure out who I am. Currently I'm writing a play, El Retorno, that centers around my family's escape from Chile as political refugees.

Second image: I love cooking the Chilean empanada recipe that was passed on to me by my mother, and this statue symbolizes this passion. Making empanadas could never have the same resonance for a young girl in Chile as it does for me. It connects me to the place where I was born.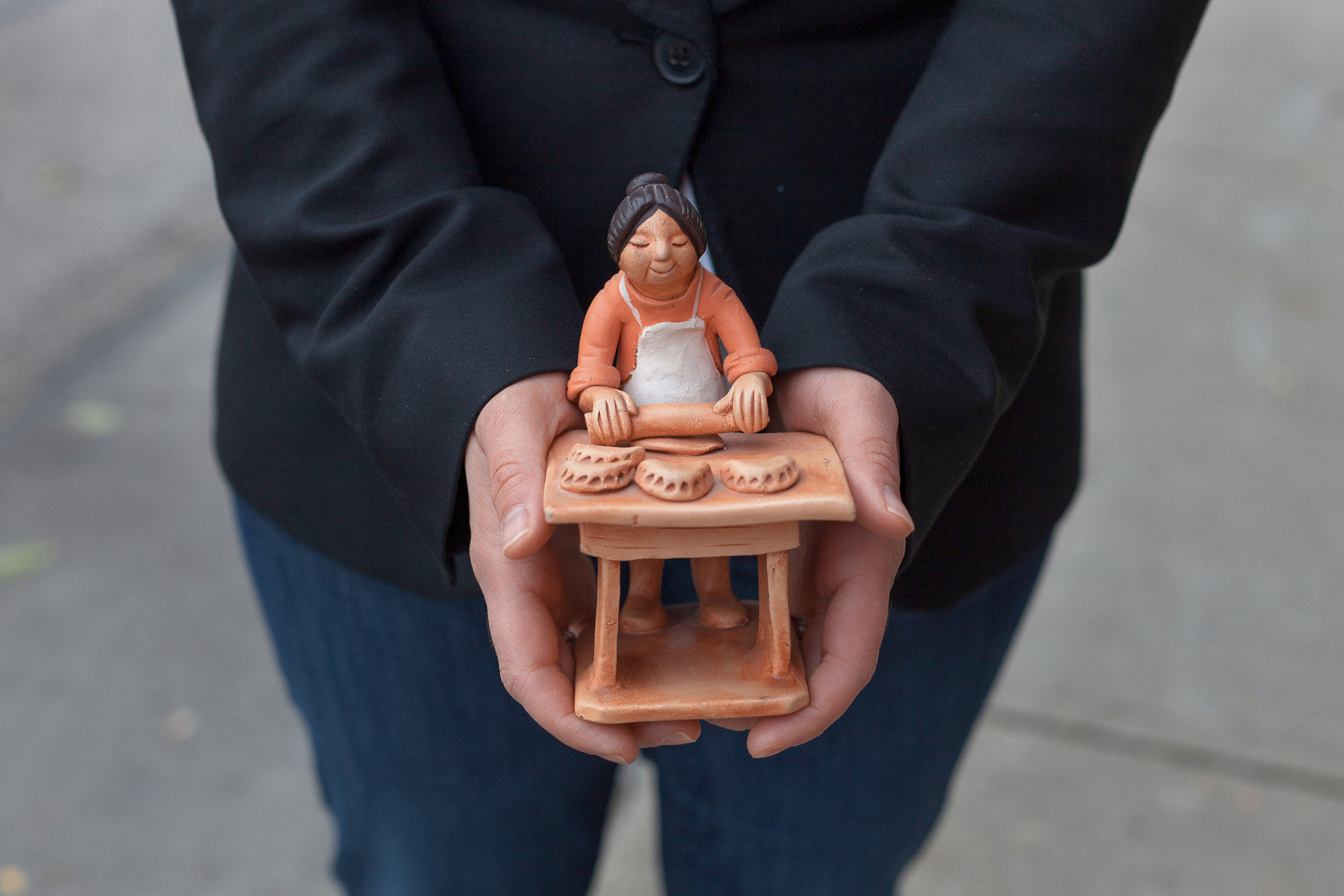 JENNY

Born in Lanzhou, China |
First image: Being out in nature along the Don Ravine Trail makes me feel humble and reminds me of the impermanence of whatever I'm feeling in that moment… feelings will come and go like the changing of the seasons.
Second image: I have never had a strong Chinese identity to cling to, however the one thing I will never forget is my name— Liang Yan Chun. The name on this stamp, is a constant reminder of my roots.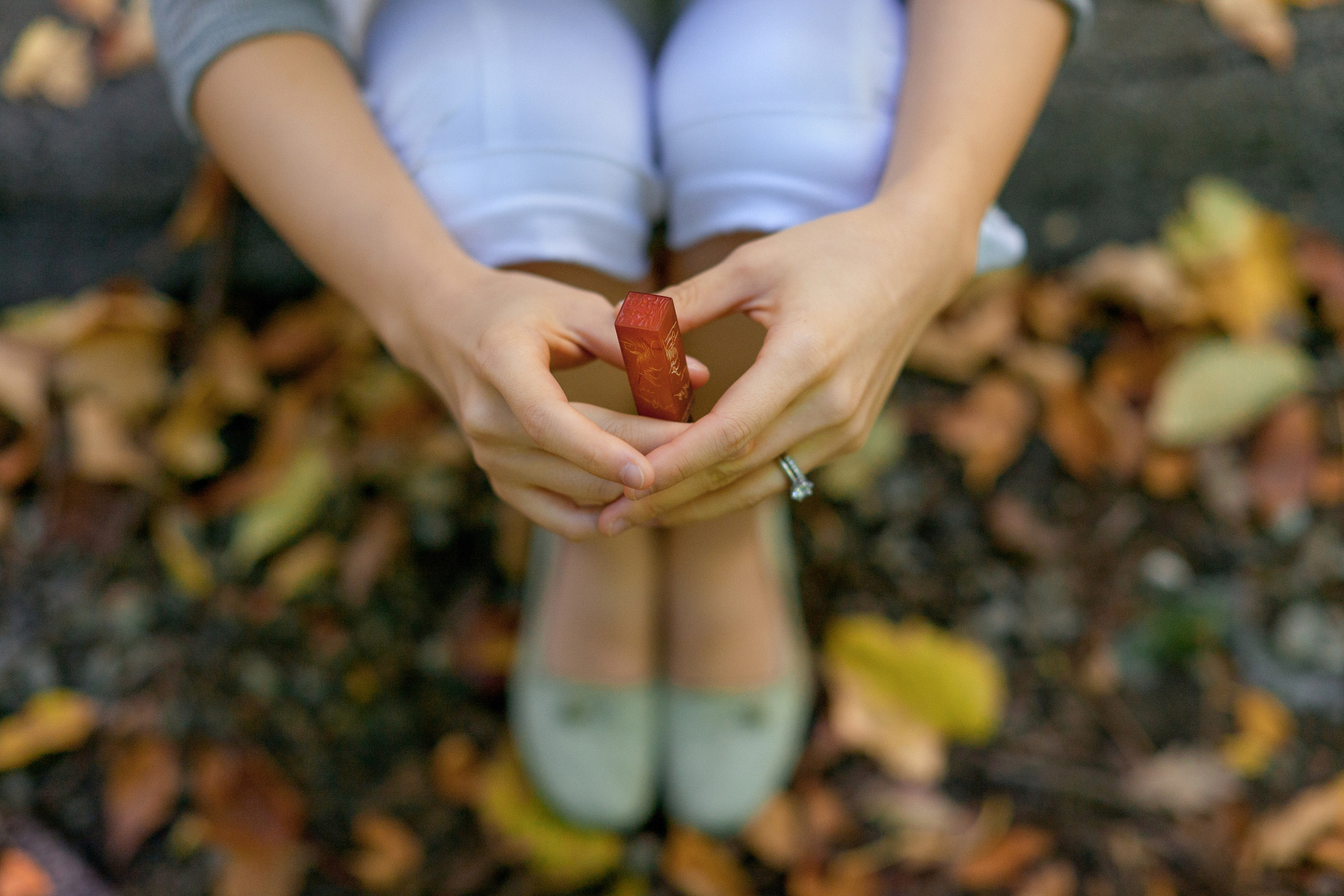 ZIPHION

Born in Hong Kong Island, Hong Kong (China) |
First image: My motorcycle has allowed me and my friends to explore everywhere, from the Fashion District's graffitied back alleys to the natural beauty of Ontario's country roads.
Second image: I am proud to have studied at Wah Yan College Hong Kong, a very competitive English high school established by Jesuit priests. Every day I attended the school I wore this tie and badge.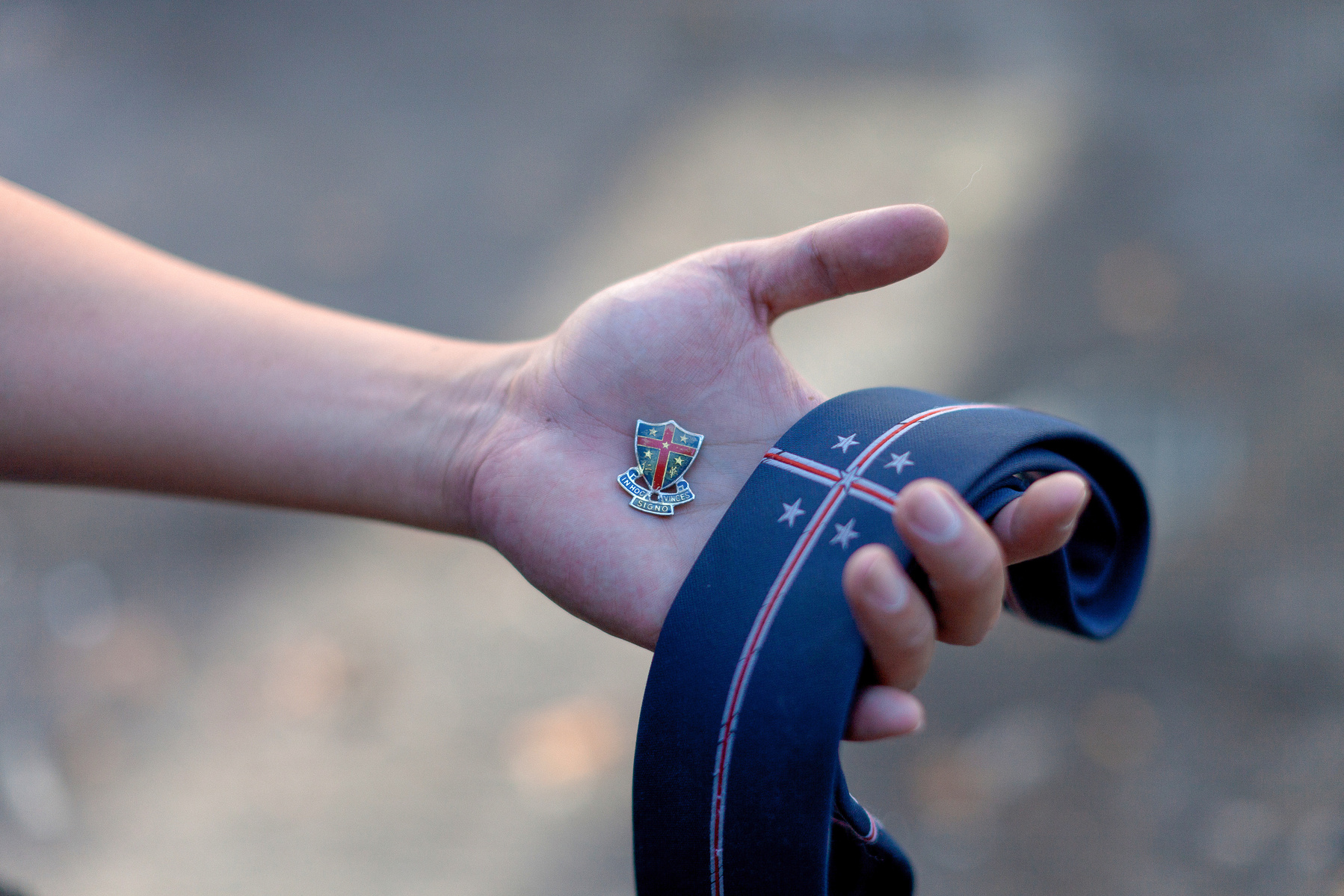 WINNIE

Born in Macau (China) |
First image: I feel most connected to Toronto while watching the Toronto Maple Leafs. No matter what your country of birth is, everyone watching the game joins together and cheers for Toronto. This feeling of unity gives me a sense of belonging like nothing else can.
Second image: The Portuguese egg tart is a common pastry in Macau. As a child, I remember the sweet aroma of slightly burnt egg yolk and milk that would fill the air from the bakery downstairs.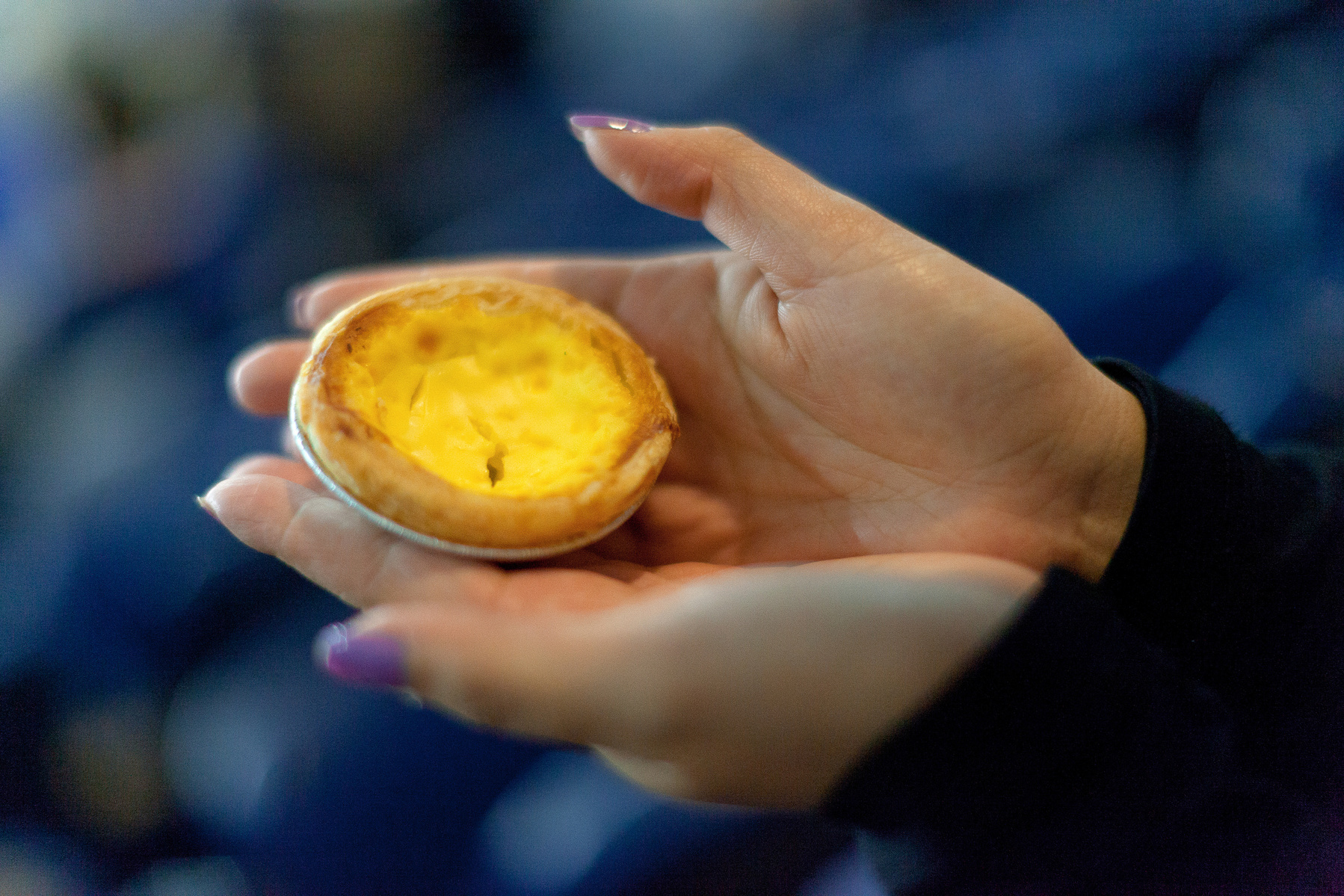 KHYDUP

Born in Amdo Ngawa, Tibet (China) |
First image: Canadian citizenship provided me with a rebirth. I am now able to serve humanity by using my talents and full potential as an artist to illustrate and translate children's stories into Tibetan.
Second image: As a global community, we can build a more compassionate and peaceful world if we recognize a universal responsibility and ethics that go beyond religion. I feel that this message is the way forward for both my people and the rest of humankind.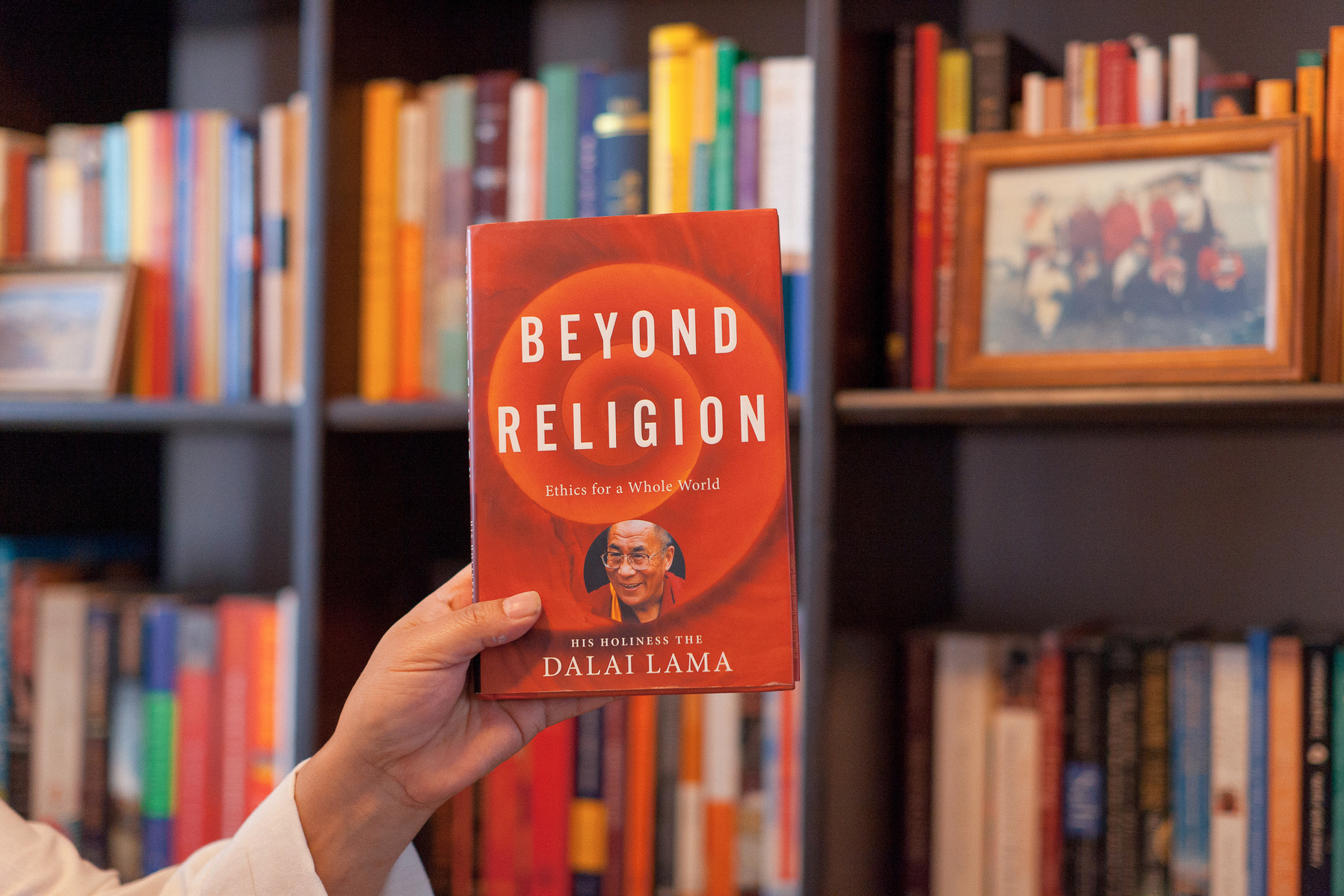 CATALINA

Born in Bogotá, Colombia |
First image: Robarts Library at the University of Toronto is where I found shelter and felt safe when I was feeling overwhelmed about being in Canada. Focusing on my studies in Robarts was not only crucial to my formal education, but it also helped me to discover myself.
Second image: My father was a long-term victim of extortionists and when his life was threatened our family needed to flee Colombia fast. I didn't know we were leaving until three days prior, so I had little time to say goodbye to friends. This is a photograph of my best friends in Colombia, those that I call my "chosen sisters".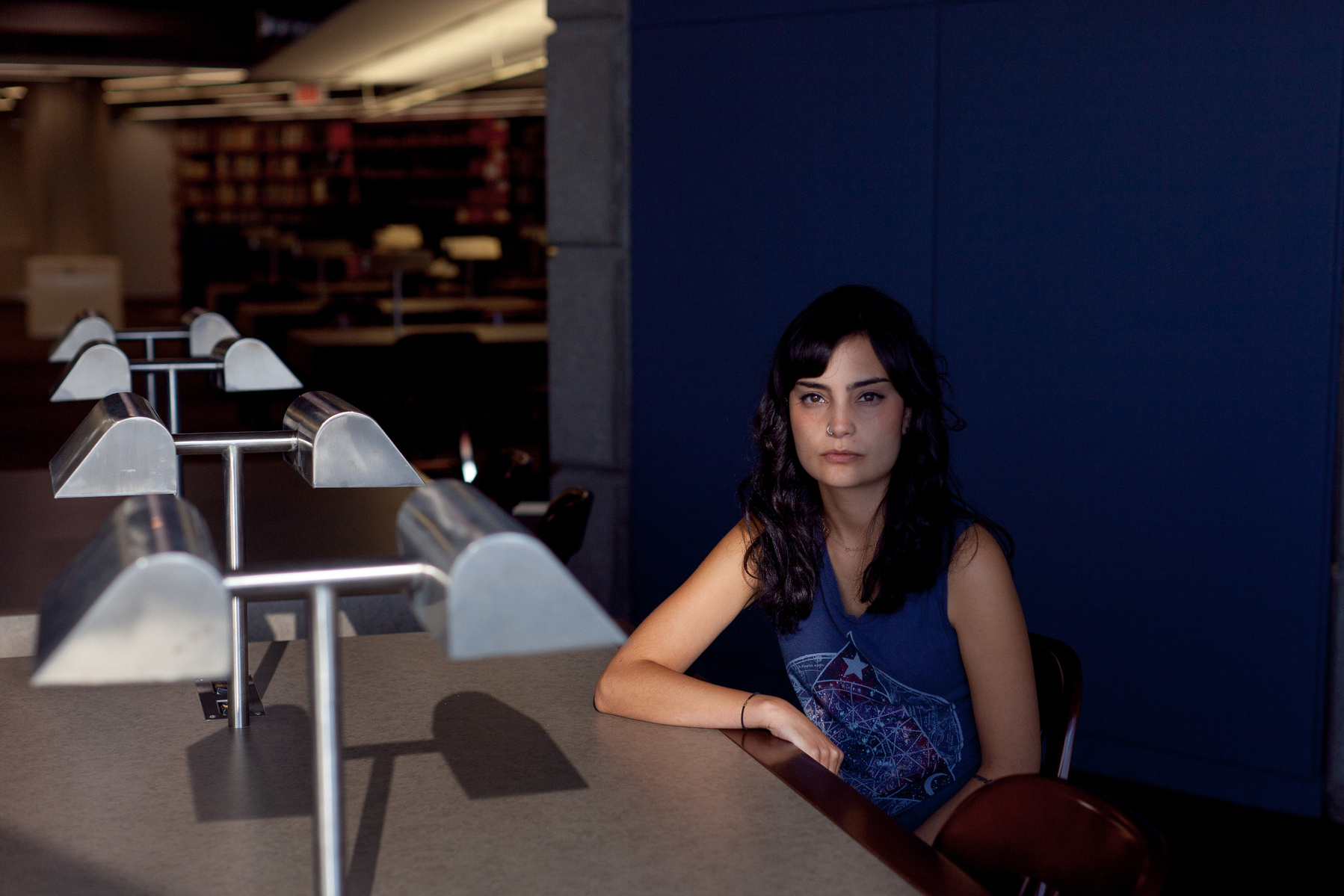 ANDREA

Born in Pointe Noire, Congo (Congo-Brazzaville) |
First image: My workplace is diverse and full of open-minded people. I have already taught my coworkers a lot of things about the Congo. I'm sure that it reduces the misconceptions people usually have about Africa.
Second image: This photograph portrays the past, the present and the future. In it, I'm standing beside my grandma, father and sister. There is an African saying "l'eau chaude n'oublie pas qu'elle était froide avant", which means knowing where you come from will benefit you and guide you perfectly for future choices.
JASON

Born San Jose, Costa Rica |
First image: Since arriving in 2004, The University of Toronto's New College has been an incredibly important community for me. I have served two terms as the president of the student council, and the University has given back to me so much more than I have been able to give.

Second image: I see the banana as a metaphor for my own life. Like the banana I travelled three thousand miles from Costa Rica to build a life here, I am sweet, and I get along with just about everyone.
ELIANA

Born in Rijeka, Croatia |
First image: After moving to Canada, when I had limited English skills and worked odd jobs, going to the Toronto Reference Library helped me overcome loneliness and restore my sense of intellectual dignity. For me it is a place of cohesion, refuge and stimulation.
Second image: I was born in the city of Rijeka, which means river. It is an important harbour on the Adriatic Sea, and in the past, the busy tugboats were symbolic of the city's prosperity.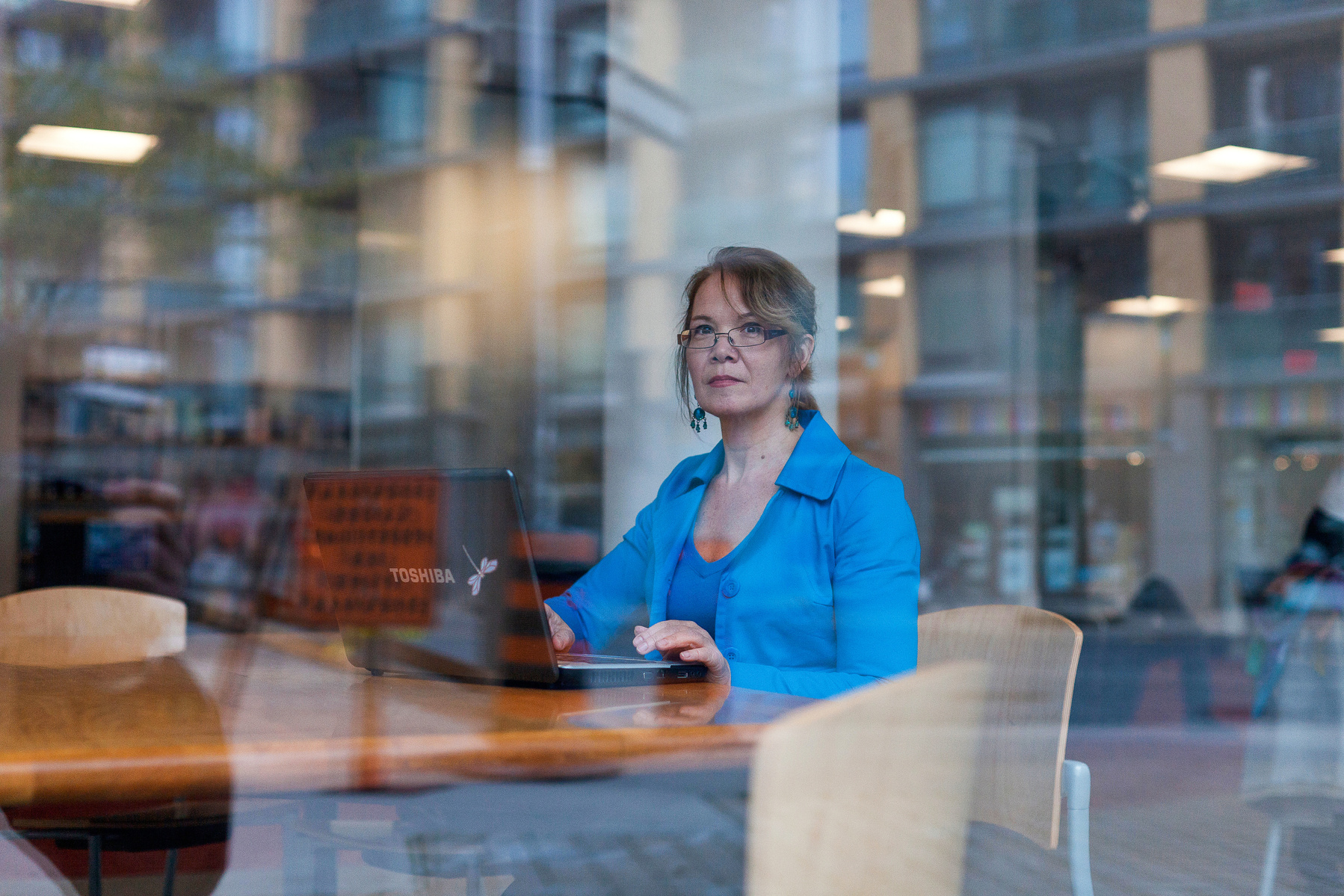 YOSVANI

Born in Havana, Cuba |
First image: While on tour in Japan, a Cuban official overheard me having a conversation with a fan about the detrimental effects of Hurricane Gustav on Cuba. The government official thought it reflected poorly on the country's image and said I would be punished upon return. While on a layover in Toronto, I decided to never return to Cuba. Since then, performing in venues such as Lula Lounge has been crucial for my development as a successful violinist in Toronto.
Second image: This stringed instrument has had a profound impact on my life. The violin has taken me all over the world. I started playing when I was seven years old and it is my passion, life, and art.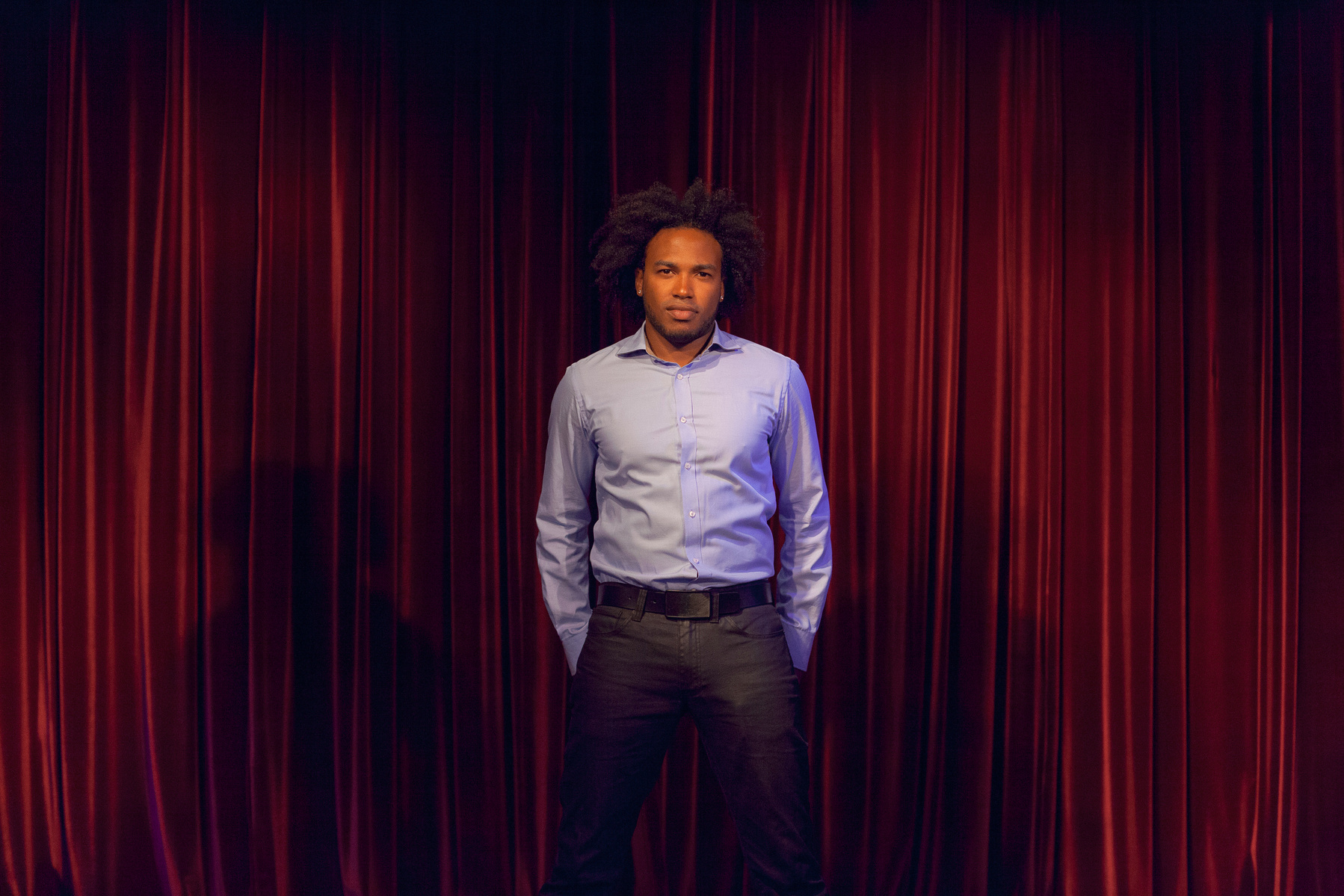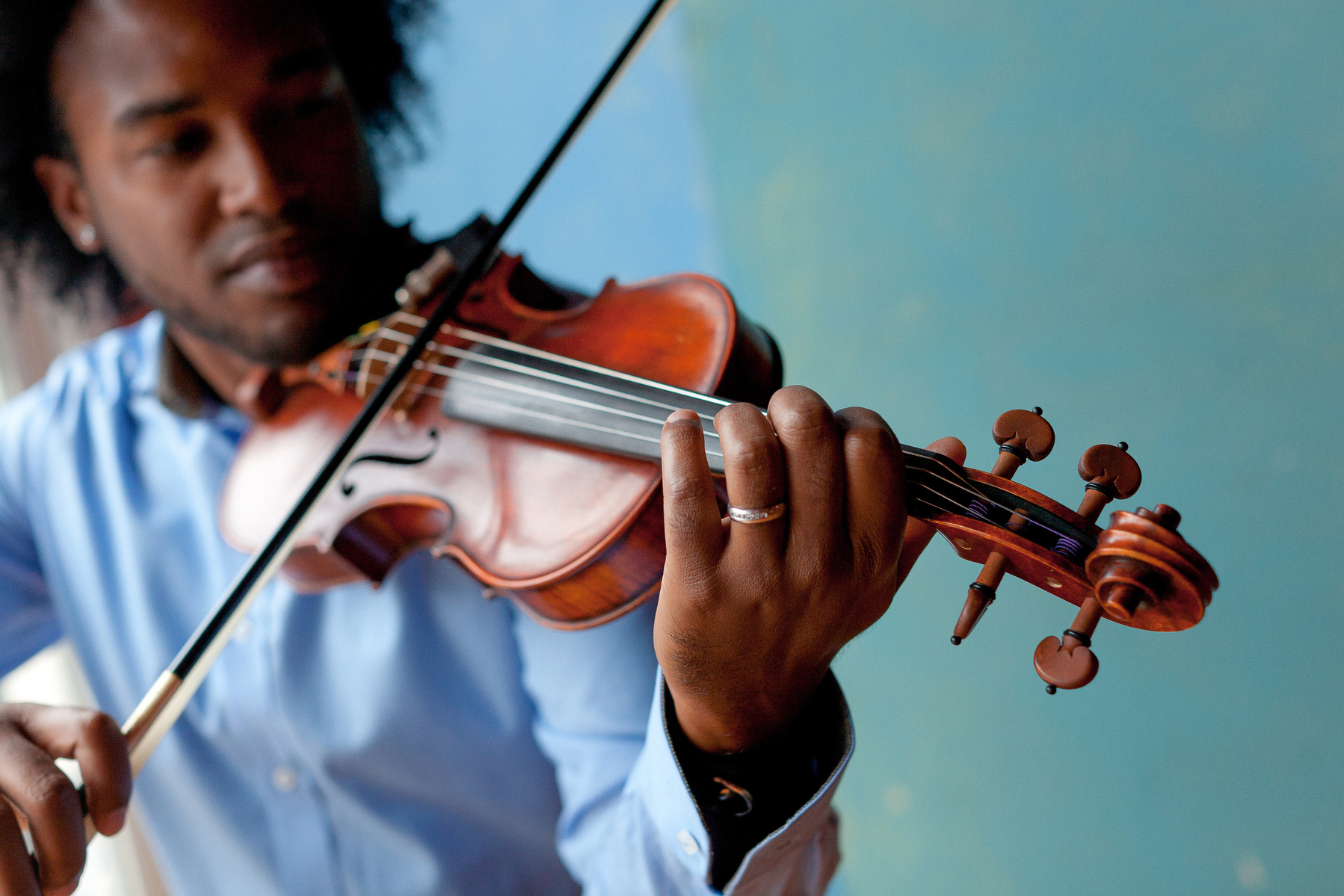 MONA

Born in Nicosia, Cyprus |
First image: My downtown condo is the place I call my sanctuary. This is the first home I have ever owned and that is symbolic of my coming of age in Toronto.
Second image: This painting hung in my childhood home in Nicosia, and later in my parents' Beirut residence. My father was heavily influenced by Japanese culture through his work with clients from Japan.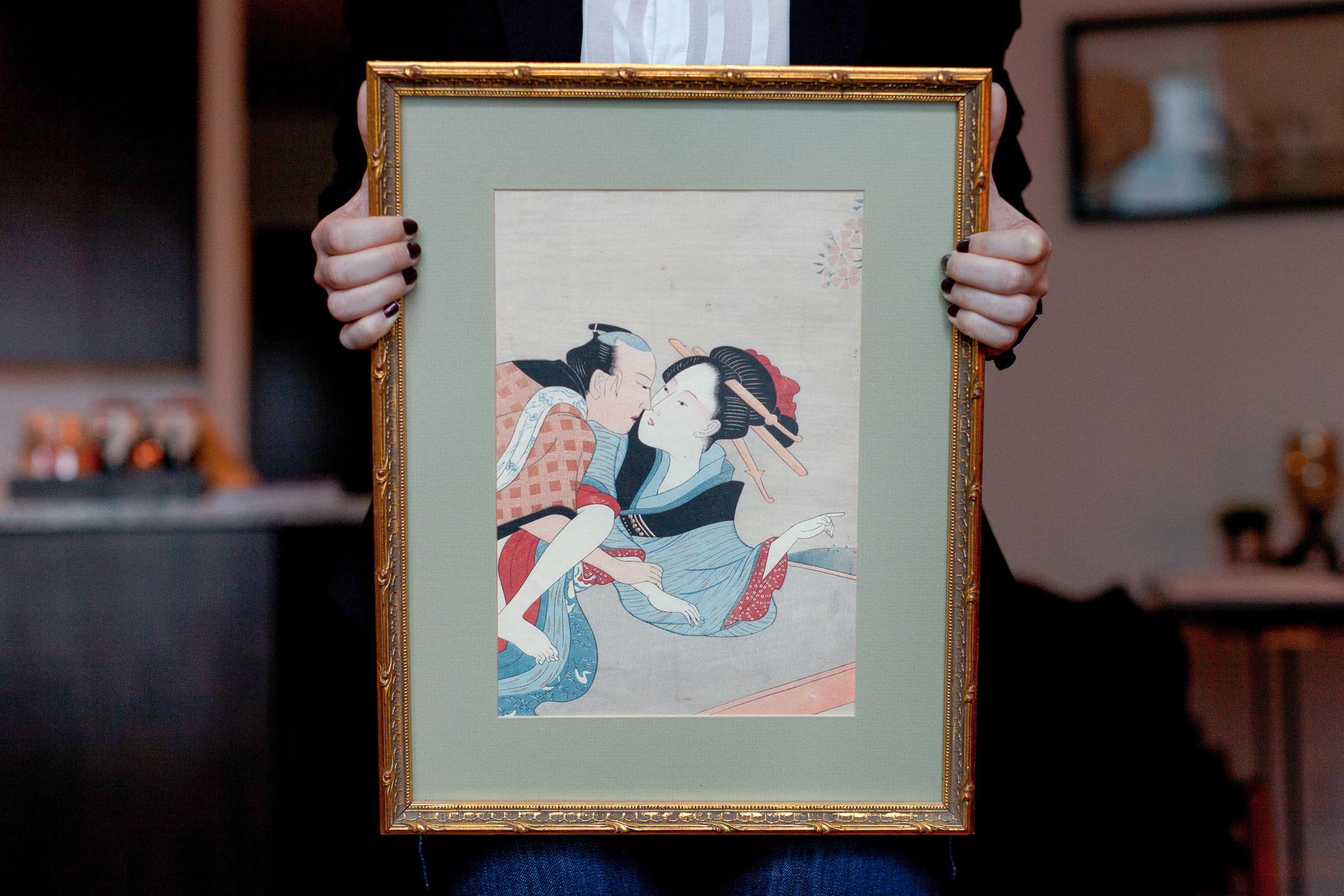 MILAN

Born in Plzen, Czechia (Czech Republic) |
First image: I teach English as a Second Language (ESL) to adult students who have recently migrated to Canada. My parents went through a similar adjustment when coming here, and I will never forget that.
Second image: My fondest childhood hockey memories revolve around the valuable time I spent with my parents and grandparents driving to my 5 a.m. practices. Winning a Canadian national championship with the Oakville Blue Devils, and being drafted to the OHL, were the highlights of my hockey career.
SAFIA

Born in Kinshasa, Democratic Republic of Congo |
First image: After our arrival in Canada my parents would regularly take me and my sister to Grenadier Pond to feed the ducks. We were given bread slices to toss to the birds and in this way, my parents helped us connect with our new surroundings.
Second image: This is a photograph of my father racing in the seventeenth Safari du Zaire, which he won in 1983. My father and I joke about one day returning to the DRC to compete in that race together.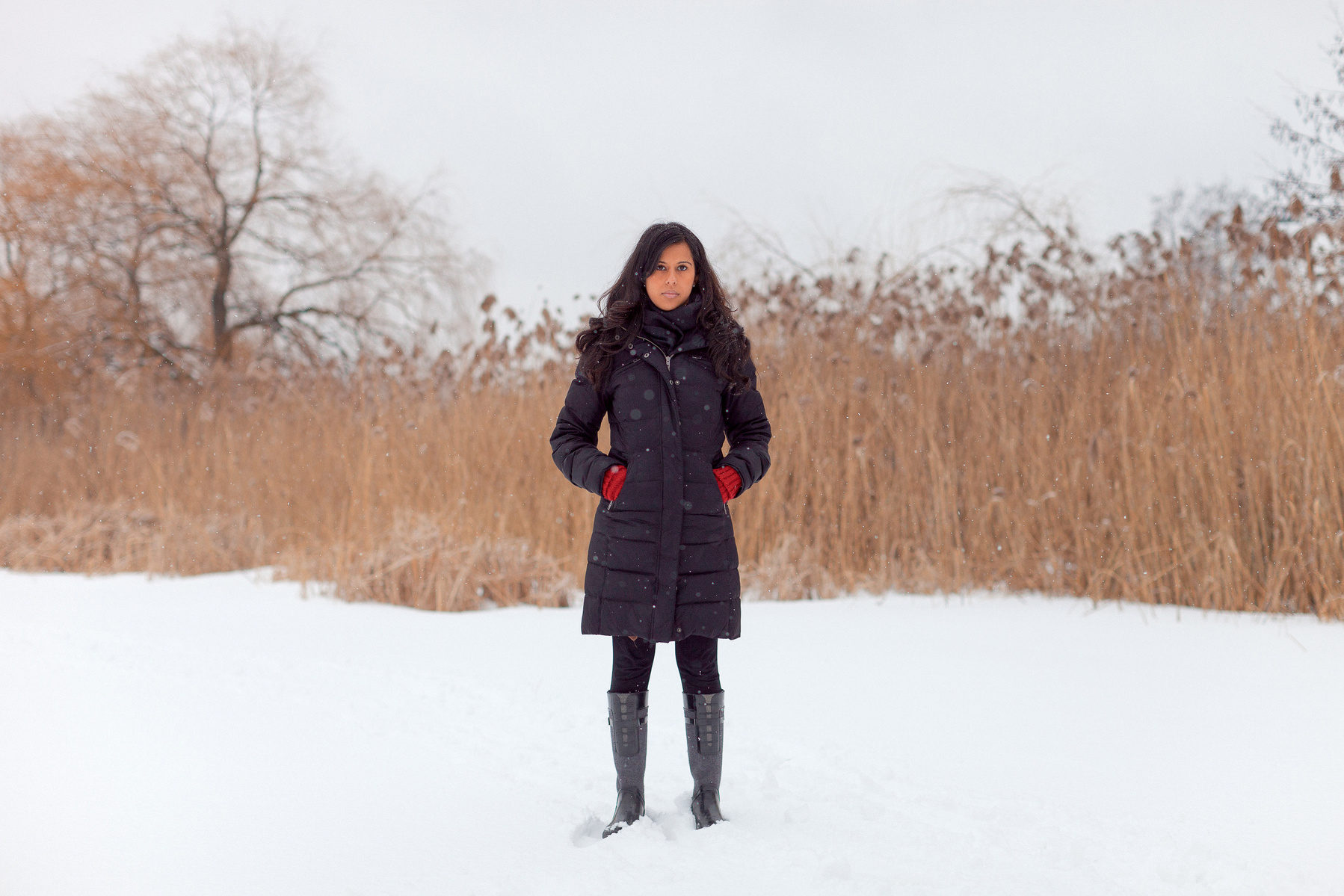 LIS

Born in Svendborg, Denmark |
First image: From my Burlington apartment I can see Lake Ontario with its many sail boats. They remind me of my childhood on the large island of Fyn and of the boat that took me from Denmark to New Brunswick in 1957.
Second image: I keep three important photographs on my living room dresser: one of my maternal grandparents, one of my paternal grand-parents and one of my parents. I miss all of them dearly.
AIDAROUS

Born in Tedjourah, Djibouti |
First image: The teachers at the City Adult Learning Centre are friendlier and more open than at my previous schools. This allows me to feel comfortable sharing my ideas.
Second images: These pictures, that I exchange with my best friend on Facebook, remind me of my beloved parents and of how much I miss them.
MONIQUE

Born in Roseau, Dominica |
First image: Whenever I drive by Mary Ward Catholic High School in Scarborough, I experience a warm comforting feeling. I reminisce about my friends, swim team, choir and how I used to play soccer for hours after school.
Second image: This pendant is my guardian angel. It was given to me by my aunt, then blessed by my late grandmother. The pendant will forever represent the morals and values that were instilled in me while I was growing up in Dominica.
ARTURO

Born in Santo Domingo, Dominican Republic |
First image: I completed my degree in Spanish Literature at Victoria College a location that represents my lifelong dream of teaching literature and languages at the university level.
Second image: My brother and mother are the only remaining connections I have to the Dominican Republic. This picture, taken on my wedding day in 1999, also reminds me of how much I miss my father who passed away in February of that same year.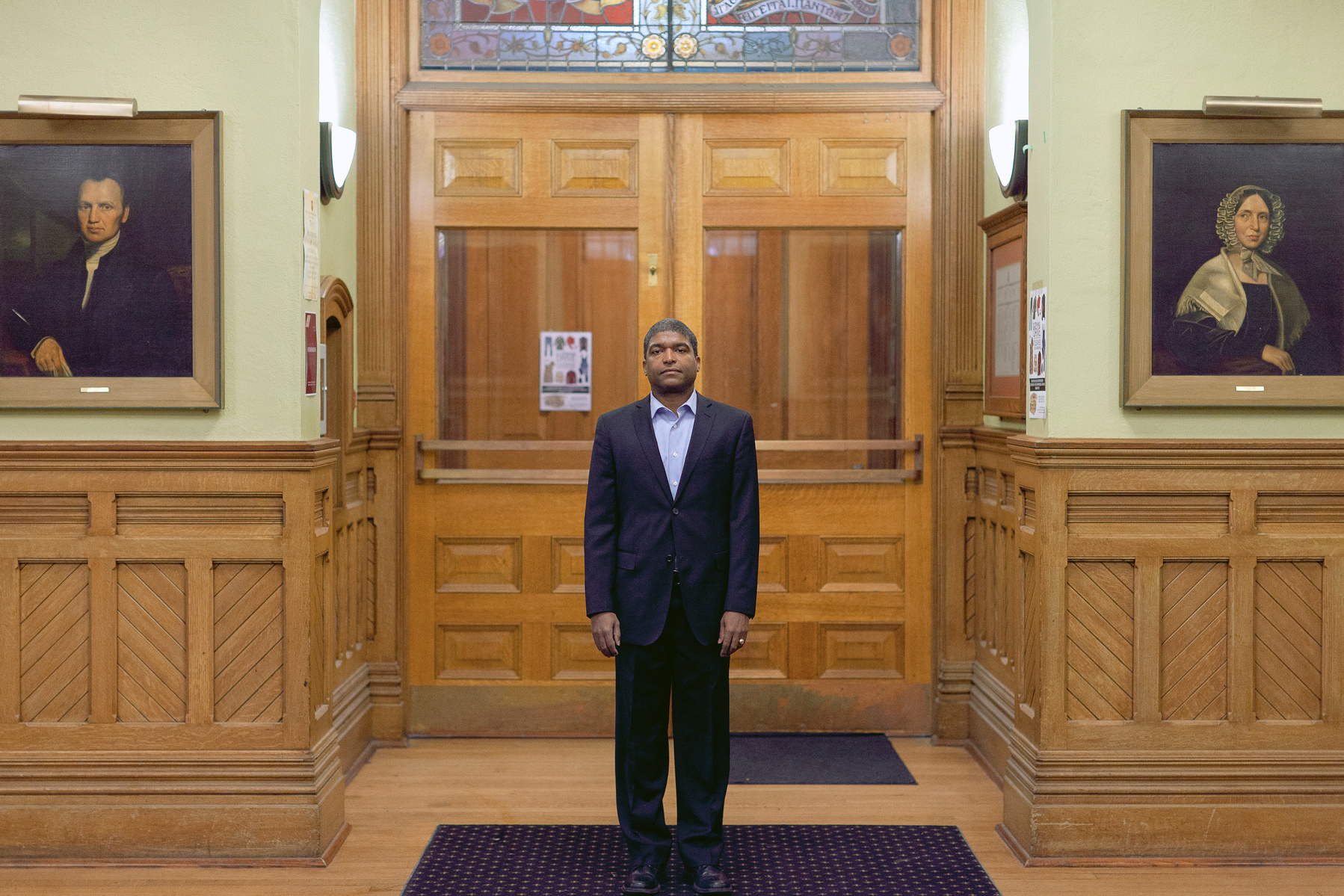 LORENA

Born in Cuenca, Ecuador |
First image: Being in the Financial District gives me a feeling of pride and accomplishment, as this is where my career flourished. I found the job I wanted and now, as a recruiter, I am able to help other people land their dream jobs.
Second image: When I was young, my mother Julia risked a lot to move from her small Ecuadorian town to the big city of Cuenca. This is something that I can relate to now that I have moved to Toronto. Our shared experience has strengthened our bond.
GAUTAM

Born in Cairo, Egypt |
First image: The Metro Toronto Convention Centre is where, after arriving in Canada, I attended weekly networking meetings. These sessions helped me meet senior corporate executives and gave me a better understanding of the way they operated.
Second image: This photograph from the old family album, represents my multicultural upbringing. This picture is of my mother, sister and me in Cairo, Egypt. My mother, who was from Prague, met my father while he was posted there by the Indian High Commission.
CLAUDIA

Born in San Salvador, El Salvador |
First image: I quit my job in El Salvador and moved to Canada to pursue a career in the writing, production and management of children's media. For this reason I appreciate spaces that are designed for children, like the play-ground at Withrow Park, which was the first park I visited in Toronto.
Second image: My mother's favourite coffee brand is not particularly fancy or expensive but its specific flavour holds so many family memories. I made sure I brought a few bags of it with me to Canada.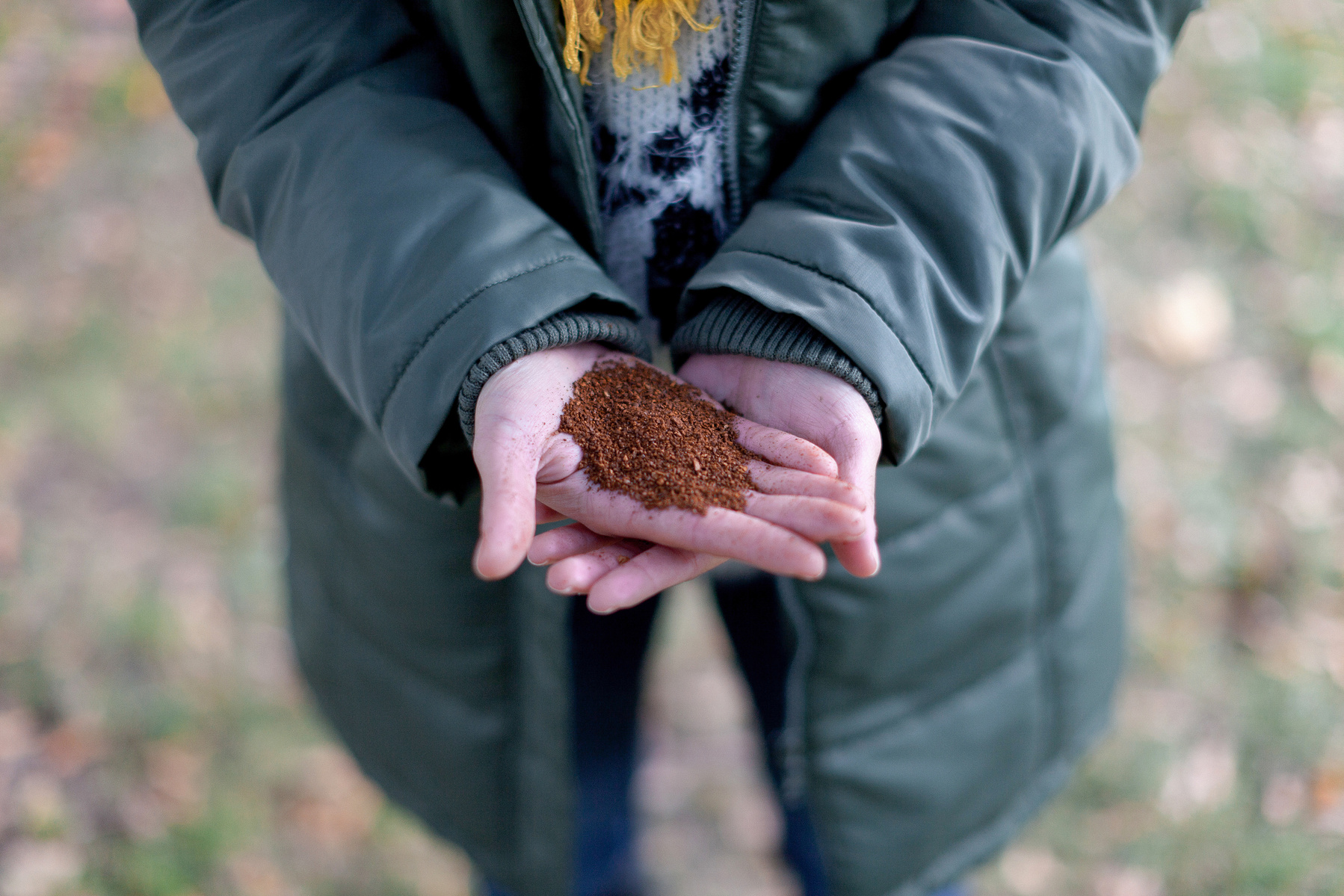 ENRIQUETA

Born in Bata, Equatorial Guinea |
First image: Since arriving in Toronto I have used public transportation to get around the city. When I get to Warden Station I know I'm close to home. Today, I share my residence with my niece Ana and I'm sure she gets the same feeling arriving at the station.
Second image: Equatorial Guinea's coat of arms, with the cieba (silk cotton tree) and motto Unidad Paz Justica (unity, peace and justice), makes me feel proud. I don't want to forget where I came from.
SAID

Born in Assab, Eritrea |
First image: Standing near Lake Ontario reminds me of my childhood when I spent many hours on the beach helping my father with the fish.

Second image: I was often handling fish while working in Eritrea, washing them and putting them on ice. Fish are a big part of my culture. Cooking and eating them always brought people together.
KILLI

Born in Tallinn, Estonia |
First image: Tartu, a city in Estonia, is home to one of the oldest universities in Europe. When friends visit, I take them to Toronto's own Tartu a community hub where I have danced, shared meals with friends and helped organize the Estonian Documentary Film Festival.
Second image: This tattoo of a maple leaf with Estonia's colours, symbolizes my dual Estonian-Canadian citizenship. We Estonians are very connected to our colours because, for over forty years under Soviet occupation, our flag and this combination of colours were forbidden.
WIL

Born in Manzini, Eswatini (fmr. Swaziland) |
First image: Music has always been a significant part of my life. For more than a decade The Revival Bar has hosted many artists from my company Nova Music Group's impressive roster.
Second image: My grandparents were the first to come to Canada—eventually encouraging, and subsequently sponsoring, all of our family to move here. They are no longer with me but their strength, courage and determination, while living under apartheid, has been a deep source of motivation for me.
SAMUEL

Born in Addis Ababa, Ethiopia |
First image: I am currently lobbying for a section of the Danforth to be named "Little Ethiopia". In this neighbourhood there are approximately forty Ethiopian owned offices and businesses, and I believe it's time to officially celebrate this community.
Second image: I think Canada's first Prime Minister Sir John A. Macdonald is the greatest Canadian, and I appreciate how he viewed differences as strengths. I aspire to one day be a great politician.