Cosmopolis: A city inhabited by people from many different countries.
Toronto is arguably the most cosmopolitan city in the world. While statistics help to quantify Toronto's diversity (more than half of the city's inhabitants were born outside of Canada), it is important to hear from the people who make up these statistics.
COSMOPOLIS TORONTO is the culmination of a yearlong journey to photograph 195 Torontonians; one born in every single country in the world.
This series features a portrait of each Torontonian in a location where they feel the most at home, and a second photograph of the participant holding something that connects them to their past.
This project was presented at TEDxToronto, to the United Nations Global Forum in Azerbaijan, and featured in a film by the National Film Board of Canada. It has also been featured widely in the media such as The Globe & Mail, CBC's The National, The Wall Street Journal, and National Geographic.
SOUPIE

Born in Vientiane, Laos |
First image: I will never forget my first Leafs' game. Although at that time I had no idea what hockey was all about, I knew it was going to become part of my life.
Second image: My Canadian passport allows me to visit my country of birth, and all of the family that are still there. Without it I would be trapped, but with it I am free.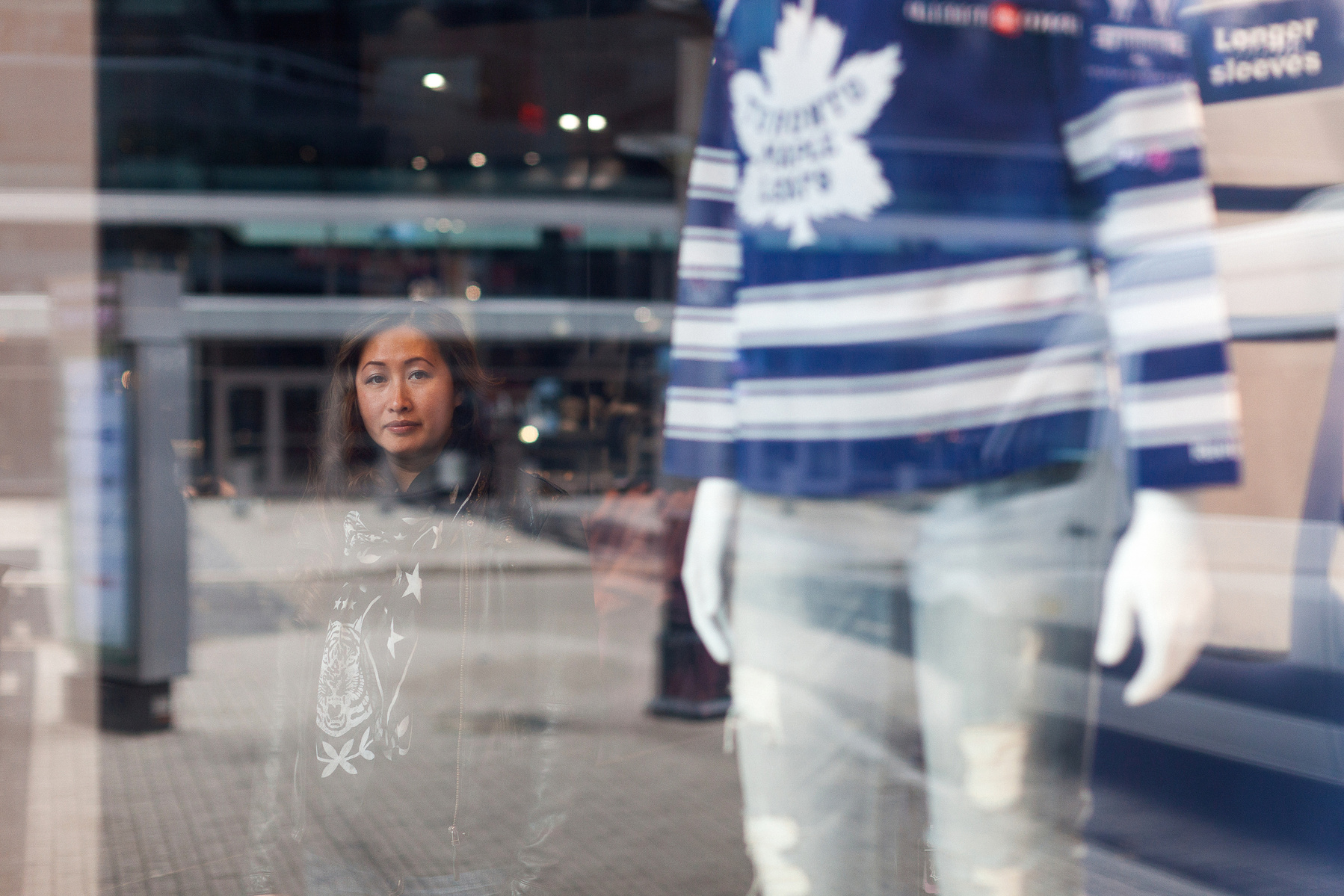 LEILA

Born in Balvi, Latvia |
First image: I have passed through this lobby following many significant life events such as my arrival to Canada full of hopes and plans, the birth of my son, and later my divorce. I eventually was able to enter this apartment building reborn as a happier, wiser and more spiritual person.
Second image: Rye bread has long been a staple food of Latvia and for me it symbolizes the hard work of my ancestors to build their country. This bread also reminds me of my grandmother's stories of survival, and the hunger following World War II. We are so lucky that we do not have to endure all of that hardship.
CHAKER

Born in Beirut, Lebanon |
First image: I believe that the beauty and power of Toronto is found in the bond between its people. The Passy Crescent Residences of York University is where I figured this out.
Second image: My grandfather started collecting stamps in 1948 while he was a Palestinian refugee living in Lebanon. One day I hope to write a book about my grandfather's journey.
CATHERINE

Born in Morija, Lesotho |
First image: The view of Toronto that starts to appear while driving along the Gardiner Expressway will always be special for me. This is where I first laid eyes on the city. It reminds me of the first time I arrived here and how much I have changed.
Second image: Lesotho's coat of arms consists of a shield in front of two crossed weapons, an assegai (lance) and a knobkierie (club). For me it represents the Sotho people—strong, traditional and descendants of warriors.
JEBBEH

Born in Barclayville, Liberia |
First image: Being able to spend time outdoors is very important to me as my childhood was spent living on a farm. At the University of Toronto's Chestnut Residence I feel safe to go outside and explore.
Second image: My father is the number one man in my life. This campaign button represents the two things I love most dearly; my father and my country.
RUCHITA

Born in Al-Khums, Libya |
First image: I've spent many evenings at Skymark Park in North York just relaxing and listening to music. It is the beauty and quietness of this place that draws me here.
Second image: My family always felt like outsiders when we lived in Libya because we are not "Libyan". In spite of this, we made many friends there and enjoyed exploring the country as a family. Visiting the ancient ruins of one of the Roman Empire' s most prominent cities, Leptis Magna, was always special.
GEBHARD

Born in Vaduz, Liechtenstein |
First image: After arriving in Toronto in the 1950s my wife Livia's family decided, with some other Estonians, to pool their money and build a cooperative. On their own none of them would have had enough to buy a house. For this reason Livia and I have owned and lived in this Beaches apartment for over half of a century and continue her family's legacy.
Second image: While visiting my parents, Livia painted the Gutenberg Castle in Balzers—the town my family is from. Many of my childhood memories involve this landmark. It's like the CN Tower but this castle is more romantic to me.
VYTAS

Born in Vilnius, Lithuania |
First image: I believe that for most immigrants, a sense of home comes only when they start creating that home around themselves: like birds building a nest. This is why my wife and I replaced our boring lawn with all kinds of flowers, shrubs and trees, which attract butter-flies, bees, birds and other wildlife.
Second image: I am honoured to have inherited my maternal grandfather's cufflinks. Baltic amber, often called "the gold of Lithuania", is a material that has long been used in jewelry making. My grandfather had to flee Lithuania at the end of World War II, and by the time he returned, my grandmother had already passed away.
ALINA

Born in Luxembourg City, Luxembourg |
First image: I have many special memories of times spent sitting on The Rock in Yorkville, soaking up the summer sun and eating gelato with a friend.
Second image: Luxembourg City is home to many small boulangeries and patisseries. One of my favourite childhood memories is of my father bringing home delicacies from Oberweis, my favourite patisserie.
STEPHANIE

Born in Antananarivo, Madagascar |
First image: Four years ago while still in Madagascar, my husband and I started planning to have a family, build a home, and become Torontonians. To see this home finally built and now being occupied amazes me. From the balcony I can see Lake Ontario and appreciate just how far I have come.
Second image: Whenever I open the jar of cloves my mother gave me, the smell takes me back to her kitchen in Madagascar. I hope to share these memories with my son, and that one day he too has special memories when he smells cloves.
VERONICA

Born in Blantyre, Malawi |
First image: The CN Tower's presence, seen in the distance from my Annex apartment, reminds me of fun university road trips from Ottawa to Toronto. Sometimes we'd get lost and have to use the tower to get our bearings.
Second image: I cherish the time I spent with Agogo and Amao as they enabled me to learn about and connect to my past. It is hard to know one's family history when you have lived abroad for so long.
STAN

Born in Muar, Malaysia |
First image: The Markham Village Colour With Me Art Studio is where I run the "BrushUp" social painting program. As a self-taught artist it is great to share my passion with others.
Second image: Malaysians call the thorny durian "The King of Fruits". For me it tastes like heaven but most caucasians swear off it because it stinks like hell!
YASSER

Born in Male', Maldives |
First image: After spending a year in Toronto, I decided I was going to stay in the city. To celebrate, I went out and bought myself this 20-year-old indoor ficus tree which I named Amelia Strongheart. I had heard that in some places when someone moves into a new home, they plant a tree to send down roots.
Second image: This piece of coral from the Maldives reminds me of my family and the support they offered to me when I began this next chapter of my life. Like the ocean, love ebbs into our lives indiscriminately, wherever we make room for it.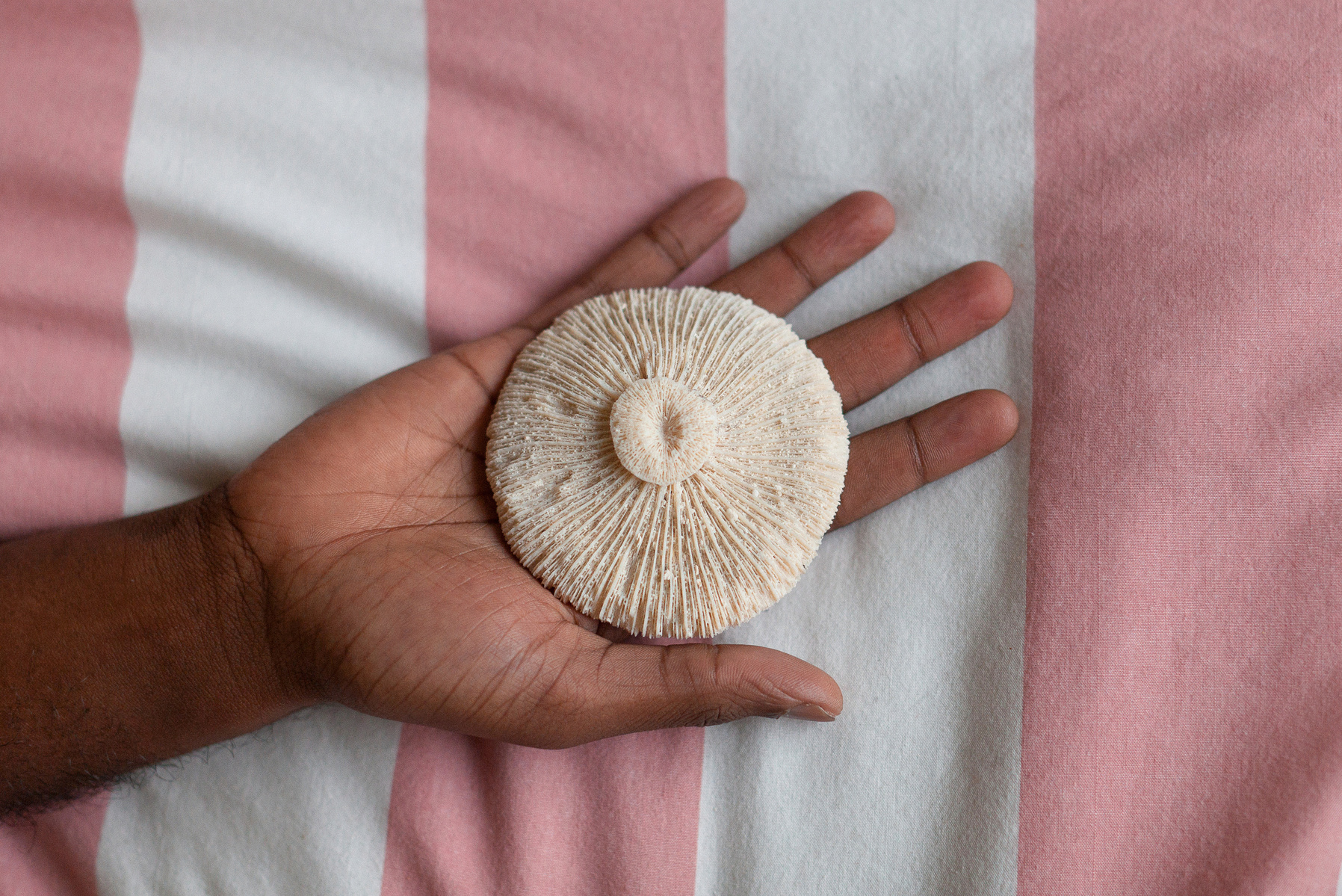 MAMADOU

Born in Bamako, Mali |
Left. The painted portraits on the wall of the South African-owned "Big Guy's Little Coffee Shop" on Lakeshore Boulevard remind me of past Malian kings. It is a visual comfort that I appreciate having in my neighbourhood.
Above. Mali has just endured a period of heightened conflict. Holding this sign with my girlfriend symbolizes my hope that Malians around the world will continue to promote unity and nonviolence.
PETER

Born in Gzira, Malta |
First image: My family has always loved to eat the popular Maltese dish called pastizzi. The Malta Bake Shop, well known by Toronto's Maltese community, is where I often take my children to get a little taste of Malta.
Second image: My mother received this Maltese Cross the day that I was born. The Maltese Cross dates back to the sixteenth century when the Knights Hospitaller were in Malta and it is a great memento of where I am from.
FATIMA

Born in Nouakchott, Mauritania |
First image: Getting involved in events and organizations such as the African Students Association at York University's Keele Campus has helped me feel less homesick since moving to Toronto.
Second image: This tasbeeh was a gift from my mother that I use while praying. Prayer keeps me motivated.
IDA

Born in Port Louis, Mauritius |
First image: When I first left Mauritius I only had a small place, but now I have my very own home. My parents never stopped believing in and providing for me, and that is why I keep their photograph on my living room mantel.
Second image: My father gave my mother's engagement ring to me when I left Mauritius in 1988. I keep both the ring, and my parents, close to my heart.
MARTHA

Born in Mexico City, Mexico |
First image: My father was a symphony orchestra conductor and my mother was a concert pianist, so I grew up in a house full of classical music. When I go to Roy Thomson Hall, I feel at home. It's my past, my present, and the future I want to give my children. I have instilled a love for classical music in them, and I'm proud of it.
Second image: My father founded the State of Mexico Symphony Orchestra the same year that I was born. When I was old enough to have a record player, the first LPs I listened to were recordings of my father. This particular album is one of his earliest, and it features Moncayo's Huapango, a piece that many Mexicans consider to be a "second national anthem". Whenever I hear it I feel proud of my country, my father, and his legacy.
CORINA

Born in Chisinau, Moldova |
First image: Moldovans produce some of the best wine in the world, and it is often made right in our garages. My father has continued to make tasty wine here in Canada. The wine is not sold, but it is served to our family and friends on special occasions.
Second image: This Moldovan Christian Orthodox cross was purchased by my mother in Chisinau, the city where I was born. It represents my city, religion, family and culture.
OYU

Born in Ulaanbaatar, Mongolia |
First image: I'm young and ambitious, and it is here in this office that I'm pursuing my dream of becoming one of Toronto's next generation of accountants.
Second image: Seeing this statue triggers memories of my childhood, relatives, and the many visits I made to the Buddhist temple in Ulaanbaatar. The teachings of The Buddha continue to inspire me to find inner happiness and satisfaction in life.
MLADEN

Born in Cetinje, Montenegro |
First image: The St. Sava is Toronto's largest Serbian church and it is located next to the Serbian Cultural Centre where I teach. At the front there is an icon of St. Petka, the protector saint of my wife's side of the family.
Second image: This starfish was brought back from the beach in Budva, a Montenegrin seaside town where I spent all of my childhood summer holidays. Now it's my sons, Matija and Vuk, who can't wait to vacation there in the summer.
HAMID

Born in Fes, Morocco |
First image: The City Adult Learning Centre represents my dream of getting a degree. Taking the education program offered there is my first step towards that goal.
Second image: The tagine, used by most Moroccan households for cooking, reminds me of the delicious food my mother used to prepare.
SALE

Born in Maputo, Mozambique |
First image: I arrived in Toronto in 2009 with Ballet Creole on a dance scholarship. Today I work with different companies as a dancer, choreographer, model and teacher.
Second image: Mozambique became an independent country in 1975 and our flag represents my peoples' freedom, gained after many years of slavery and oppression.
DAWT
Born in Falam, Myanmar (fmr. Burma) |
First image: I volunteer in the cafeteria of Fern Avenue Public School, where my daughter is a student. This is where I first became involved in the local community and where I came to feel welcomed in Canada.
Second image: The evergreen trees in Ontario remind me of the forests in Chin State. I remember at Christmas time, going into the green mountain-side forests in search of the perfect tree.
NEUVILLE

Born in Windhoek, Namibia |
First image: Budapest Park by Lake Ontario is where I go to write poetry, work on my autobiography, and produce scripts for the stage and screen.
Second image: Growing up as a gay man in Namibia I experienced discrimination. When I attended school in the city, my aunt treated me like one of her own. She is the voice echoing in my head, giving me personal and professional advice.
MOHAN

Born in Mamankhe, Nepal |
First image: Since I arrived in Canada, St. James Town has been home for my family. More than three hundred Nepalese families live in this area, and I find that comforting.
Second image: The Nepali dhaka topi cap reminds me of my father and homeland. In Canada I wear it with pride to cultural gatherings, feasts and festivals as a symbol of my Nepali identity.
WENDII

Born in Velp, Netherlands |
First image: I have spent a lot of memorable time at the CNE's equestrian school. Even before I lived in Toronto, I used to take the train in from Montreal to watch world-class show jumping at the Royal Agricultural Winter Fair. This place is a bit of a sanctuary for me.
Second image: My sister Elleke passed away from cancer at the age of thirty nine. This picture of the two of us, taken in the Netherlands when we were just children, will always be precious.
MARGARET

Born in Auckland, New Zealand |
First image: College Street United Church is where I was married in 1992. This church actually has a special connection to New Zealand. My cousin Bruce, the church's organist, brought wood and pāua shell from New Zealand to build its lectern and choir area.
Second image: After retiring, my father carved wooden sculptures from "found wood". This piece of art was at the front of the church on my wedding day.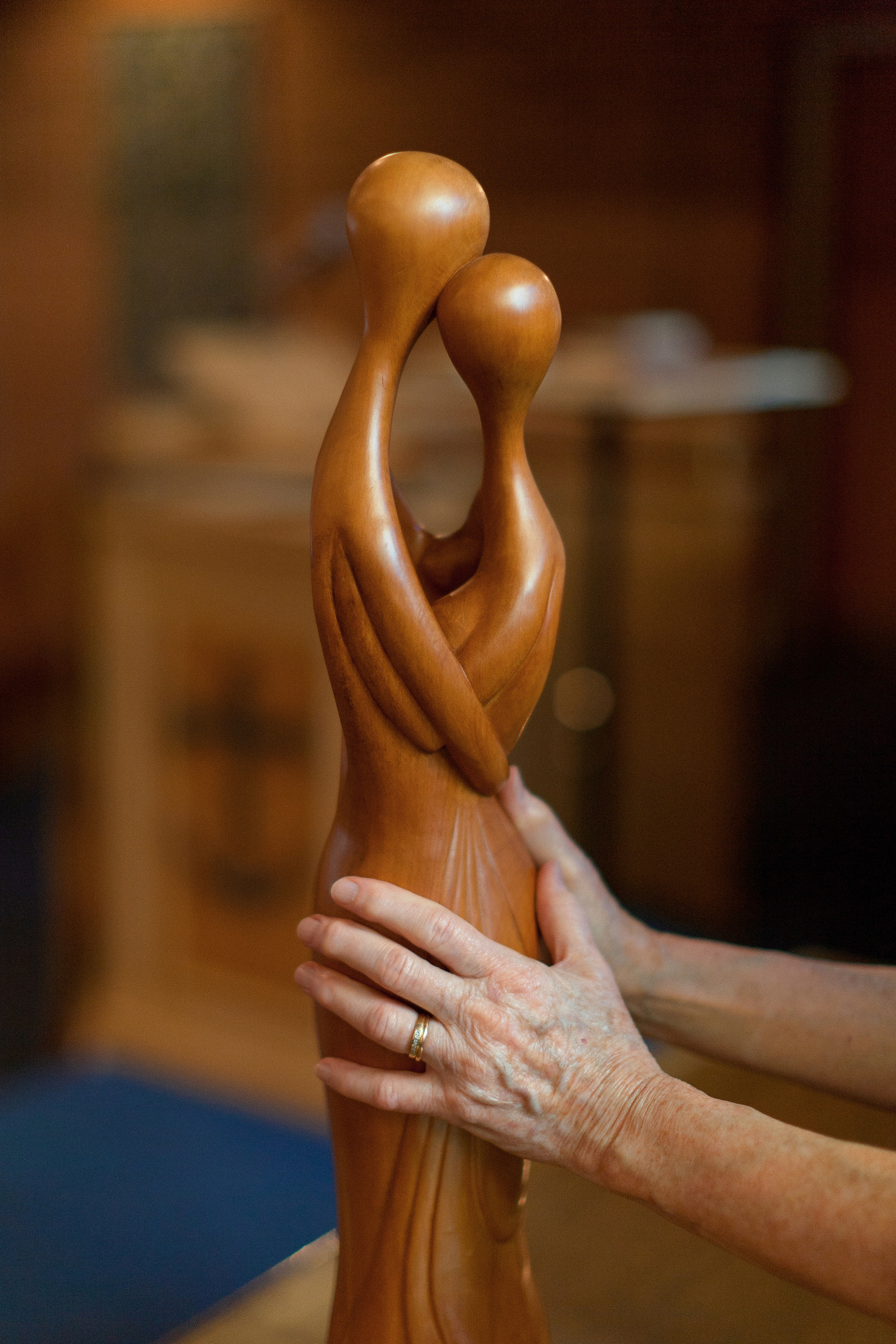 MARIA

Born in Managua, Nicaragua |
First image: La Bella Managua, a Nicaraguan restaurant at Bloor and Ossington, gives me a taste of Nicaragua whenever I am craving gallo pinto and fresco de tamarindo, or just want to share a bit of my culture with my non-Nicaraguan friends.
Second image: The Güegüense is a Nicaraguan satirical drama that dates back to the sixteenth century. It is a signature folkloric tradition and one of the earliest known indigenous works of theatre/drama in the Americas. The Güegüense is symbolic of the deep-seated political consciousness of the Nicaraguan people. As someone who really appreciates the arts, politics and satire, I am proud of this tradition.
JESSE

Born in Niamey, Niger |
First image: I'm an avid Toronto Maple Leafs fan and by volunteering for Right to Play, I have been able to see every game.
Second image: My father captured this precious moment when I was leaving Niger for Canada and saying goodbye to my grandmother. Her house is always my last stop when I leave Niger and my first stop when I return.
AMARACHI

Born in Lagos, Nigeria |
First image: Kensington Market's Hibiscus Café represents my effort to live a healthier and more wholesome lifestyle while living in Toronto.
Second image: This photograph, from my childhood in Lagos, reminds me of a simpler time in my life when I could play and spend time with family.
JINA

Born in Pyongyang, North Korea |
First image: I escaped from North Korea by swimming to China, but the official story that my parents will tell authorities is that I died in a car crash. This little parkette in the North York Civic Centre is where I first went to cry when I thought of my mother and the fact that we probably would never meet again.
Second image: Whenever I wear something fancy that my mother would not have permitted me to have, such as this purse, I am reminded of her.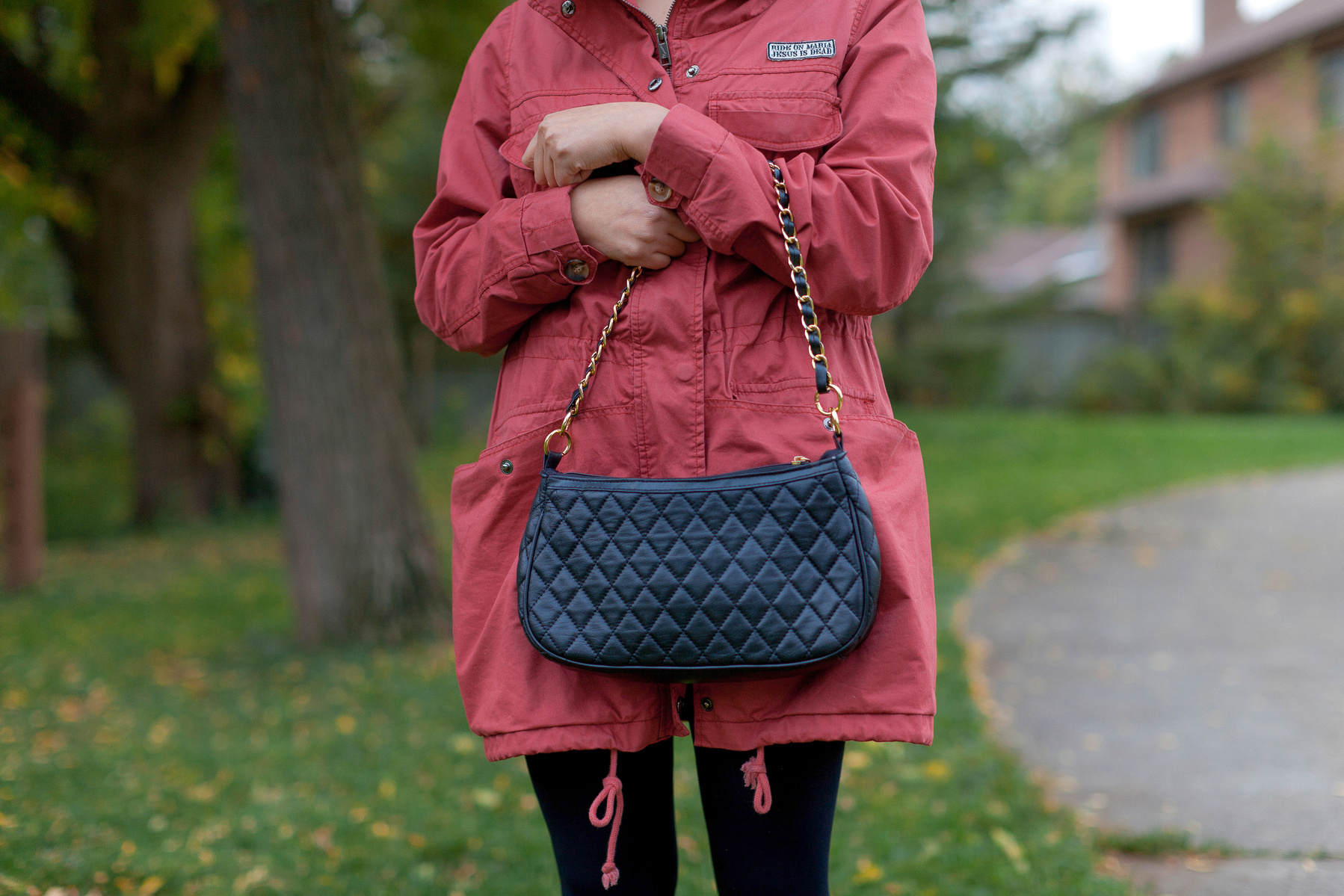 VERA

Born in Skopje, North Macedonia (fmr. Macedonia) |
First image: Ralph's Hardware on College Street has an eclectic window front, full of lighting fixtures. Whenever I walk by this place I feel a sense of nostalgia for the warm, dusty, "mom and pop" shops back in Macedonia especially my father's lighting design store.
Second image: Traditional wool weavings often decorate Macedonian immigrants' homes when they live overseas. This is a seventy year old naturally-dyed wool table covering that was handmade on a traditional weaving loom.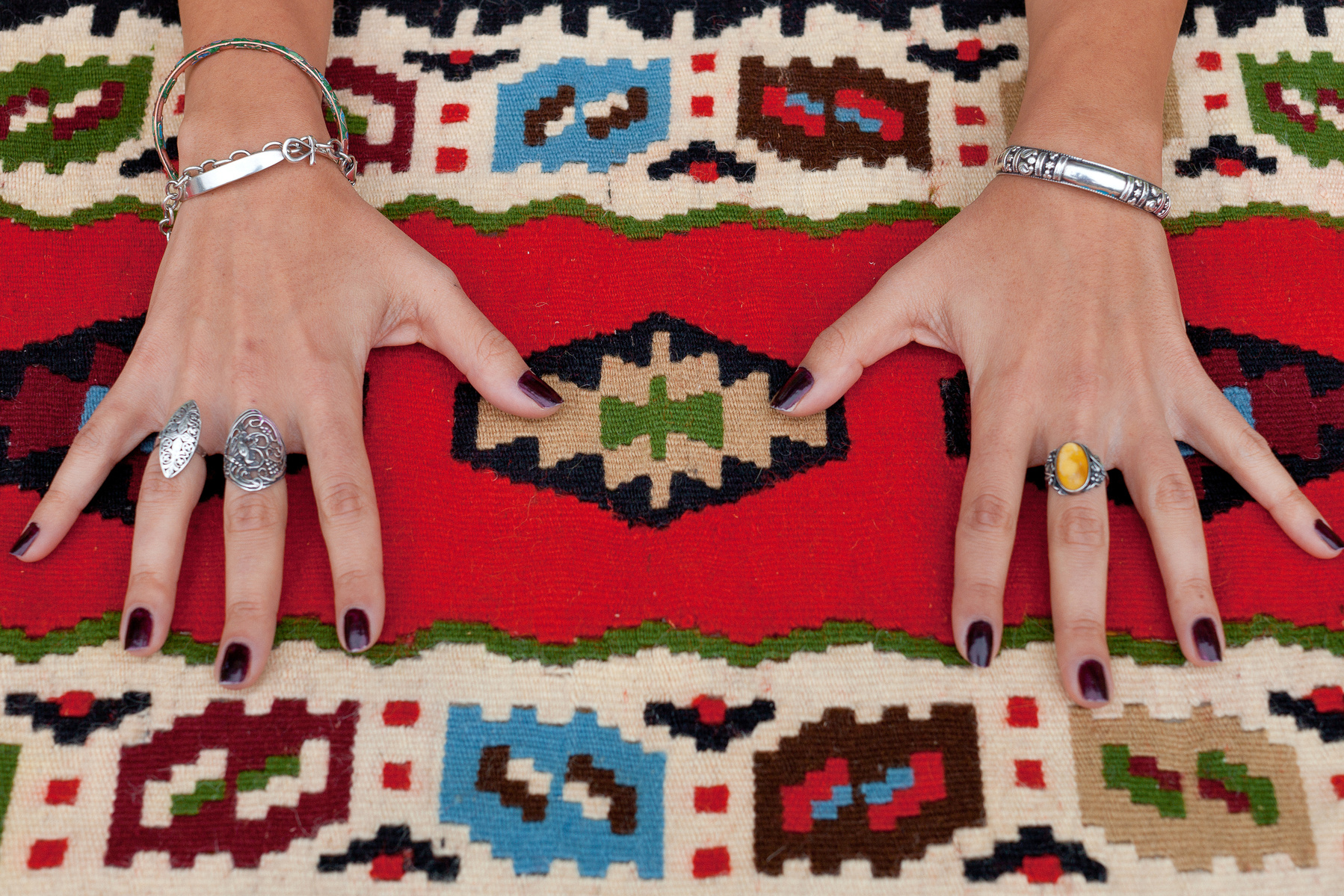 ALEX

Born in Oslo, Norway |
First image: I work in Don Mills as the Director of Risk Management for Morrison Financial. After more than a decade of living in the GTA, I feel that it is the people that make this city home not one particular place.
Second image: Being able to converse with my niece and nephews through a Skype video call makes all the difference to someone who lives so far away from their family.
ZUWAINA

Born in Muscat, Oman |
First image: After coming to Toronto my family stayed in an apartment at Yonge and Lawrence. Every day we would go to Lawrence Park to play in the snow. Being here still reminds me of a time when our future dreams swirled around us.
Below. In Oman, my family owned a little store near a beautiful beach. I remember spending long hours there, walking with my parents by the water and playing in the sand. Before we left Oman I scooped some of the sand into this small bottle.
FATIMA

Born in Karachi, Pakistan |
First image: Abandoned factories, construction sites and graffiti-filled walls frame the train tracks that I once considered unapproachable. Now I remember this as a place where I partied with great friends.
Second image: While writing for this Toronto-based zine I felt, for the first time, that I didn't need to negotiate between my Muslim and my Pakistani identity. The image on the cover connects with my feeling that home is not an outcome, it's a journey.
WILLIAM

Born in Koror, Palau |
First image: I feel a strong connection to the Niagara Escarpment. Water shaped my childhood growing up on a small island in the South Pacific, and ancient waters shaped this particular part of Ontario's beautiful landscape.
Second image: I remember storyboards being every-where on the island and they depict legends that are still relevant in today's society. This particular board tells the story of two married lovers who escaped to a secluded island for a tryst. When morning came, they noticed turtles had stolen their clothes and they were forced to return naked to their respective homes where they were shunned. The moral to the story is that there are always consequences to one's actions.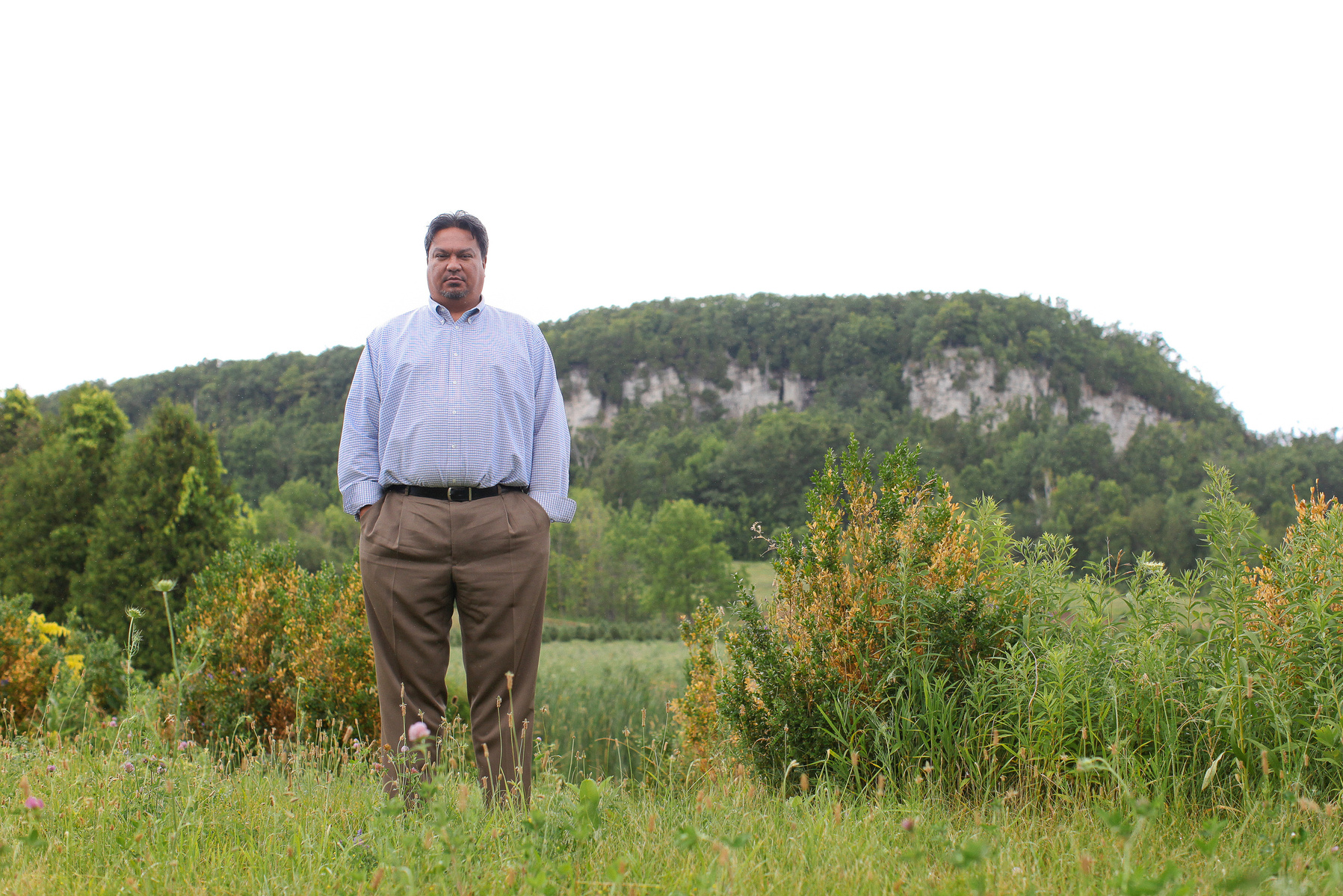 ABDEL RAOUF

Born in Silat El Daher, Palestine |
First image: When I was fifteen the occupation was at its peak and I had to flee Palestine. I raised my family in Kuwait, but when Iraq invaded, we were unable to return there. Later when my family was living in Toronto, I often took my five daughters and wife to the Eaton Centre. I'll never forget how grand they thought it all was.
Second image: Standing in the Eaton Centre holding my late father's picture makes me realize how far our family has come—from a small village in Silat El Daher to downtown Toronto. My father was a modest man who was humble, gentle, hardworking and honest.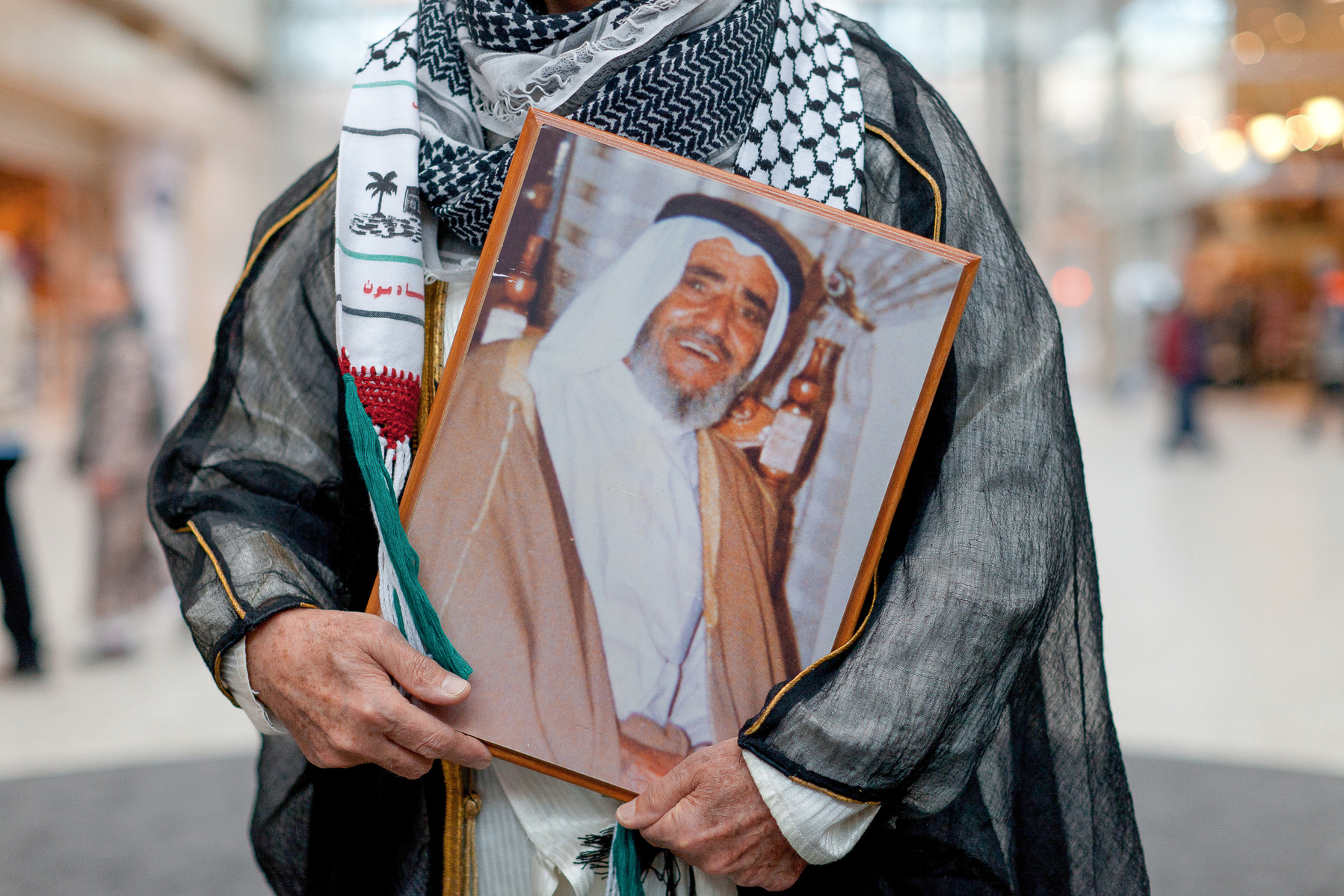 ROSSY

Born in Panama City, Panama |
First image: While I was visiting Canada in 1987, the US invaded Panama and I made the difficult decision to stay here and not return. I am now in a second career as a professional chef and am the proud owner of my own hot sauce company. My weekly routine takes me to Kensington Market, where I enjoy people watching. I often run into friends while shopping for the ingredients needed for my recipes.
Second image: As a child I used to love ripping the leaves of the culantro (not to be confused with cilantro) plant in the backyard and smelling them. The scent brings back memories of Panama, and the cooking of my mother and grandmother. I found this herb here in Toronto, and I could hardly believe it. Today I use it in a lot of my dishes.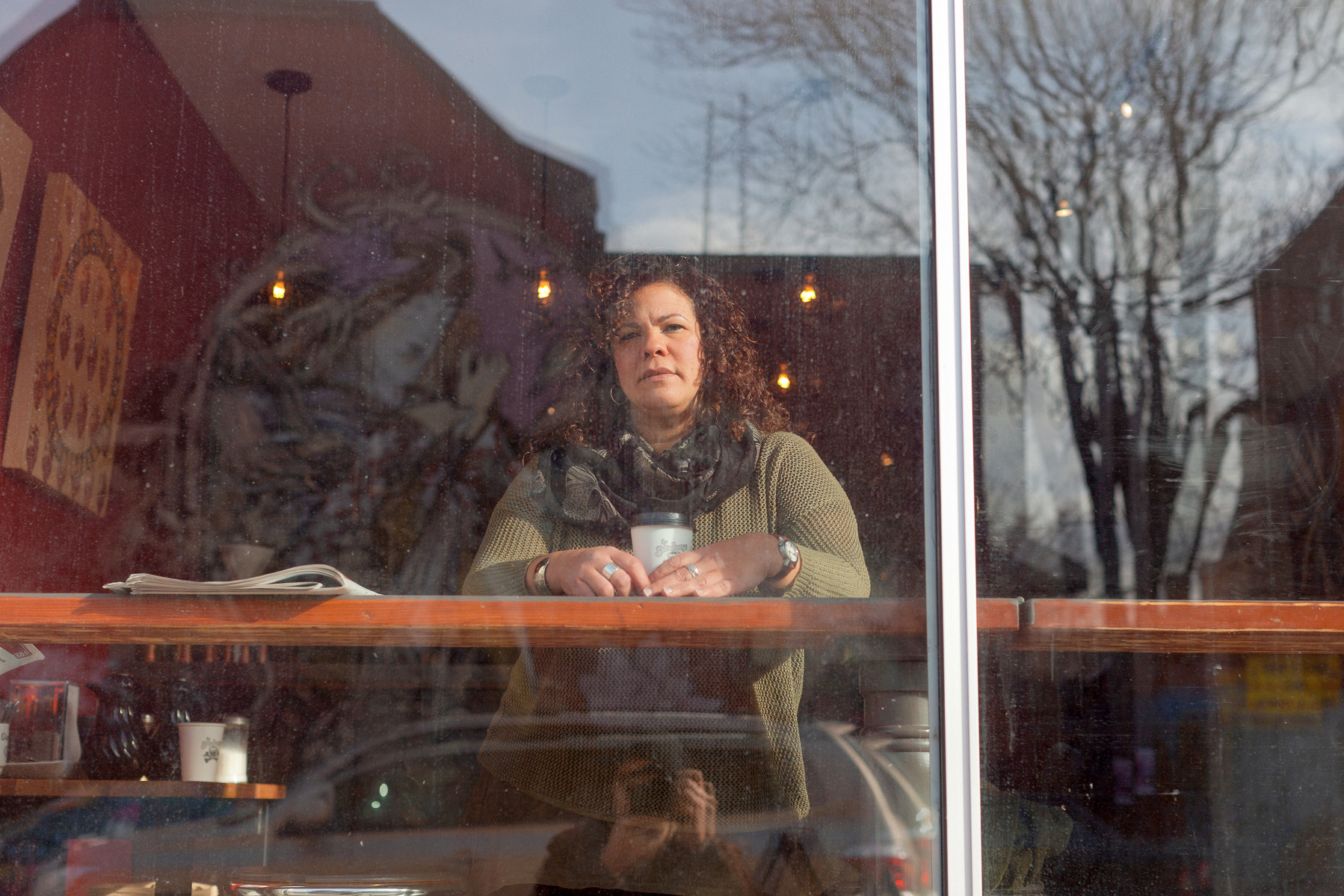 ESTHER

Born in Port Moresby, Papua New Guinea |
First image: A fellow Papua New Guinean, who has been in Canada for more than three decades, introduced me to the Church of Christ in Brampton. It now is a place where I can socialize and feel at peace.
Second image: I design bags out of twisted fibres from the trunk of the yell tree. It takes an entire month to make a single item, and this one is for a friend's laptop. This craft is something I did in Papua New Guinea and I also enjoy doing it here in Canada.
DIEGO

Born in Asunción, Paraguay |
First image: The iconic Honest Ed's is a store I often enjoy seeing, with its rustic appearance and beautiful nighttime lights. Being able to visit bustling areas and then having the option to retreat to my peaceful street, is important to me.
Second image: My parents gave me this hammock that was hand-made in Paraguay. During the Toronto summer heat I hang it up, stretch out with my eyes closed, and imagine I'm back in my birth country.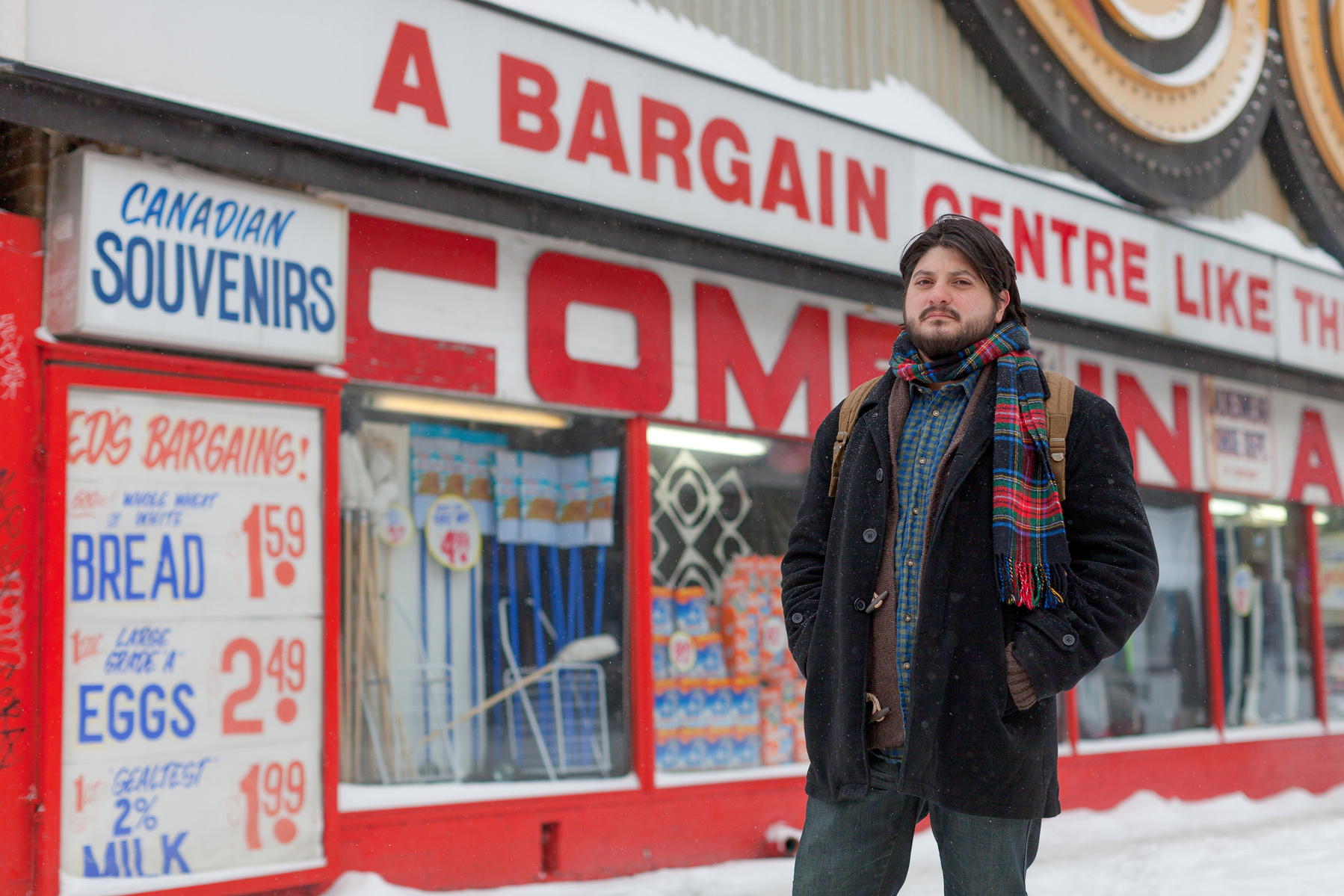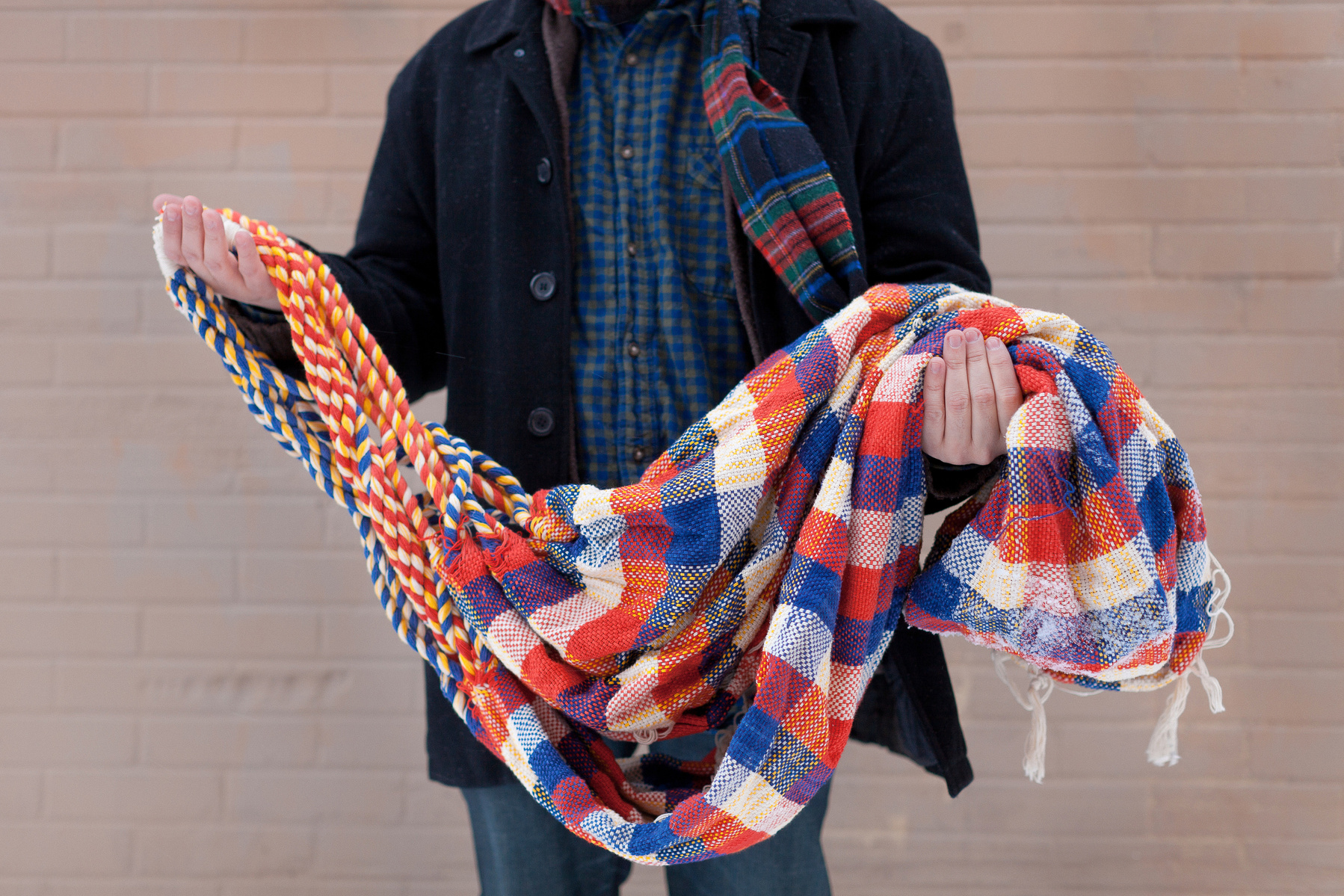 ERIKA

Born in Lima, Peru |
First image: When I walk along Harbourfront and look out over the lake I think of the Pacific Ocean and Peru's capital. Lima's proximity to the ocean is one of the main attractions of that beautiful city.
Second image: Two of my three siblings also live abroad and this makes it difficult for all of us to visit Lima at the same time. It took us more than ten years, but in 2011, we finally got together.
YSH

Born in Mandaluyong City, Philippines |
First image: The intersection of Bathurst and Wilson is home to a burgeoning Filipino community. I yearn for this neighbourhood to be officially recognized as "Filipinotown".
Second image: The Philippines had a well developed society and culture before colonizers conquered the country. One example of this is the Baybayin ancient Filipino writing system which artist Kristian Kabuay used on this hat that I wear with pride.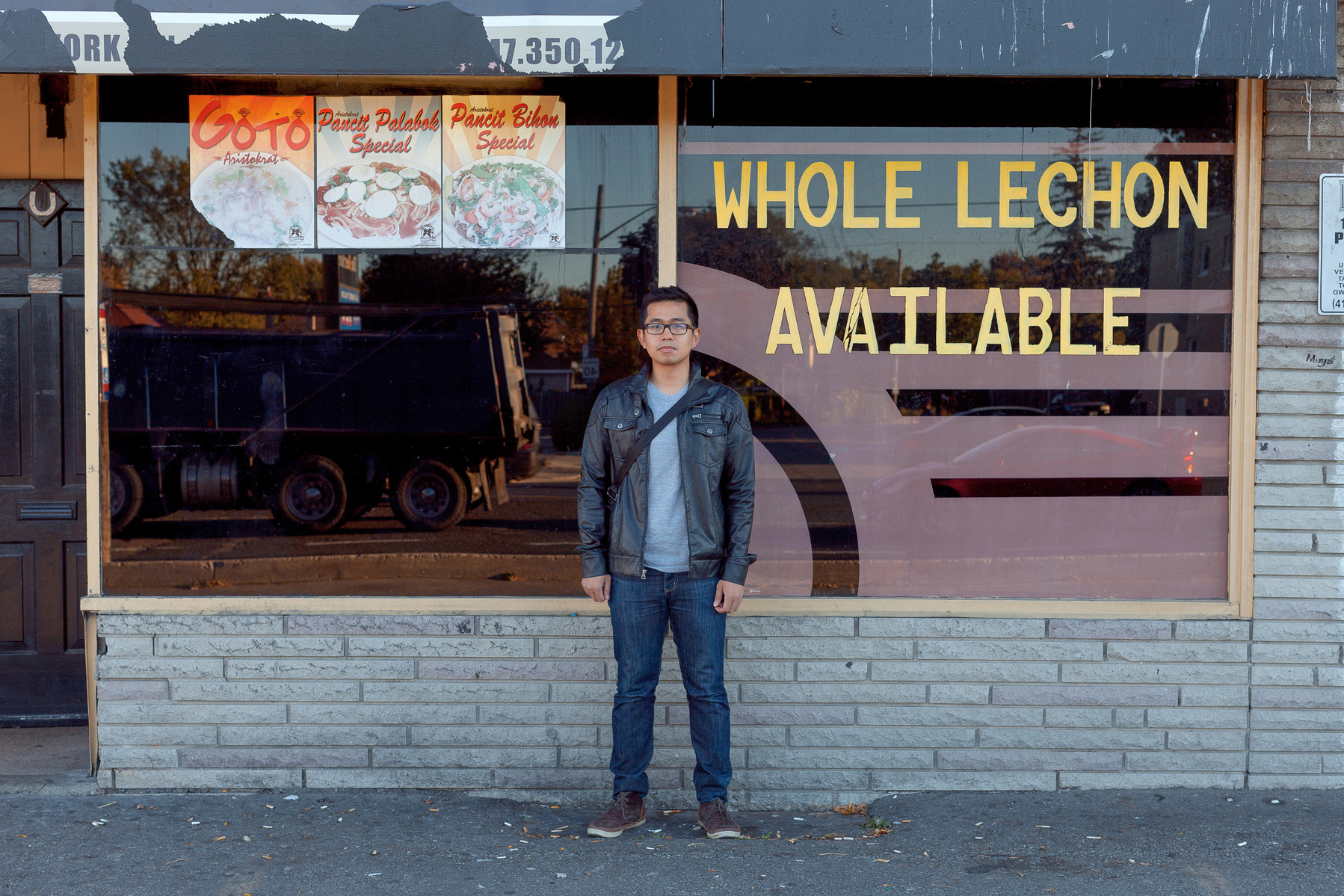 MARTA

Born in Szubin, Poland |
First image: My son had to stay in the hospital's Neonatal Intensive Care Unit for five days. During that stressful time, this mural and garden in Roncesvalles, just minutes from the hospital, put a smile on my face. This community is where my new son and I spent some of our first moments together.
Second image: I recognize that my parents sacrificed not only their own happiness, but their friends and their lives in Poland, in order to find better opportunities for their children in Canada. This photograph reminds me of what life must have been like for them when they were carefree university students, in love.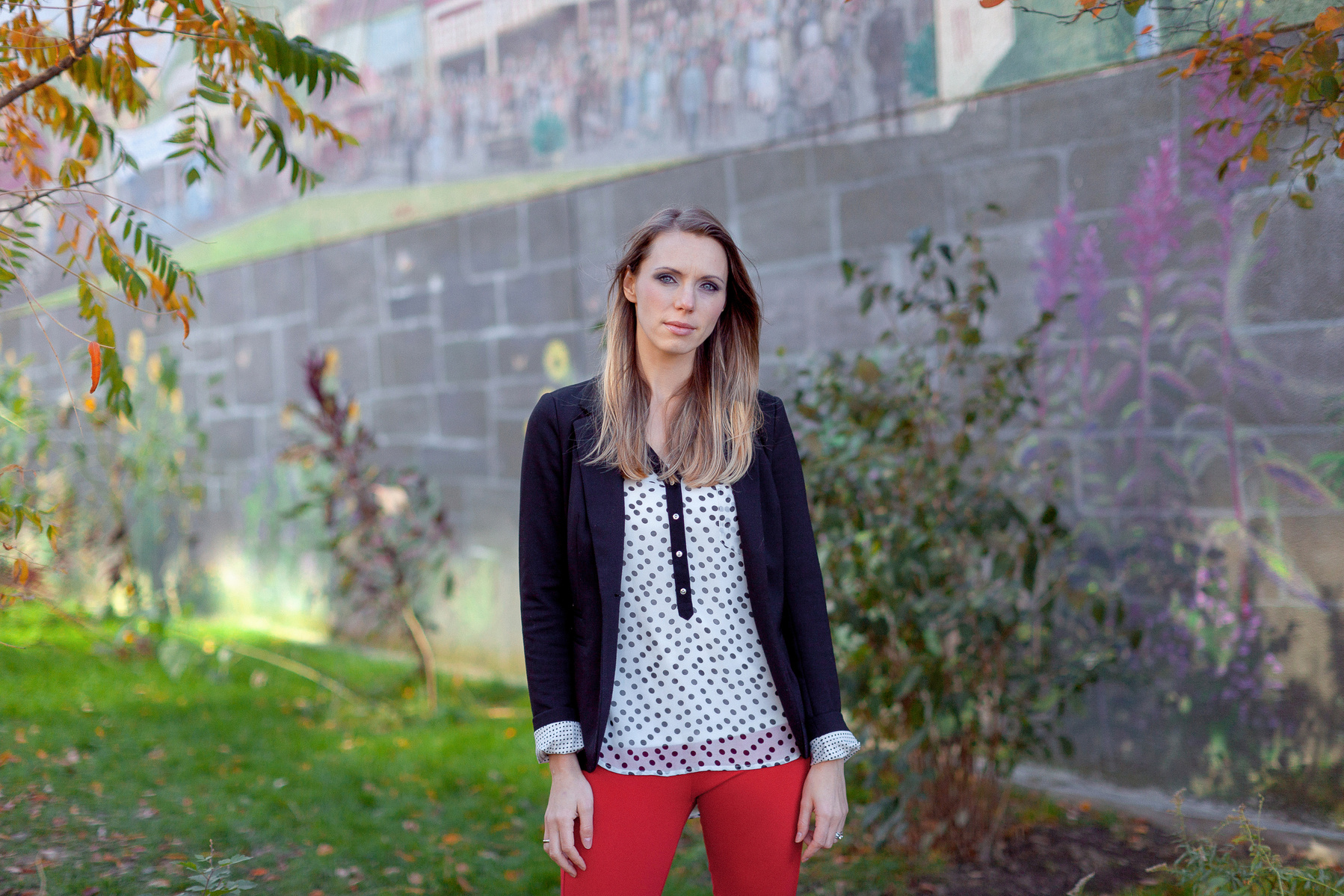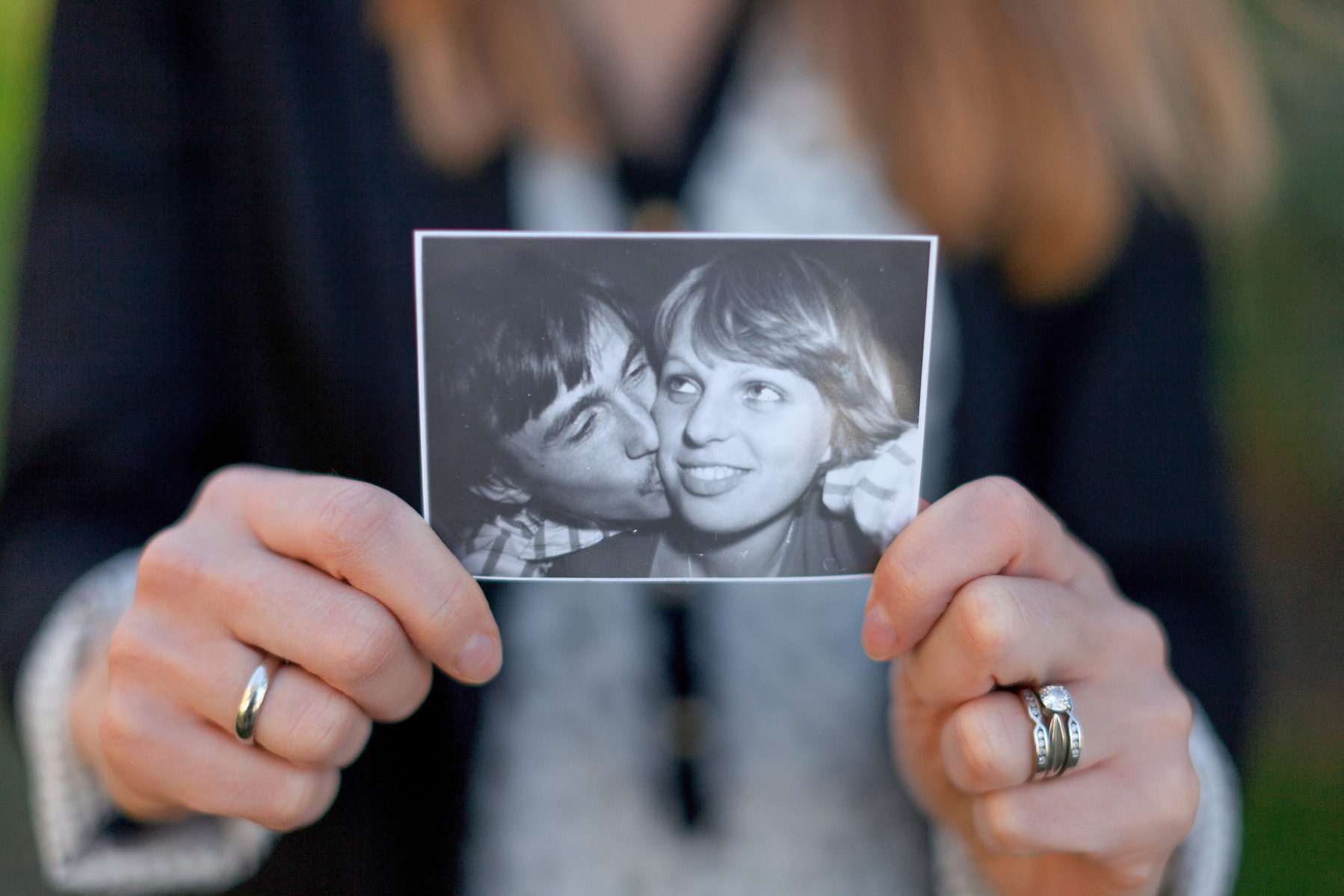 DULCE

Born in Casal das Patas, Portugal |
First image: Nova Era in the heart of Toronto's Portuguese community is my favourite Portuguese bakery. I always have their delicious galão (Portuguese latte).
Second image: My late maternal grandmother, despite her age and lack of education, was the only person in the family with the vision and belief that I would realize my dreams of becoming an actress and producer.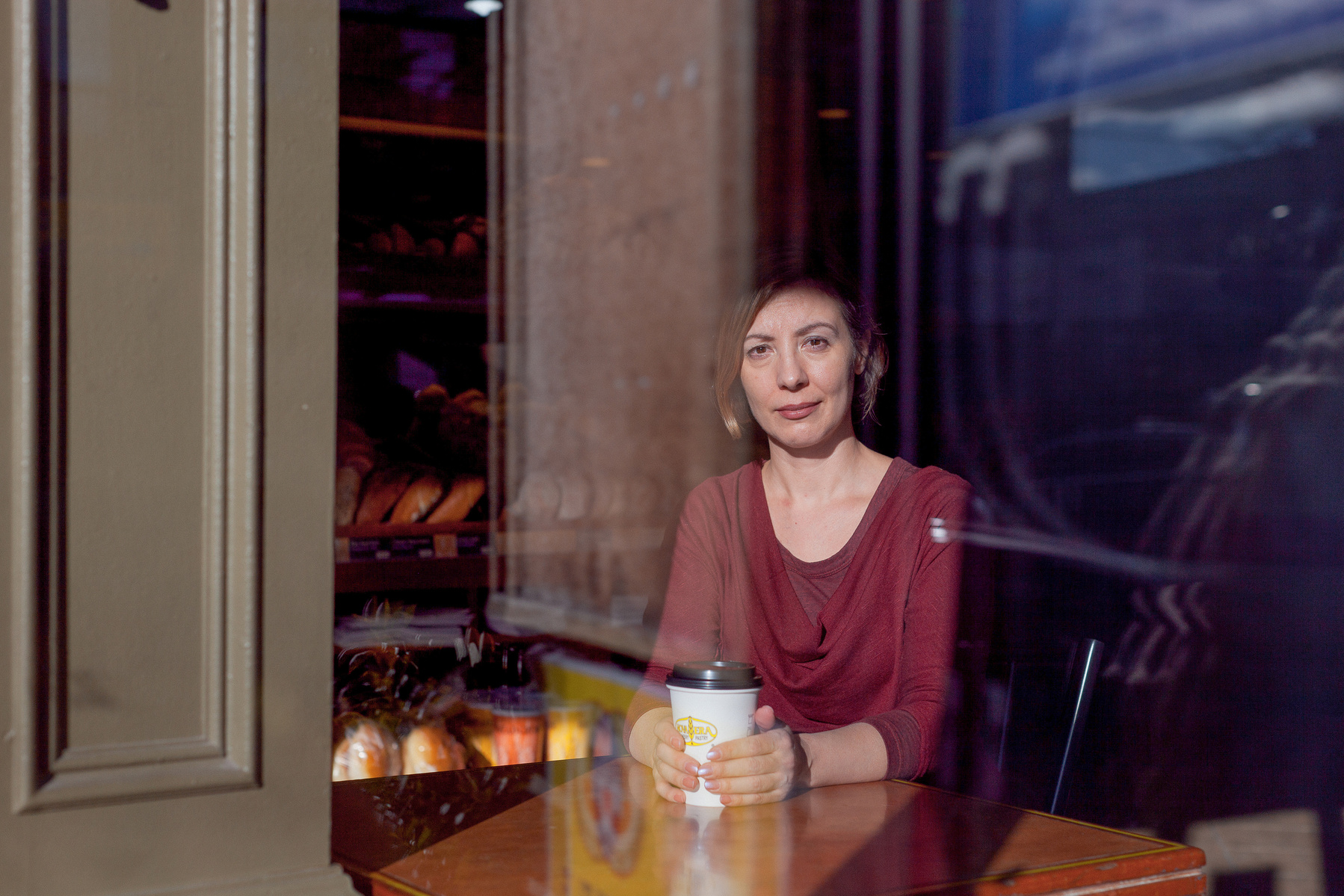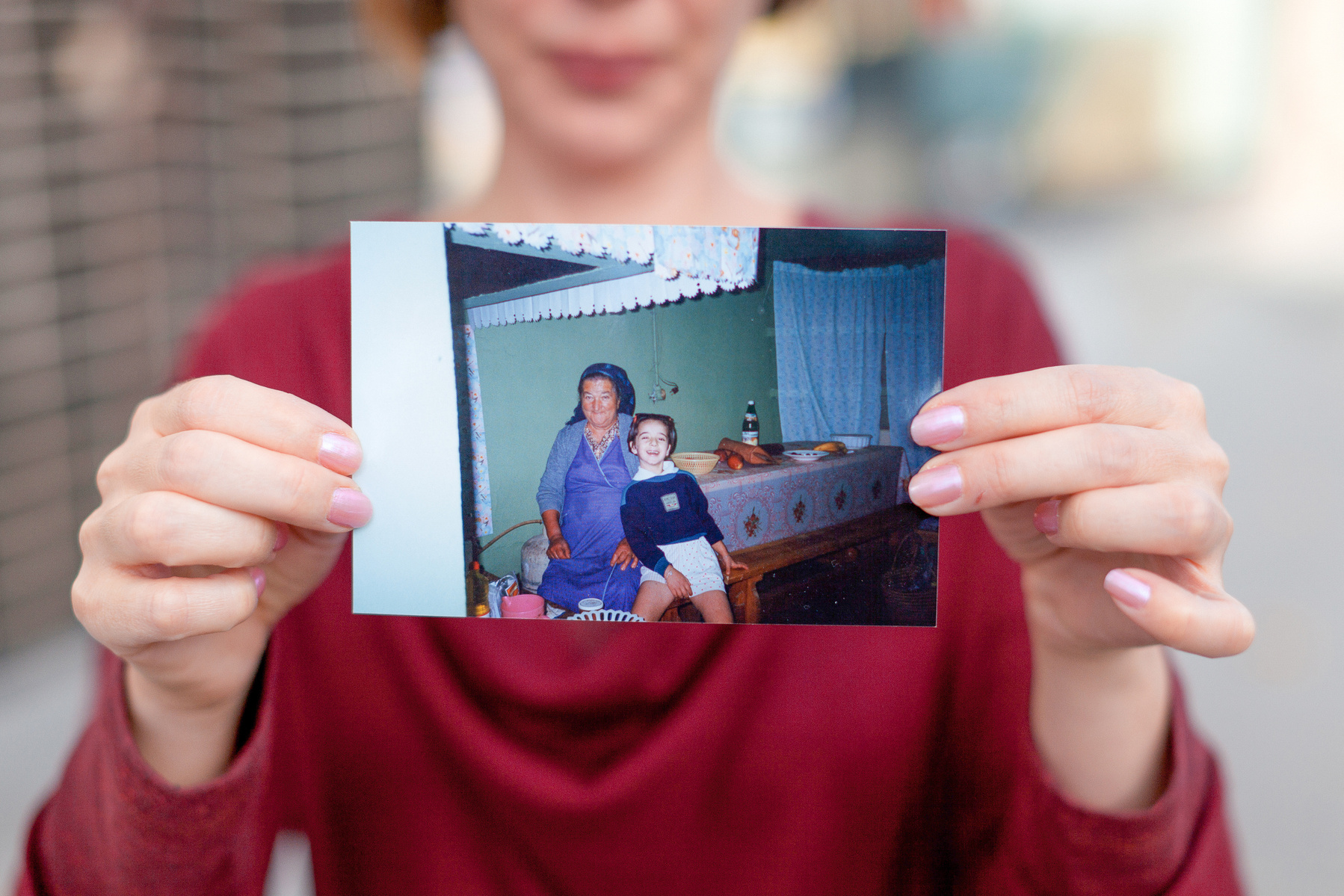 SAIMA

Born in Doha, Qatar |
First image: After many years of suffering abuse I eventually escaped to a women's shelter. I found a safe and secure apartment and would often walk down to the lake in Etobicoke's New Toronto Village, look out over to the city and think "wow…you are okay". For the first time in many years I could dream of a better future and believe it might actually happen.
Second image: My Pakistani background and being raised in the Middle East make henna very important to me. Both Pakistan and Qatar are known for this type of art. When wearing it, I feel unique and elegant.