Cosmopolis: A city inhabited by people from many different countries.
Toronto is arguably the most cosmopolitan city in the world. While statistics help to quantify Toronto's diversity (more than half of the city's inhabitants were born outside of Canada), it is important to hear from the people who make up these statistics.
COSMOPOLIS TORONTO is the culmination of a yearlong journey to photograph 195 Torontonians; one born in every single country in the world.
This series features a portrait of each Torontonian in a location where they feel the most at home, and a second photograph of the participant holding something that connects them to their past.
This project was presented at TEDxToronto, to the United Nations Global Forum in Azerbaijan, and featured in a film by the National Film Board of Canada. It has also been featured widely in the media such as The Globe & Mail, CBC's The National, The Wall Street Journal, and National Geographic.
ROSALIND & LORELEI

Born in Bucharest, Romania |
First image: This is our parents' home at Avenue and Lawrence. It is filled with artifacts that connect our family to Romania and our Jewish faith. We both enjoy painting as a hobby, so the walls display our work.
Second image: Our mother is still alive, but our father and grandparents have all passed. This family tree is the only place where we are all still together.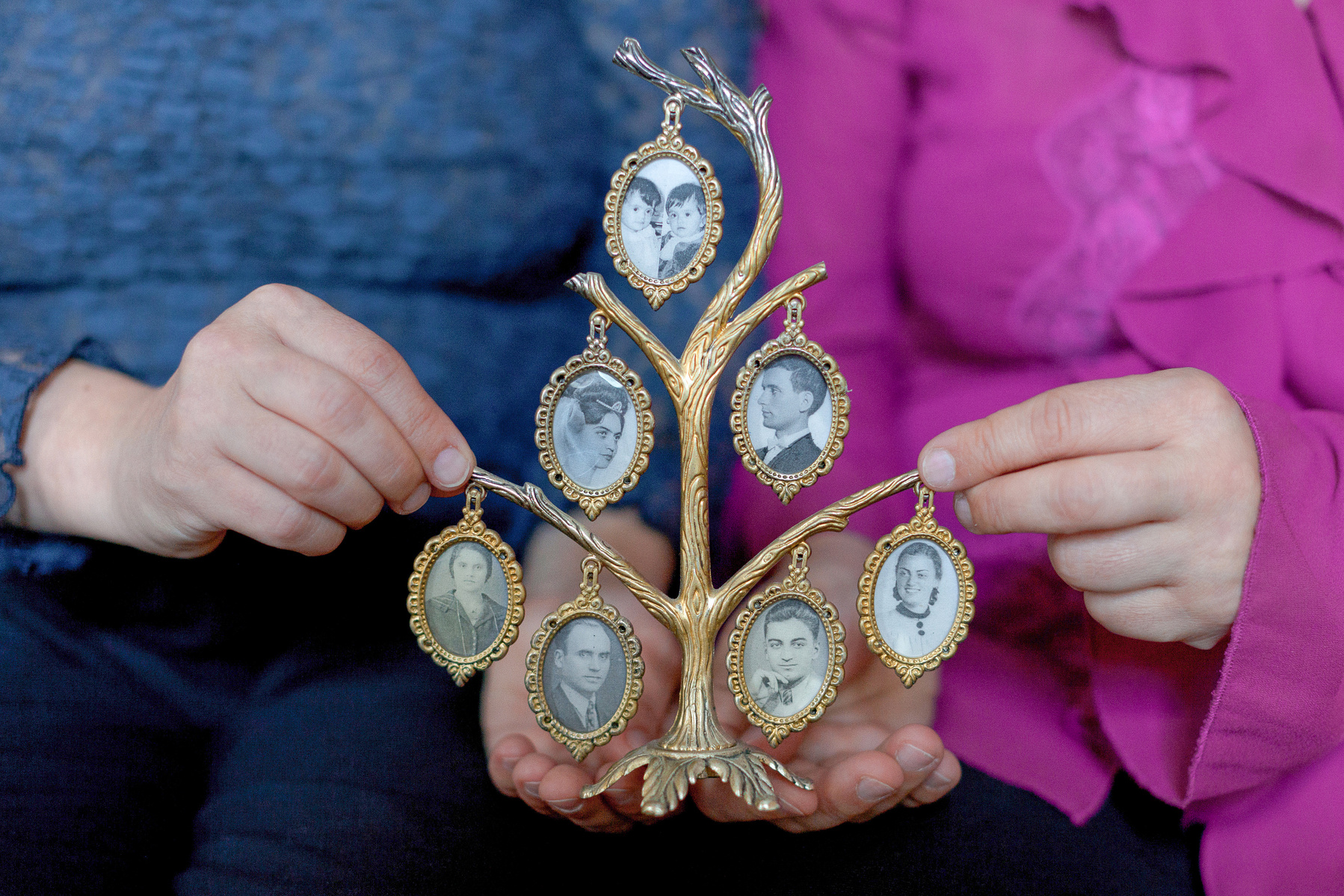 ELENA

Born in Kaliningrad, Russia |
First image: I love going with my family to the Art Gallery of Ontario. I believe that like many of my favourite places in this city, the Galleria Italia space in the AGO is only discovered if one looks for it.
Second image: In Russia I would be making a statement by wearing this Pavlovo Posad shawl, and judged by older women with traditional values. I love wearing it in Toronto and not being critiqued.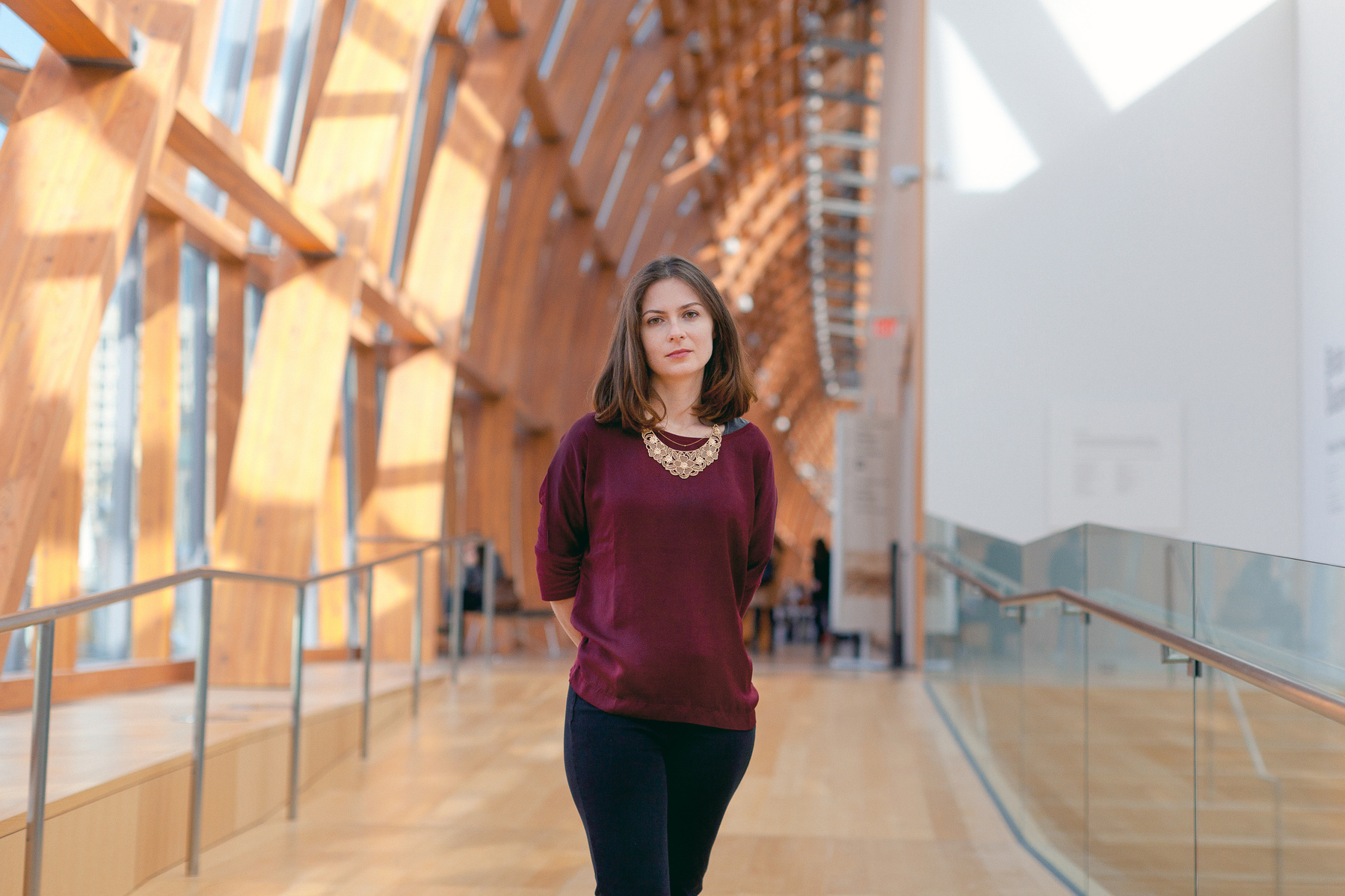 BENI

Born in Kigali, Rwanda |
First image: My condo building in the Distillery District is a reminder of how far I have come since I fled the Rwandan genocide at the age of twelve.
Second image: Coffee is an important source of revenue for Rwanda, a country that struggles economically. Each morning before work I drink Rwandan coffee, a daily connection to where I am from.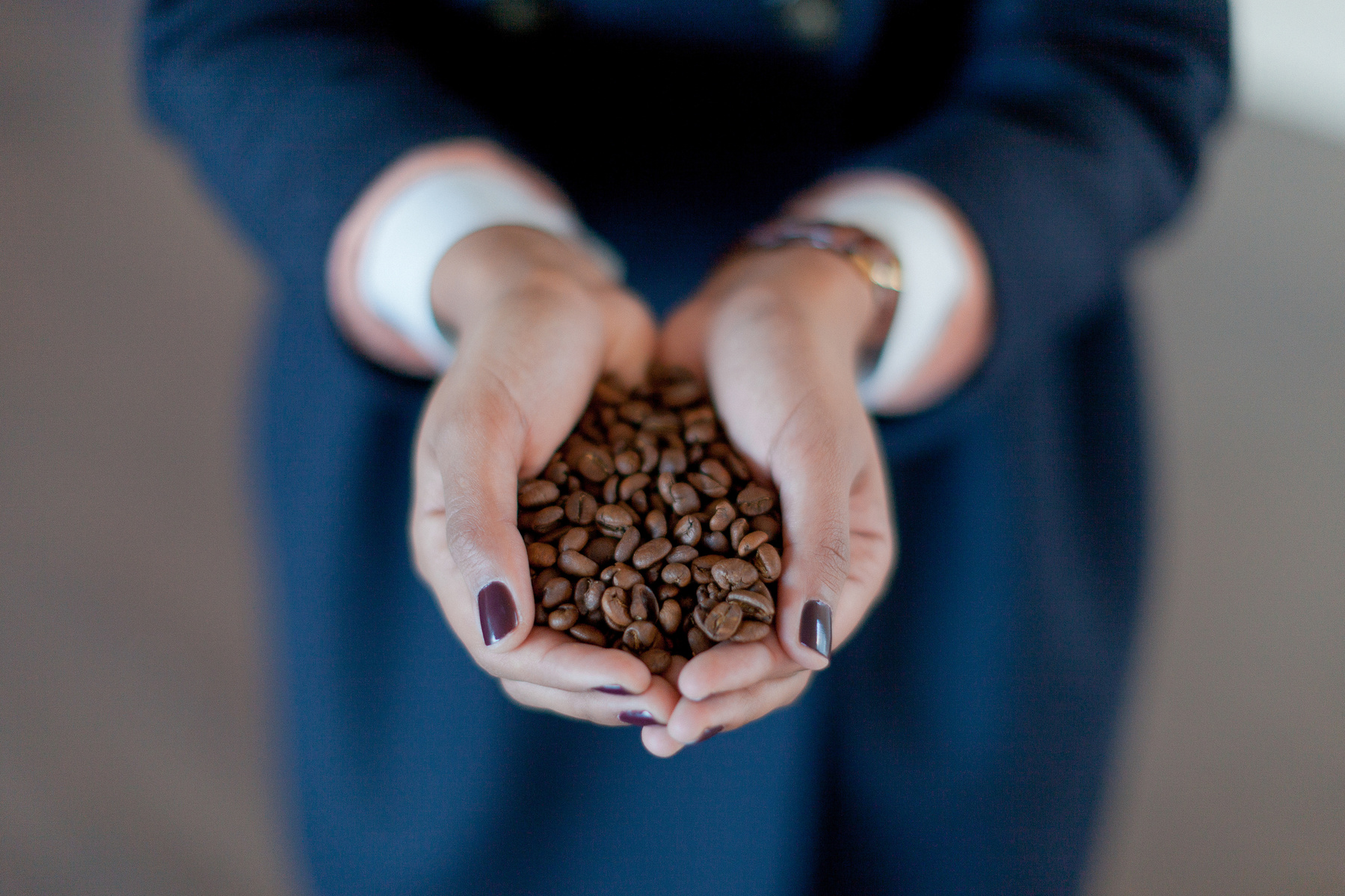 ERNEST

Born in Basseterre, Saint Kitts and Nevis |
First image: I grew up with a beautiful view of the sea. It is for this reason that the Ajax Waterfront Park gives me a serene feeling and reminds me of my childhood.
Second image: This picture, from the notice of my mother's funeral, is special for me because it is the last photo I took of her at my home. As a seamstress for a UK clothing manufacturer, my mother always had a special affinity for hats.
WALTON

Born in Castries, Saint Lucia |
First image: Billy Bishop Airport is where I'm learning to fly and living out my dream of becoming a pilot. Nothing could make me give up on this.
Second image: This photograph was taken when I was five, after Mass at the Good Shepherd Catholic Church. It reminds me of a time when life was simple, and the entire family was together.
LYNSAY

Born in Kingstown, St. Vincent and the Grenadines |
First image: Living in an apartment by Maple Leaf Square is perfect for me as a Toronto Maple Leafs' fan. From my residence, I can hear the buzzer in the Air Canada Centre sound when they score a goal.
Second image: This handmade boat was given to my mother when she first moved to Saint Vincent. Looking at it reminds me of my childhood home, and my plan to go back there and sail the Grenadines.
KAROLAINE

Born in Apia, Samoa |
First image: I've been going regularly to the Eaton Center since I first came to Toronto. My first few jobs were here and when Samoan friends visit, it is the first place I take them to.
Above. I love the Manu Samoa (national rugby team) and always wear this jersey with pride. The team is well-known internationally for performing a traditional Samoan war dance called the siva tau.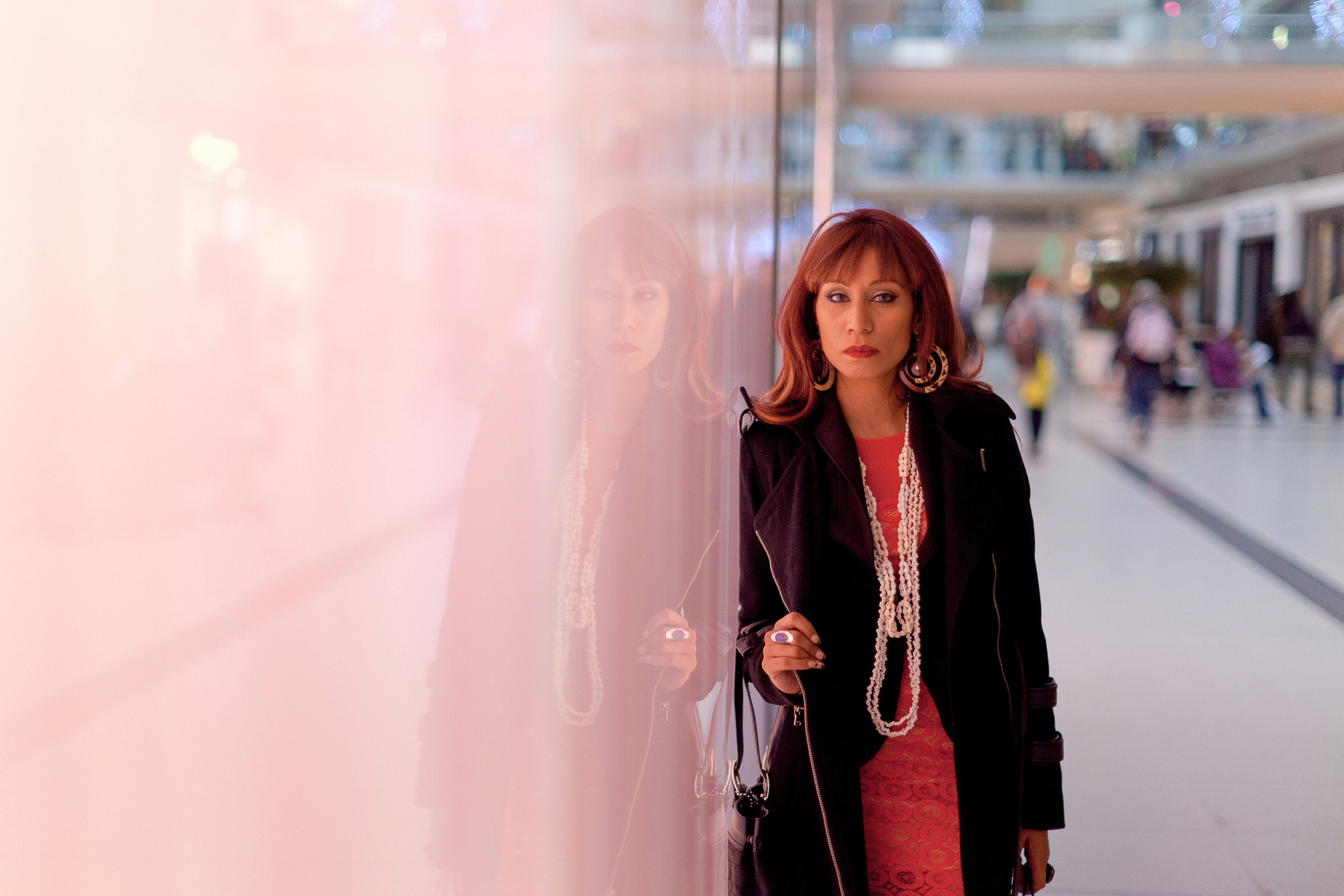 SELMA

Born in Trindade, São Tomé and Príncipe |
First image: I'm raising my daughter on my own and working jobs just to survive. Before going to church, I felt overwhelmed and lost. Turning to God and attending the Impact Lives Church in Etobicoke has helped me feel much stronger.
Second image: This black shawl goes around the waist and is thrown over the shoulder as a sign of respect when greeting someone a tradition from our Portuguese heritage. This outfit makes me feel unique, beautiful, and proud of my background.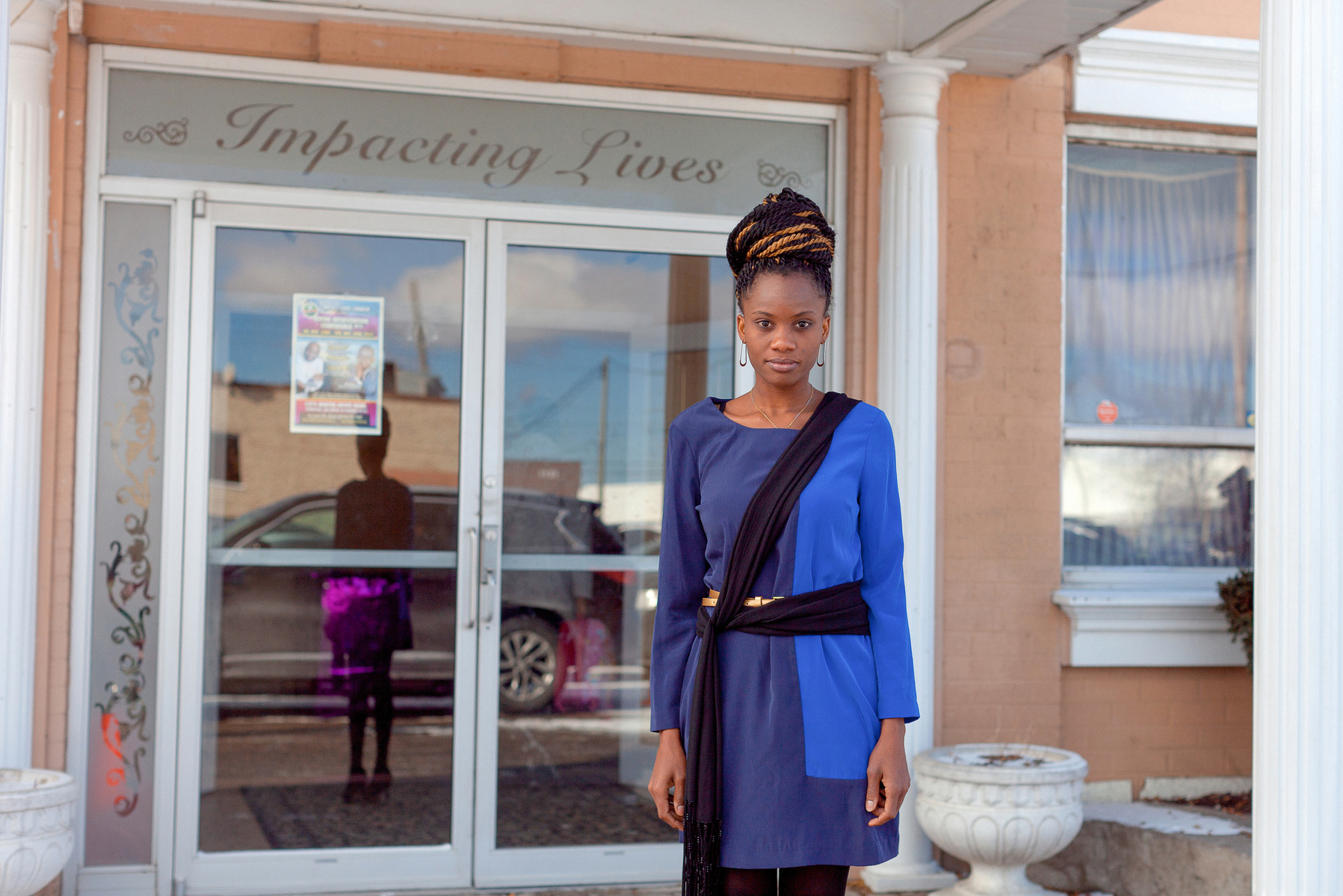 NOUR

Born in Riyadh, Saudi Arabia |
First image: My favourite places in Toronto are definitely the shisha lounges. Though venues like the ones in Toronto don't exist in Saudi Arabia, they are great places to meet new people from the region where I was born.
Below. The Saudi Arabia National Emblem has two swords crossing under a palm tree. The swords represent the kingdoms of Nejd and Hijaz, and the palm tree symbolizes the Kingdom's assets. I purchased the necklace a year after moving to Toronto and it reminds me that I will always have a home both here and there.
ASTA

Born in Dakar, Senegal |
First image: This apartment building is the first place where I have lived on my own. Surrounded by these walls I have studied, felt peace, and thought deeply about my dreams for the future.
Second image: My father gave me this necklace seven years ago. When wearing it, I never feel alone.
NEVENA

Born in Belgrade, Serbia |
First image: SickKids Hospital is where I spend long hours researching the social consequences of paediatric traumatic brain injury. This hospital is innovative, caring, and lively—all of the things that I think of when I think of Toronto.
Second image: When I moved out on my own I received this placard that reads "Belgrade, the unforgettable city". Even though I have spent most of my years living away from Belgrade, I will never forget it.
CHRISTOPHER

Born in Victoria, Seychelles |
First image: Coming from an island nation I love being by water and I recently discovered that my daughter feels the same way. We often walk together by Lake Ontario in Port Union.
Second image: It is common for the Seychellois to have a coco de mer (the world's largest nut) in our home and this particular specimen has been in my family since we left the island in 1982. The jelly from the coco de mer is said to be a natural aphrodisiac and legend has it that the noise of the leaves brushing together in the wind is the sound of male and female plants making love.
MBALIA

Born in Kenema, Sierra Leone |
First image: The Don Valley Trail network is a where I often run and cycle. On my last outing, I rode all the way to Hamilton!
Second image: My grandfather, affectionately called Baba, recently passed away and this is one of the only pictures I have from my childhood of the two of us in it.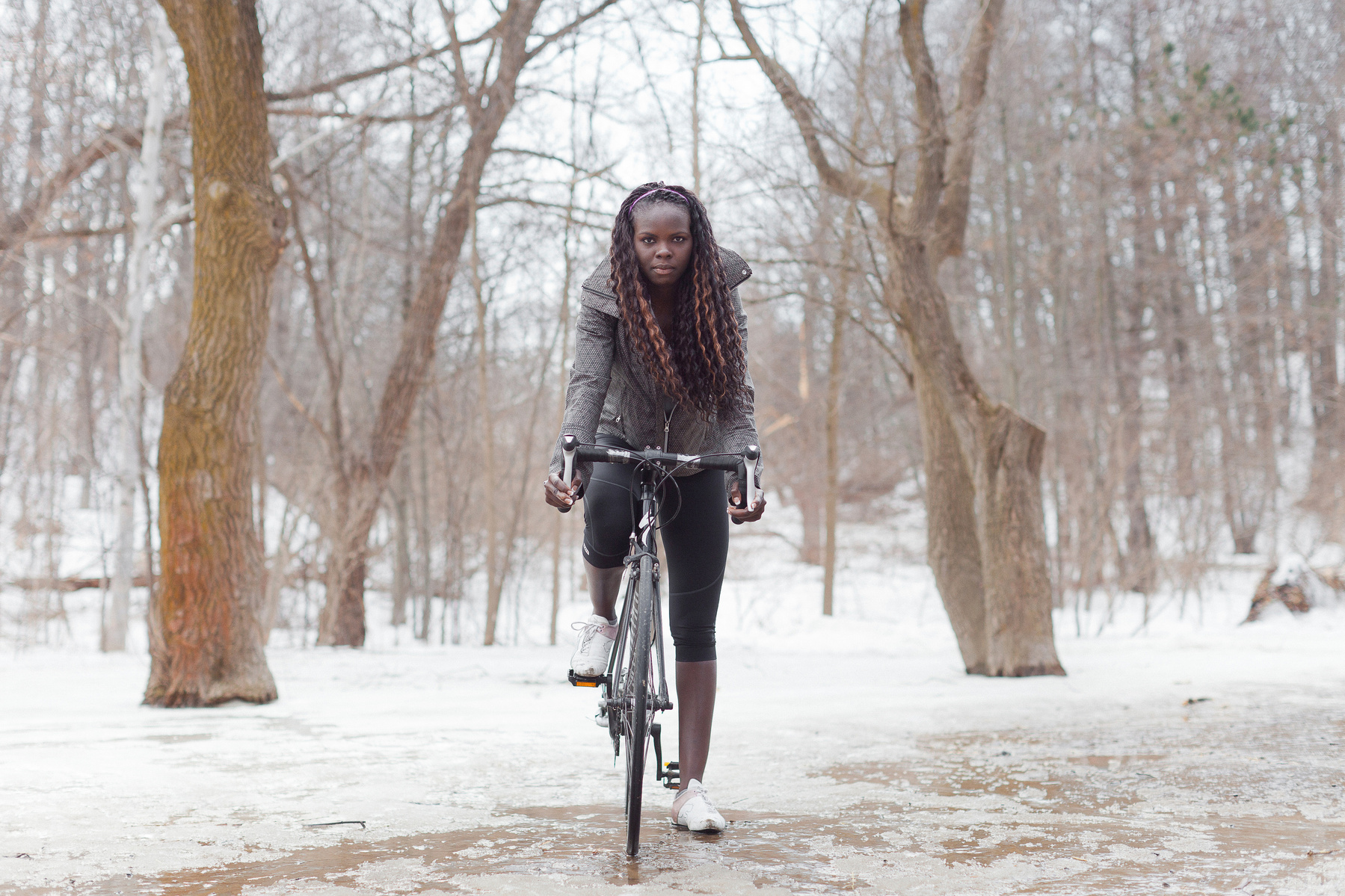 YVONNE

Born in Singapore |
First image: Toronto allowed me to achieve the unlikely and become who I always thought I could be; a choreographer, presenter, curator, arts educator and artistic director. My dance studio on Dovercourt Avenue is where many of my routines are created.
Second image: In a fit of rage, my aunt purchased this jade pendant and took it to a bomoh (medicine man) to get it cursed. My aunt was planning to give it as a "gift," to the nurse her husband was having an affair with. In the end she had a change of heart and sold it to my mother who then passed it on to me (after the curse was removed of course).
LUBICA

Born in Presov, Slovakia |
First image: Prague Restaurant in Scarborough is where my daughter was recently married. The traditional décor and Czech/Slovak cuisine make me feel at home.
Second image: One decade ago, my friends in Slovakia prepared a feast to celebrate my fortieth birthday. Time may change us, but our friendships are everlasting.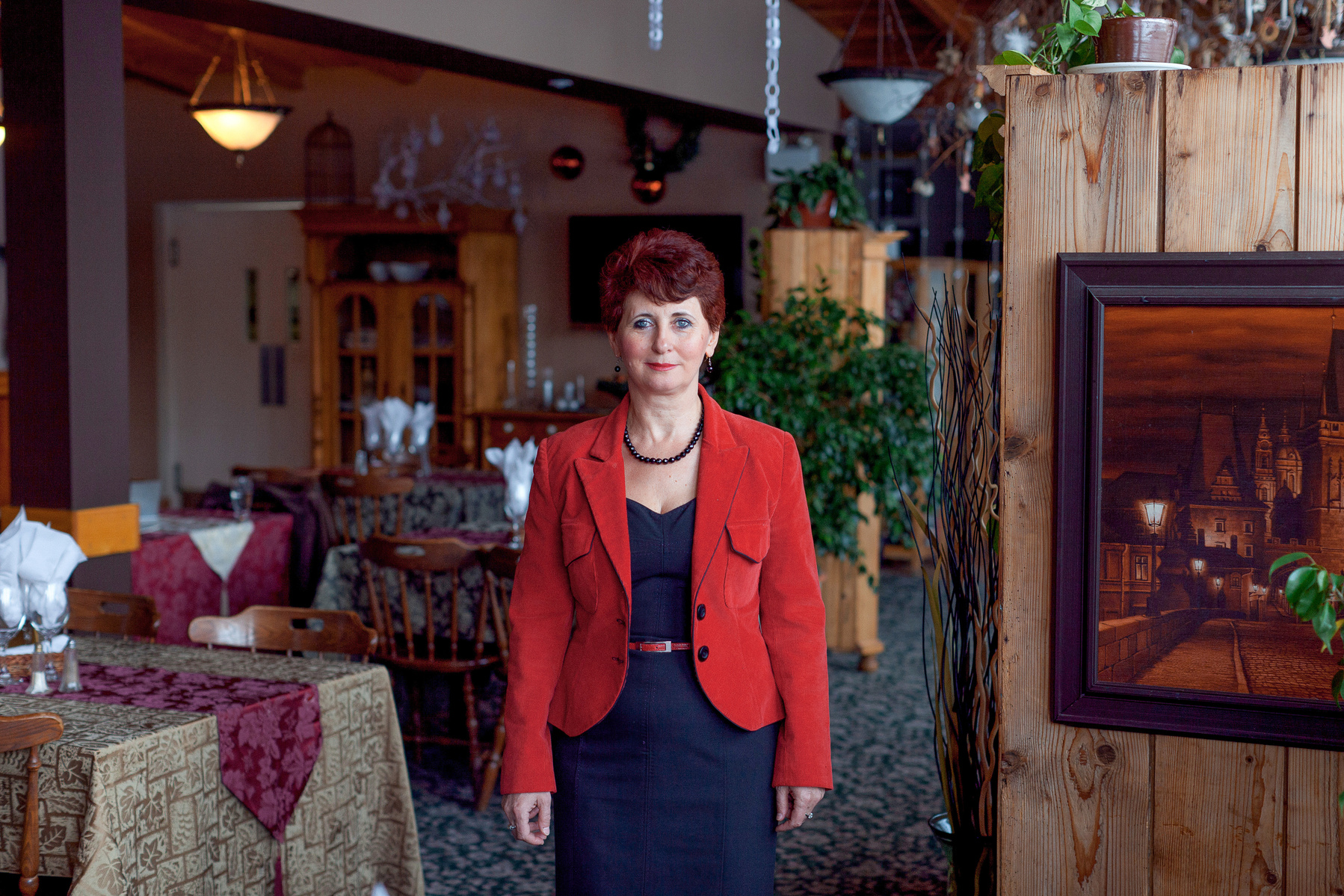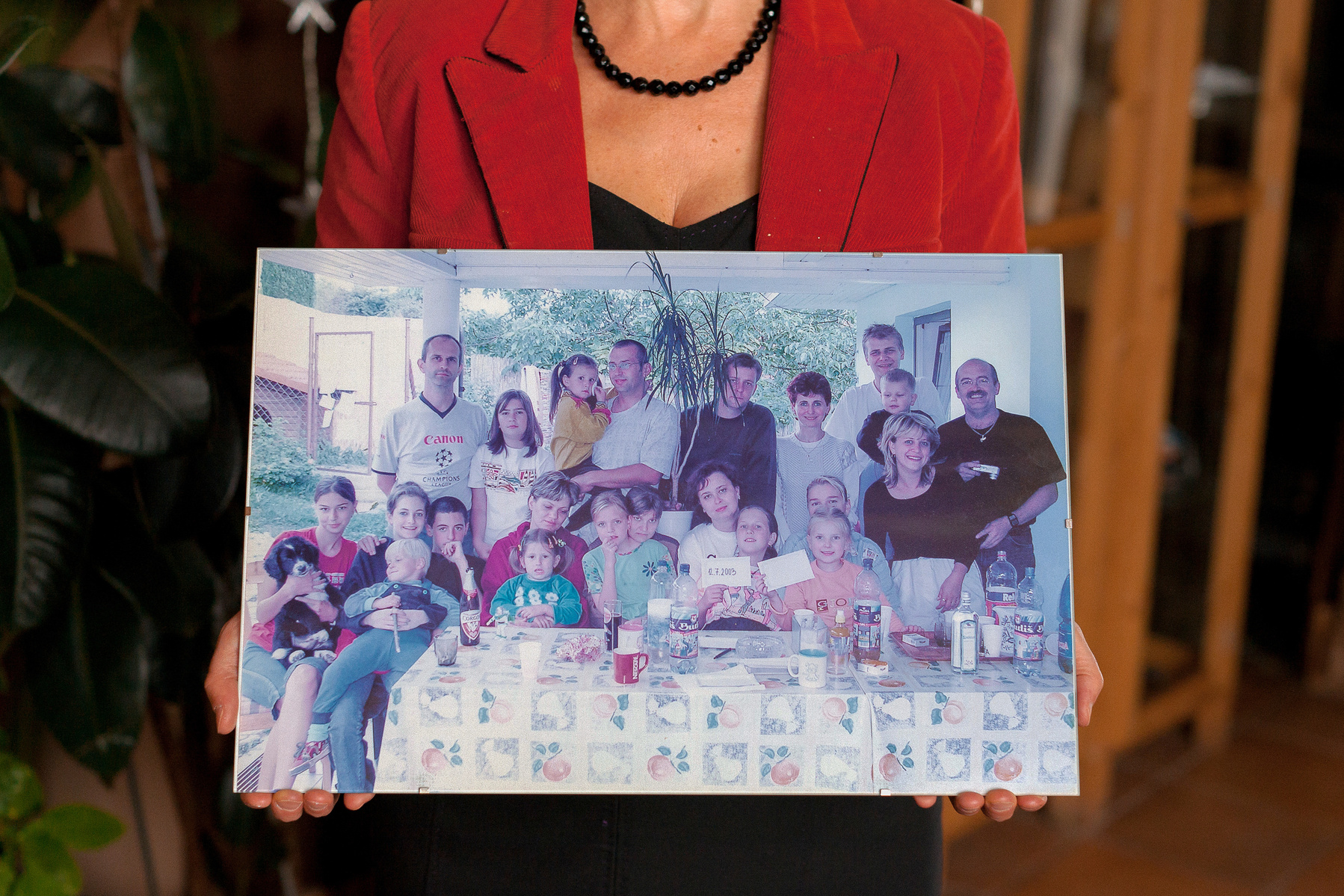 SUZANA

Born in Postojna, Slovenia |
First image: The beach volleyball courts at Ashbridges Bay are where I've spent many memorable summer weekends. In university I played varsity volleyball, a sport I believe would never have become part of my life had I stayed in Slovenia.
Second image: This is a photograph of me standing at the summit of Caven, a 1186 metre high Slovenian mountain. Each time I return to Slovenia, I try to explore new mountain areas as well as revisiting ones I hiked up as a child.
KHALAF

Born in Mogadishu, Somalia |
First image: I think Hamdi is "the Somali restaurant" in Toronto and, as far I'm concerned, one isn't "Somali" if one hasn't experienced the biriis and chicken at this cultural institution.
Second image: My eyeeyo (grandmother) always has a tusbaax (prayer beads) with her. She's a six-foot-five mother of eleven who is now in her late eighties, and I swear on the Qur'an that, although she can't write, she has the memory of an elephant.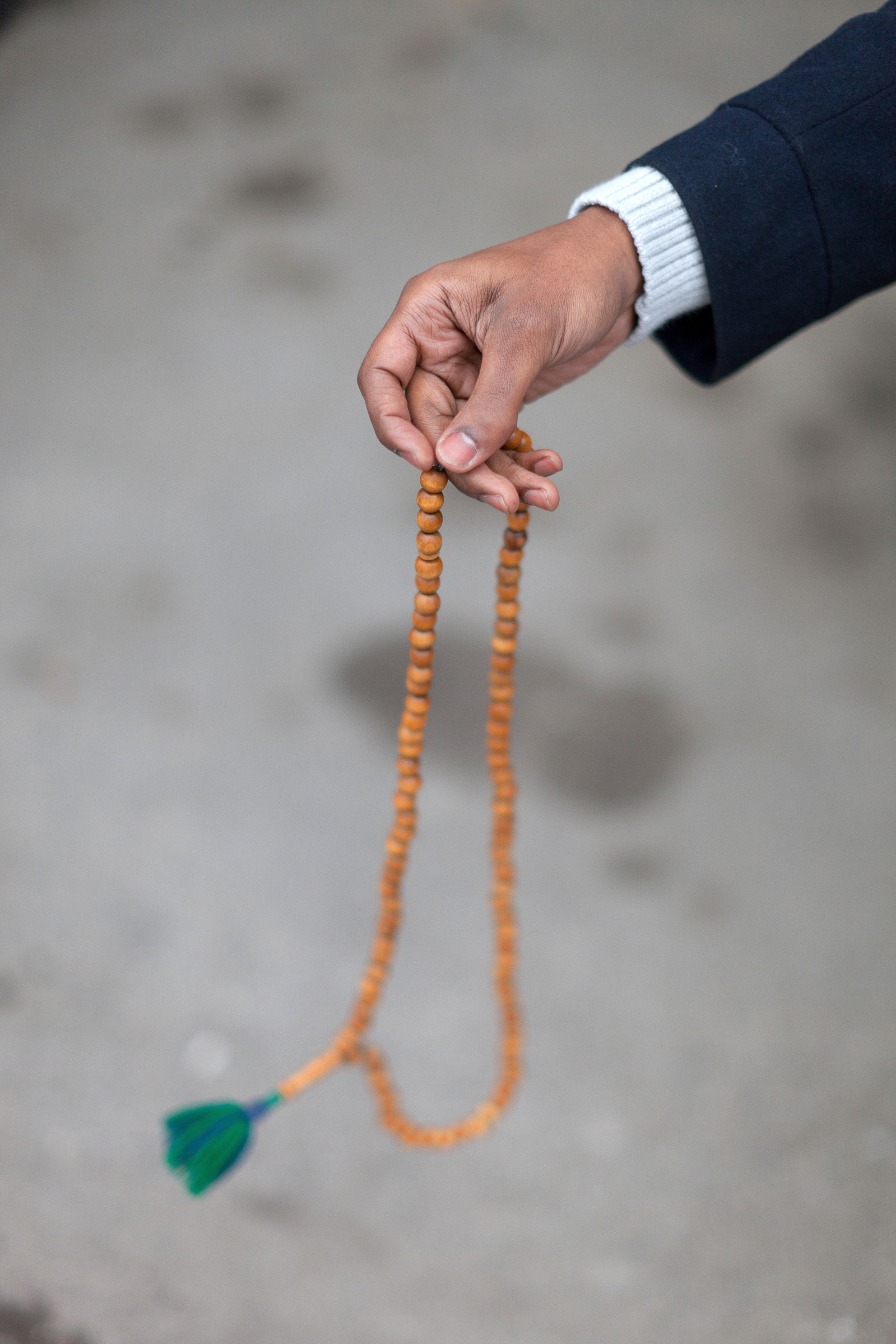 PAUL

Born in Cape Town, South Africa |
First image: In 1986 I no longer felt safe in South Africa due to the increasing violence, so I came to join my sister in Toronto. I now own a house near Lake Ontario and it reminds me of growing up near the ocean. I like to work with my hands and spend a lot of time in my garage doing various projects.
Second image: My sister is a practicing Muslim, and my only sibling who is still alive. We may practice different religions but this difference of faith has not prevented us from caring deeply for each other.
JOHN

Born in Incheon, South Korea |
First image: Osgoode Hall is symbolic of how incredible it is that I didn't speak a word of English when I first arrived in Canada but now, as a lawyer, I get to advocate for others who need to be heard.
Second image: I received my Tae Kwon Do first dan (first degree) black belt in 1988, just before leaving for Canada. Every once in a while when I look at this card, I'm reminded of my childhood in South Korea.
AMANIE

Born in Kaya, South Sudan |
First image: Cloud Gardens is a place where I feel balanced. Although the surrounding area has lots of people, traffic and many skyscrapers, in the gardens there are trees, waterfalls and a greenhouse.
Second image: South Sudan became independent from Sudan in 2011. I was born when the country was whole and in 2010 when the referendum polls began, I decided to make, in ink, this permanent reminder of the past.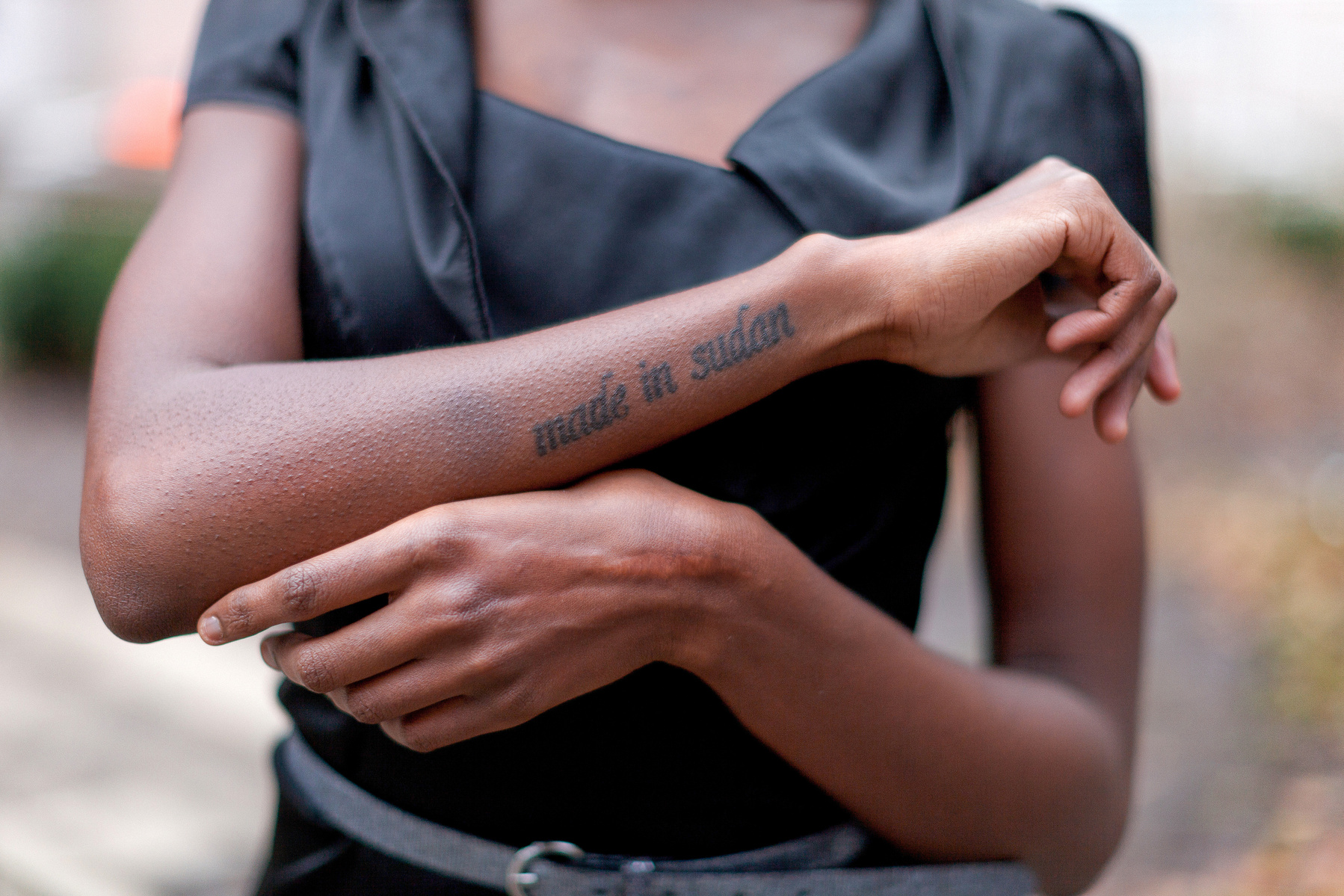 IVAN

Born in Tarragona, Spain |
First image: I love living along Roncesvalles Avenue— a place made for people. Whether I am seeing seniors heading to church, or watching couples in love sitting on one of the many terraces, I think this neighbourhood has a great atmosphere.
Second image: Bread with olive oil, tomato, and jamón ibérico, accompanied by a glass of wine represents the best of Spanish culture. As the Spanish proverb says, "a comer, beber, bailar y gozar que el mundo se va a acabar" (let's go eat, drink, dance and enjoy life because the world is going to end).
AMRA

Born in Colombo, Sri Lanka |
First image: On my way to enrol at George Brown College, I stopped at St. James Park. It was there that I took time to reflect on the heartaches and disappointments from a failed marriage. The park's social atmosphere and natural beauty kept me feeling positive and encouraged me to move forward in developing a new life here as a confident, independent woman.
Second image: Looking at this photograph of my old house in Sri Lanka reminds me of the smell of seawater in the fresh breeze, the sound of the waves crashing, and the beautiful colours of the sunset.
ATIF

Born in Khartoum, Sudan |
First image: I was a member of the official opposition party in Sudan and left out of fear. Old City Hall is where I recently participated in a protest with a group of activists calling for the Canadian government to give more assistance to the people of Sudan. I was truly amazed that even though I was protesting, the police still treated me with respect.
Second image: Drinking coffee is a popular social activity in Sudan. When I first came to Toronto I noticed that everyone had a Tim Horton's, but when I first tried it I didn't like it. I got used to the taste and now, when I hold my cup I feel a little more Canadian.
VIRGIL

Born in Paramaribo, Suriname |
First image: My girlfriend Jennifer and I run the Kingsway Boxing Club in Etobicoke. Since neither of us have big families, we have created a "family" with our clients.
Second image: My late grandfather gave me this gold necklace on my sixteenth birthday. When my mom was overseas, my grandfather was the one person I could rely on and trust for anything I needed.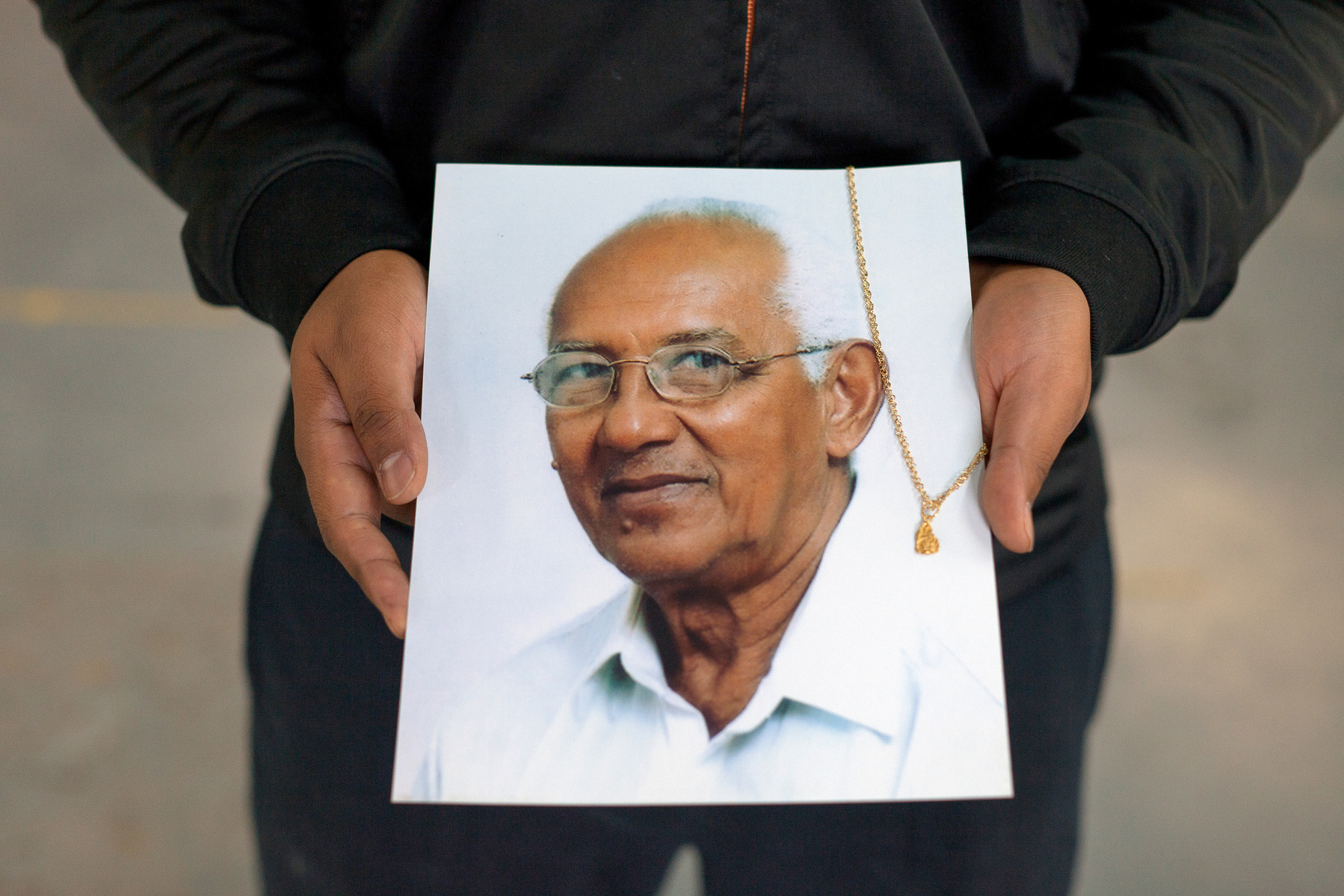 REBECKA

Born in Stockholm, Sweden |
First image: I fell in love with Matt and am now learning to sail at Ashbridges Bay Yacht Club, where he keeps his boat. Toronto is exceptionally beautiful when viewed from the lake.
Second image: When I turned thirty, my grandmother gave me an old brass candleholder. My grandma told me she wanted the candles to light up my life's moments of both joy and sadness, just as they had done for her.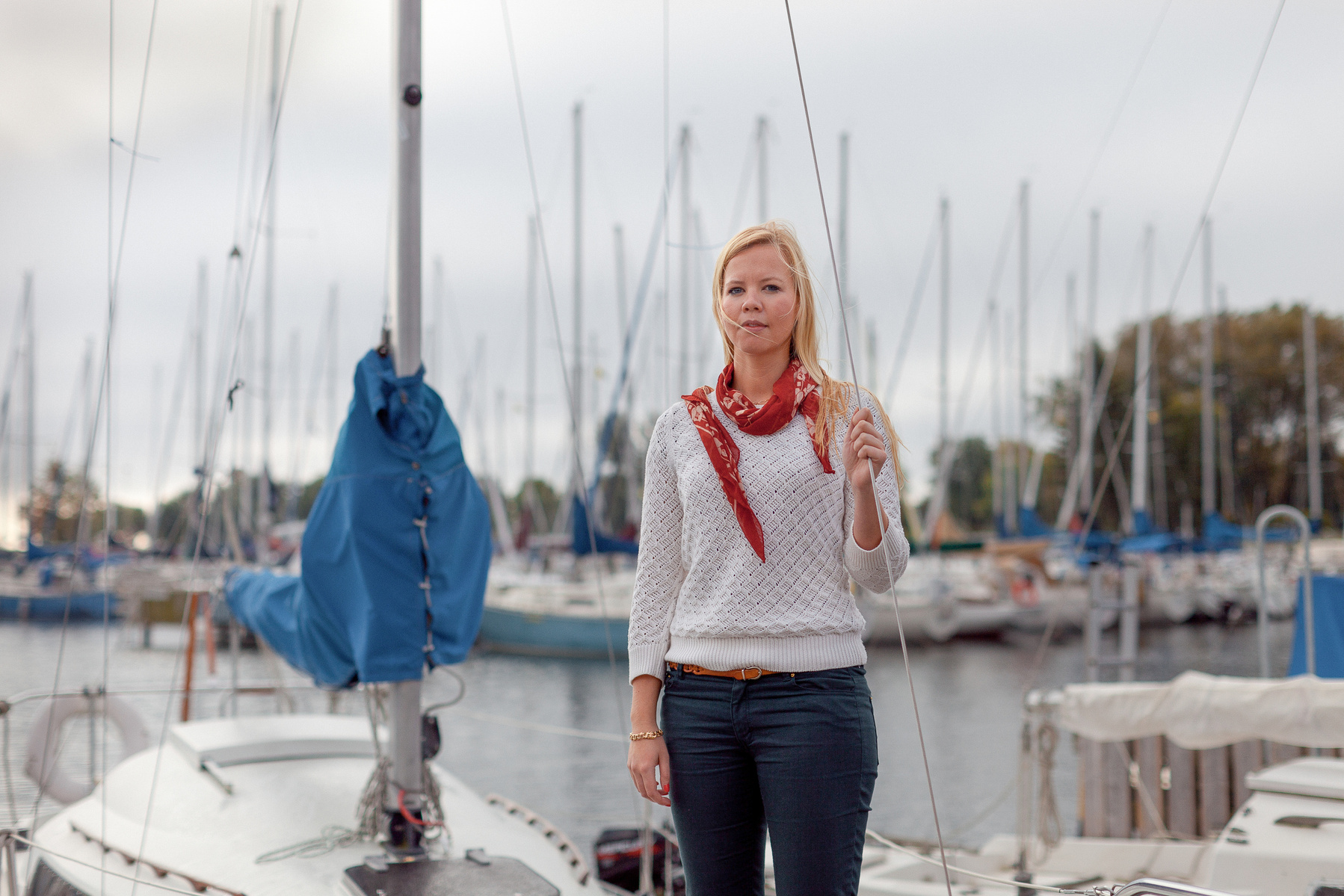 ANTOINE

Born in Geneva, Switzerland |
First image: Union Station represents the epicentre of my passions: transit, travel, architecture and history.
Second image: I ate cheese daily while growing up in Switzerland and Gruyère happens to be my favourite. It is still a real taste of home.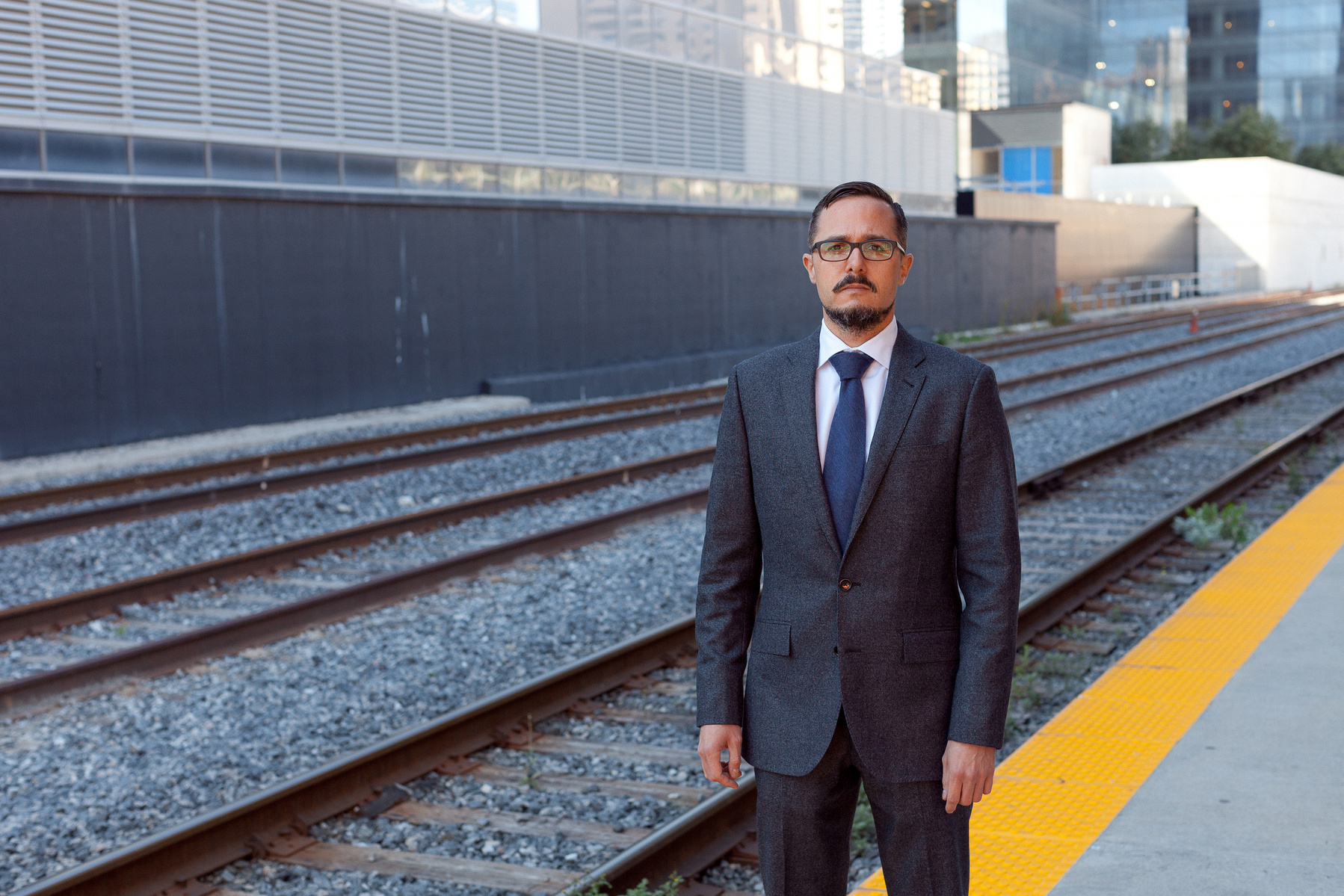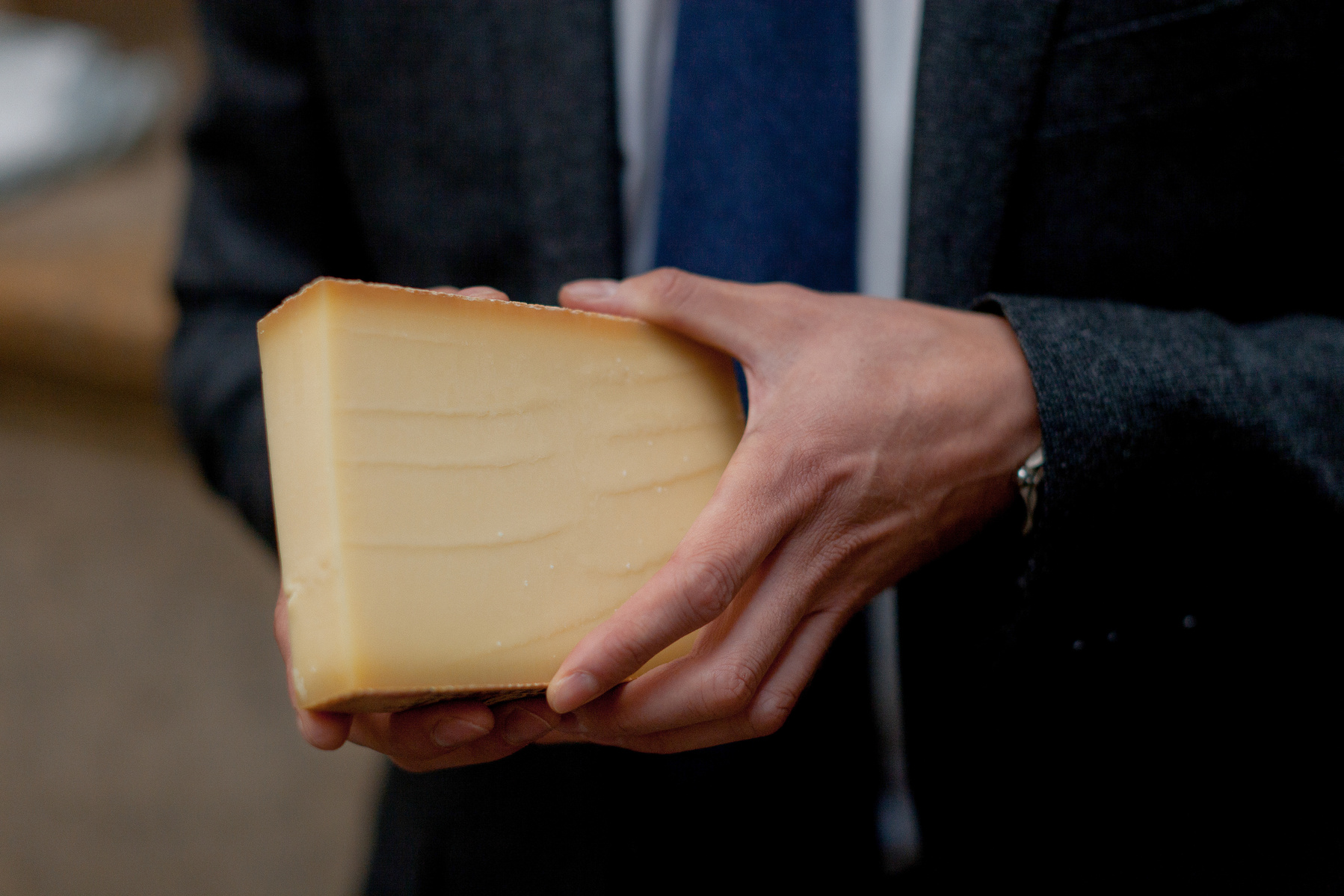 FADI

Born in Qamishli, Syria |
First image: I originally came to Canada as a model, but felt a calling to become a priest. St. Conrad Friary Capuchin Franciscan house in North York is where I live with other priests and brothers. This allows me to fulfill God's plan and become a Capuchin priest of the Holy Catholic Church.
Second image: When I was a child in Syria my mother taught me how to make hummus. Today when I prepare a plate of hummus, it always brings together my fellow residents at the Capuchin Franciscan house.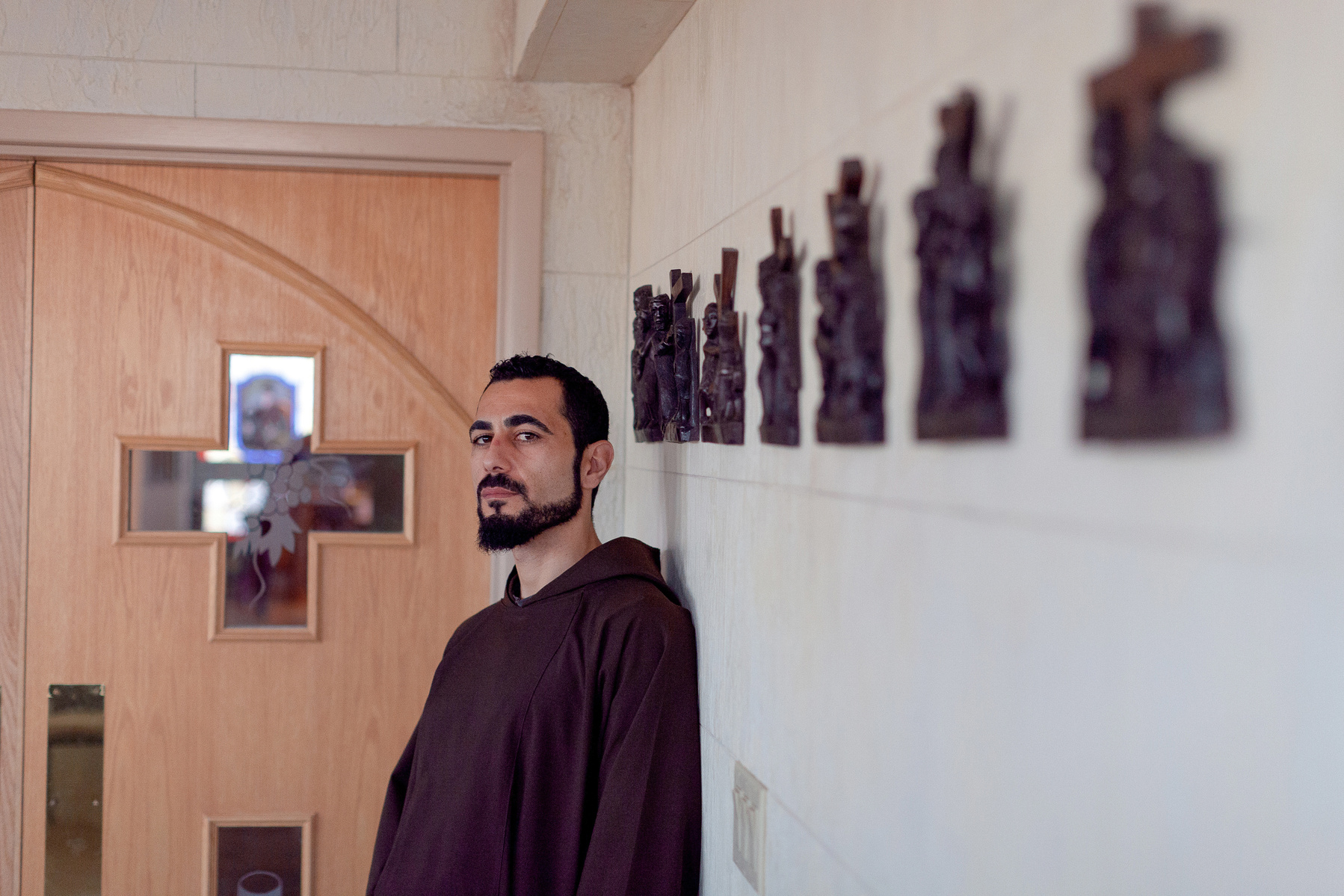 HENRY
Born in Taipei, Taiwan |
First image: I feel proud to work for the Taiwanese airline EVA Air at Toronto's Pearson International Airport. Working for a company based in Taiwan gives me a daily connection to my birth country.
Below. Bubble tea originated in Taiwan and is important to Taiwanese culture. On every corner you will find a couple of shops selling it. Some of my favourite memories of Taiwan revolve around drinking bubble tea with my friends.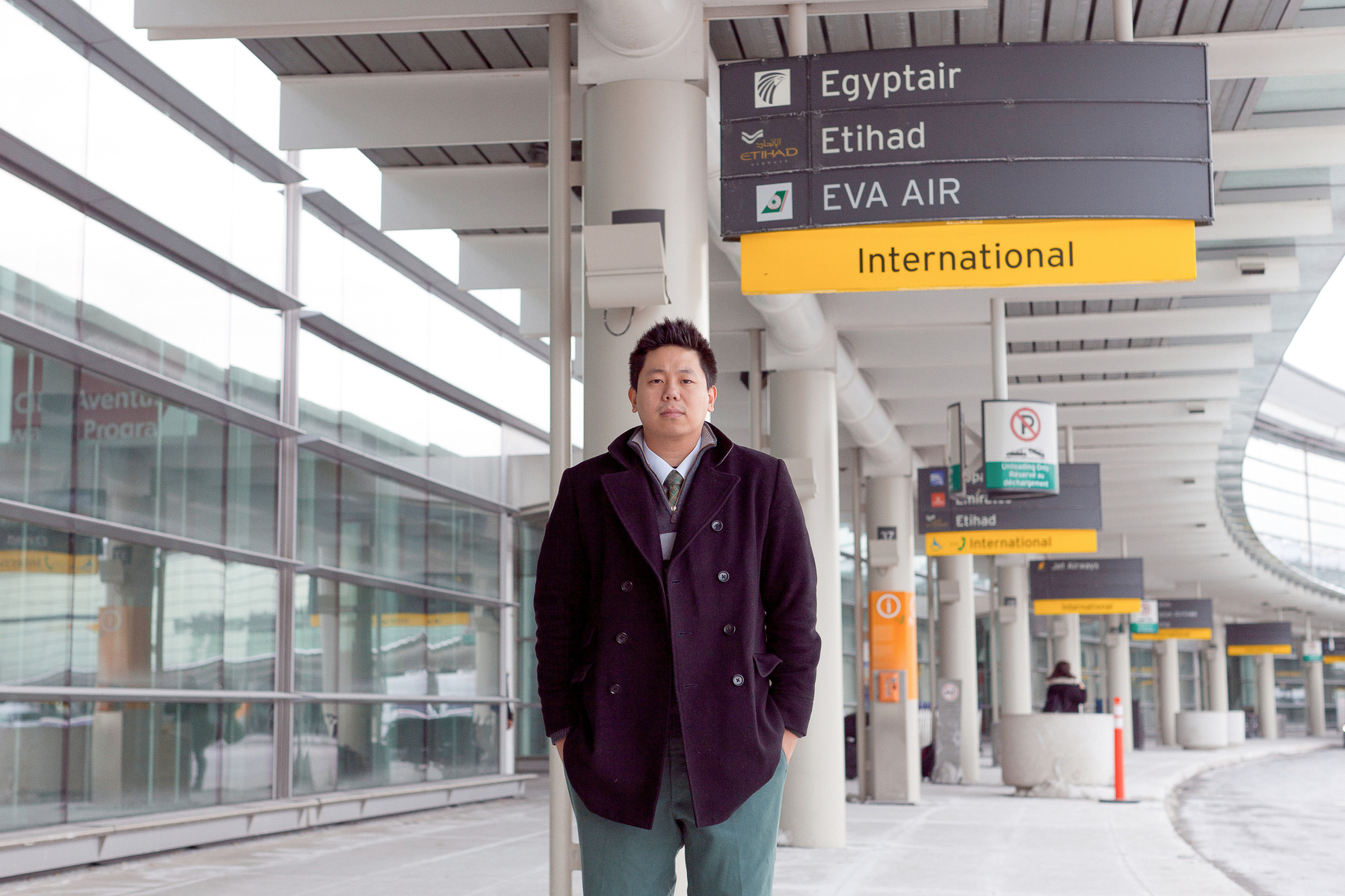 NILOFAR

Born in Dushanbe, Tajikistan |
First image: As an aspiring actress I feel a special affinity for Dundas Square a place that is so full of life. Here you will see people meeting one another, shopping, performing and celebrating their respective cultures.
Second image: The toki often adorns me when I am proudly performing traditional Tajik dances. The moment someone sees me wearing a toki they automatically know where I am from.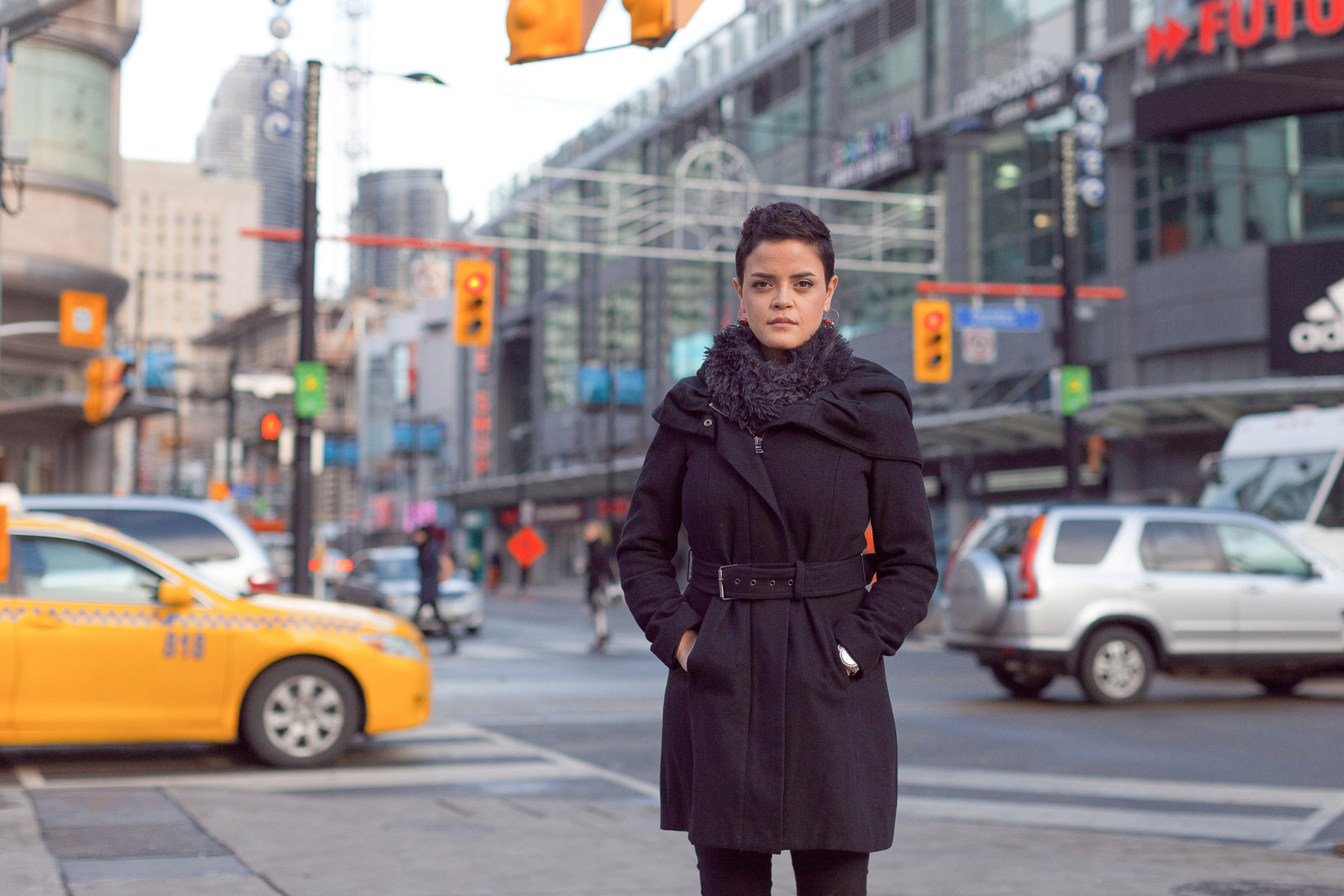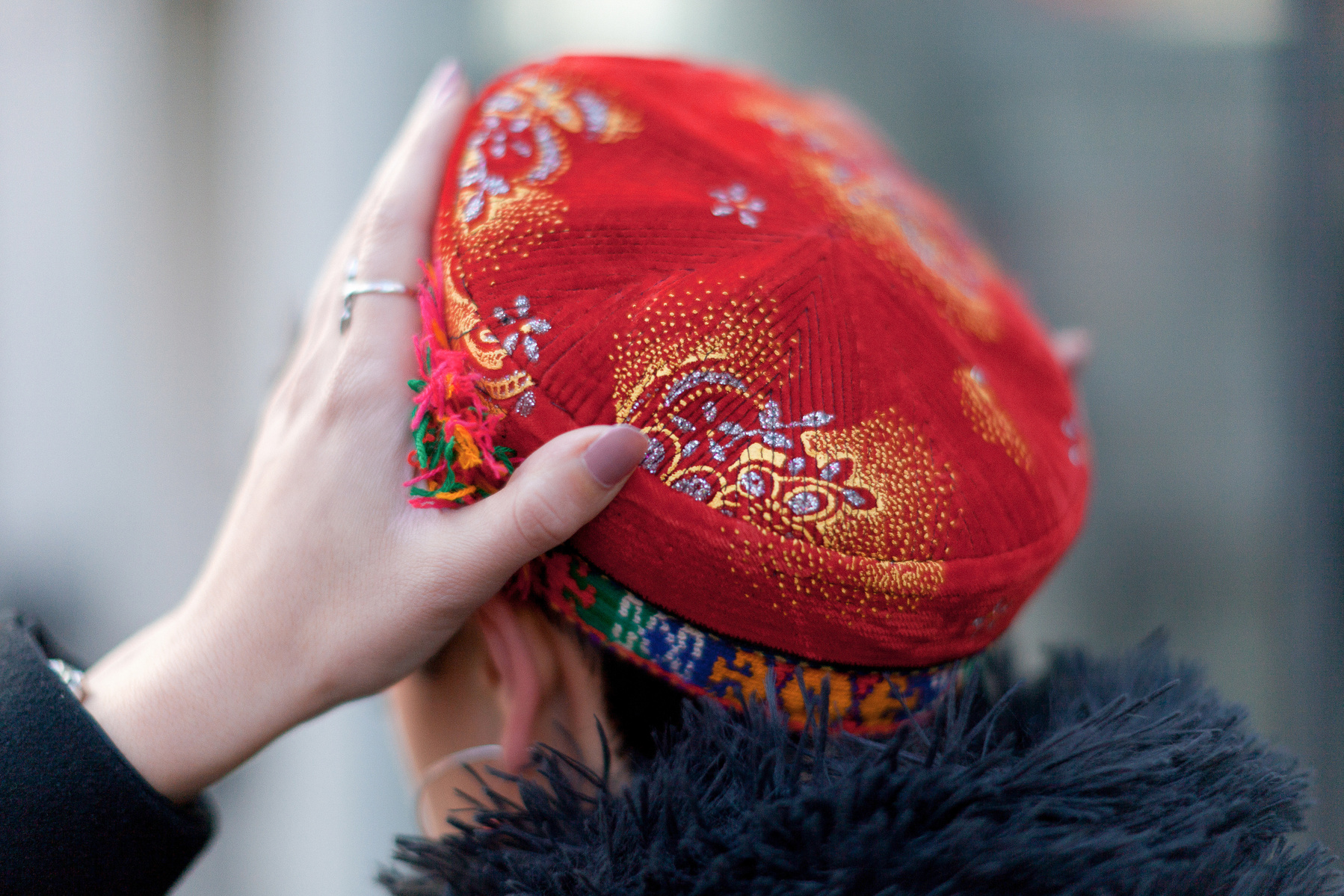 AZIM

Born in Tanga, Tanzania |
First image: From my condo's terrace I can look out over Toronto's skyline and see the new Aga Khan Museum, park, and prayer hall. As Ismaili Muslims, my wife Natasha and I are grateful to see and appreciate this building each day.
Second image: This map of Africa, made of Zambian copper, was purchased by my parents in 1982. The shine represents the magic of Africa, the vibrant energy of the people, the incredible biodiversity and the happiness they feel in spite of having few material things.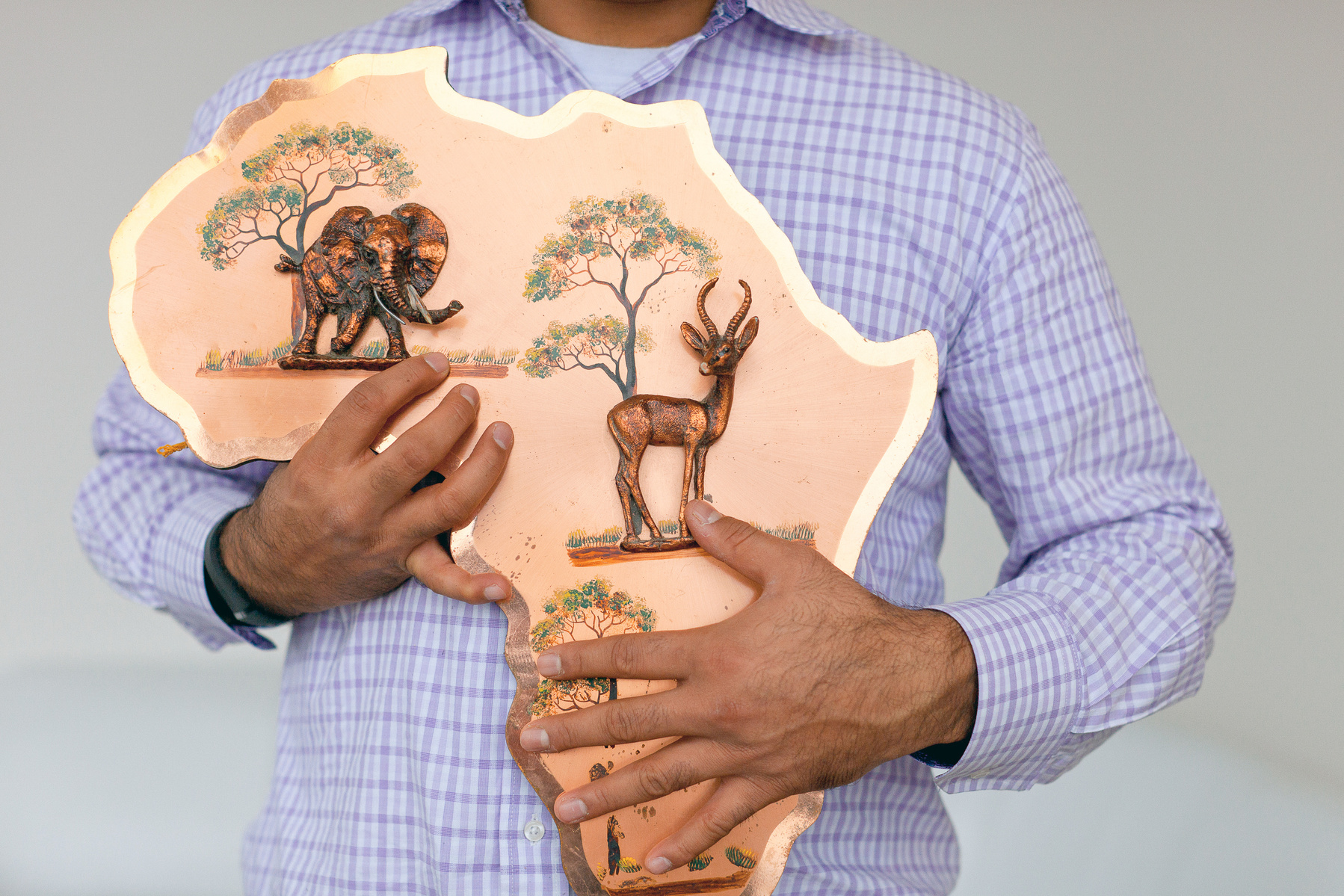 PAWEENA

Born in Phrae Province, Thailand |
First image: When I lived in Thailand I worked near a Buddhist temple and I would often go there to think and be alone. In Toronto, St. Michael Cathedral gives me peace and reminds me of the times I visited that Buddhist temple. It isn't about religion—rather it is about the way it makes me feel.
Second image: I grew up in a village surrounded by jungle and never had any toys. The one thing I did have was books. Reading historical fiction, like this one written over seventy years ago by the famous female writer Duangdao, enriches my life.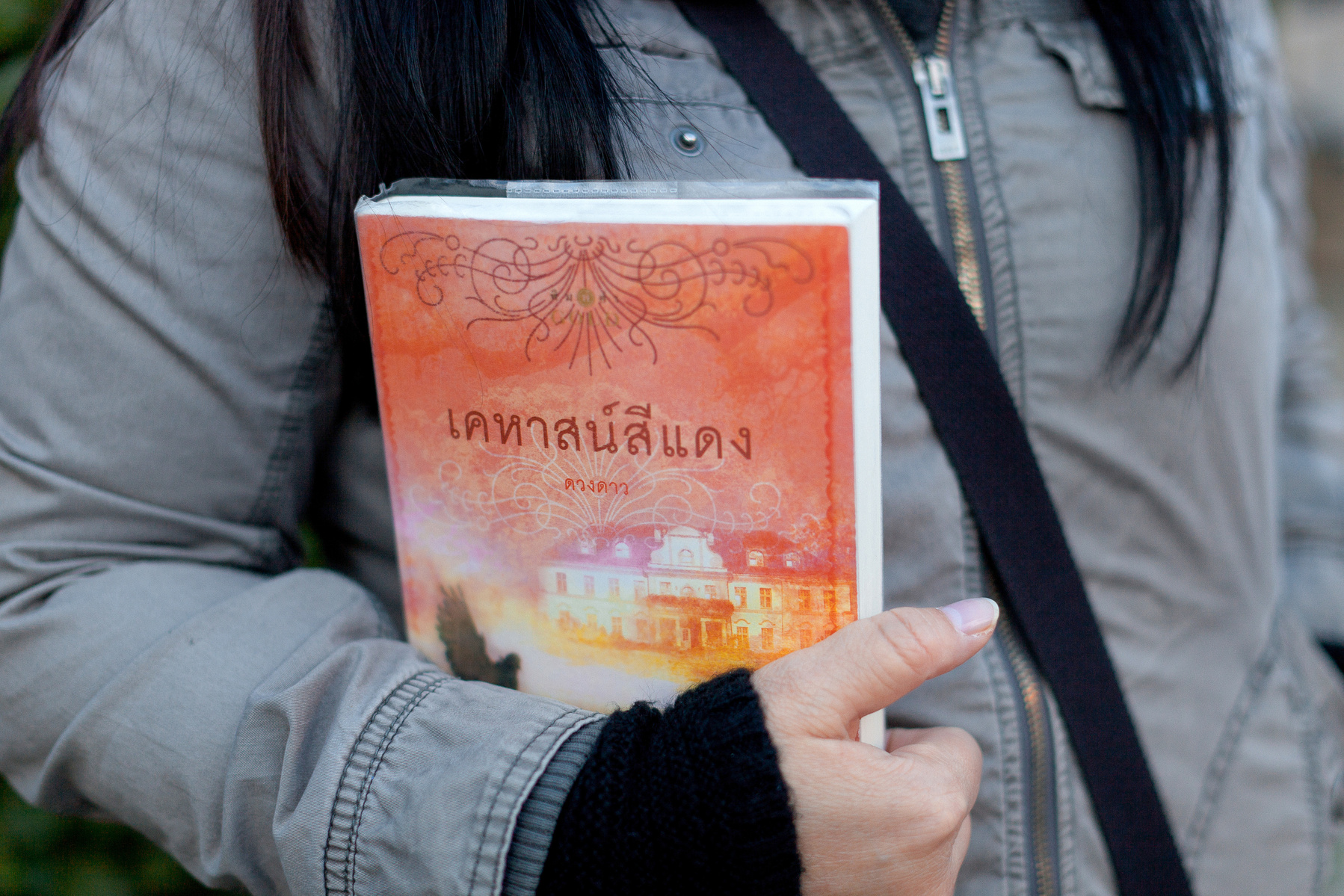 JEAN-CHRISTOPHE

Born in Lomé, Togo |
First image: The Krav Maga Training Centre was the first place in Toronto where I came across this Israeli martial art and self-defense system that I now feel has changed my life.
Second image: My parents sent me this container of holy water from Lourdes, France to protect me from bad luck. Whenever I look at it, I am reminded of how much they love and worry about me.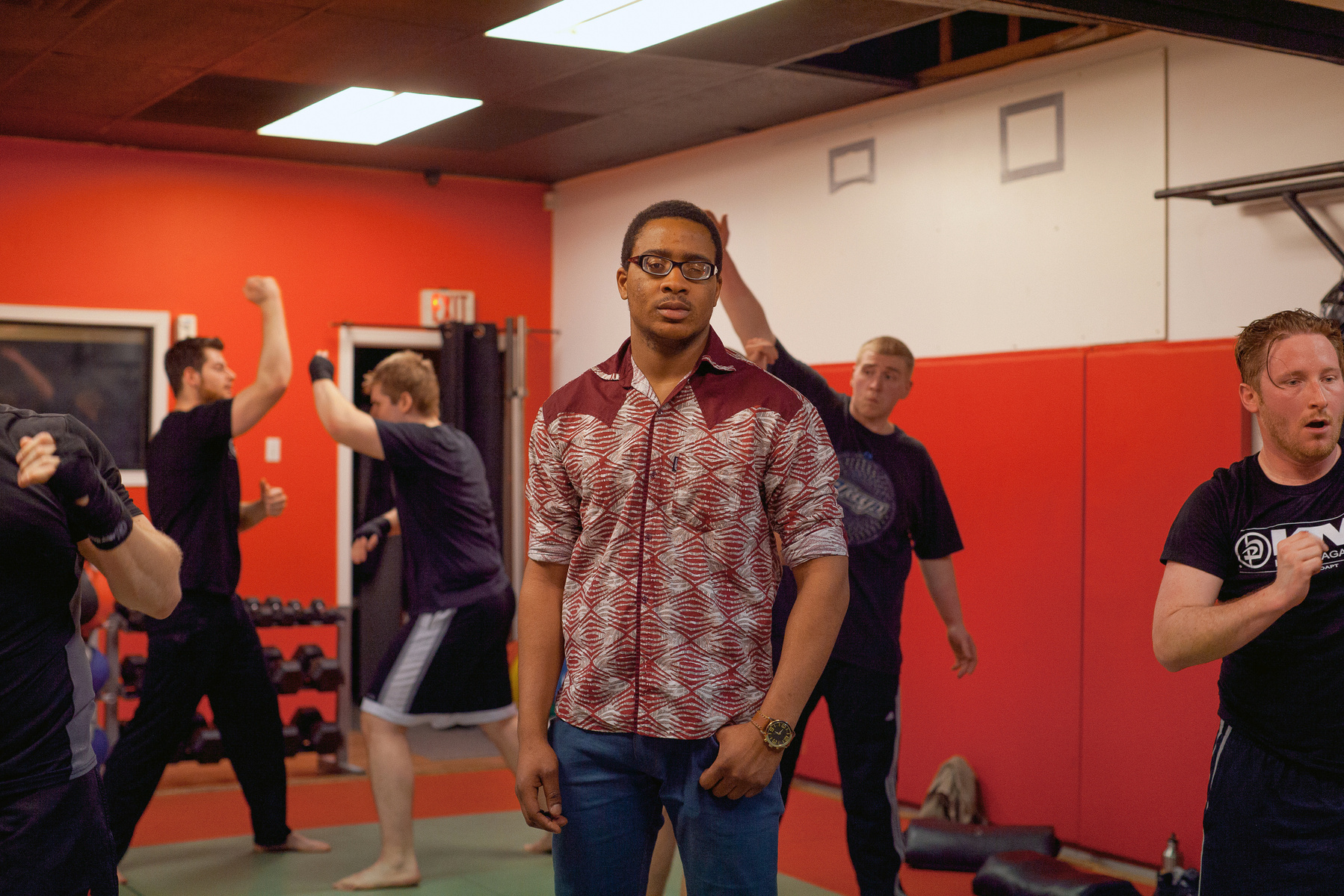 ALISI

Born in Nuku'alofa City, Kingdom of Tonga |
First image: Many amazing Tongan meals have been shared here in my sister Sosina's Scarborough home, as we reminisce about our childhood in Tonga. I love how my sister's house is filled with items from my birth country. Whenever any Tongans come to Canada, they always visit Sosina and she welcomes them with open arms.
Second image: My late mother Tupou raised sixteen children and always did the best she could. I remember her as being social, generous and someone who always loved her children equally.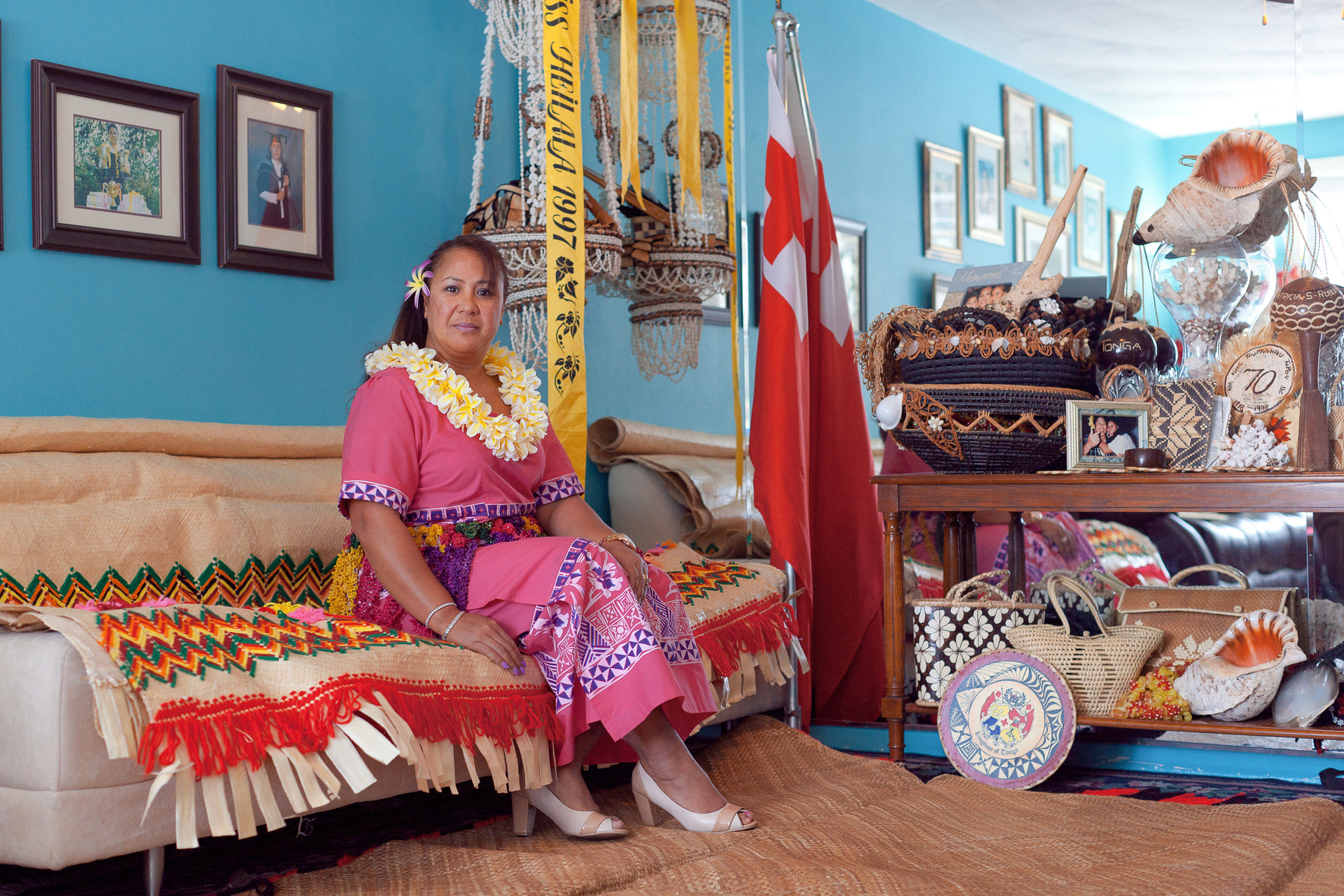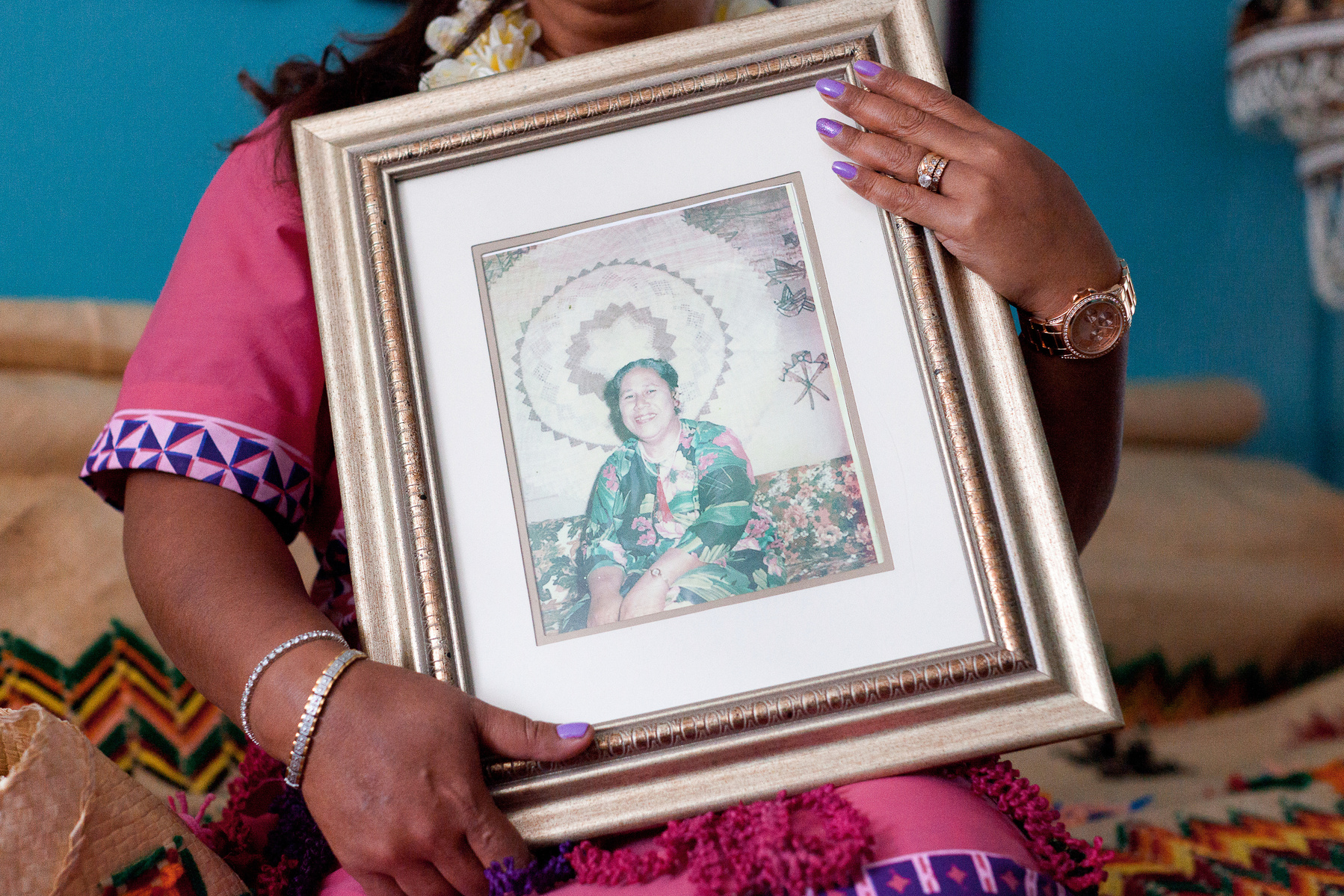 RENEE

Born in San Fernando, Trinidad and Tobago |
First image: The area around the intersection of Broadway and Eglinton is special to me. I like walking the busy streets because I think Toronto is really good at eye-level.
Second image: The Naparima High School Cookbook is a collection of Trinidadian/West Indian recipes from the different cultures that make up Trinidad and Tobago. This delicious food always brings back good memories.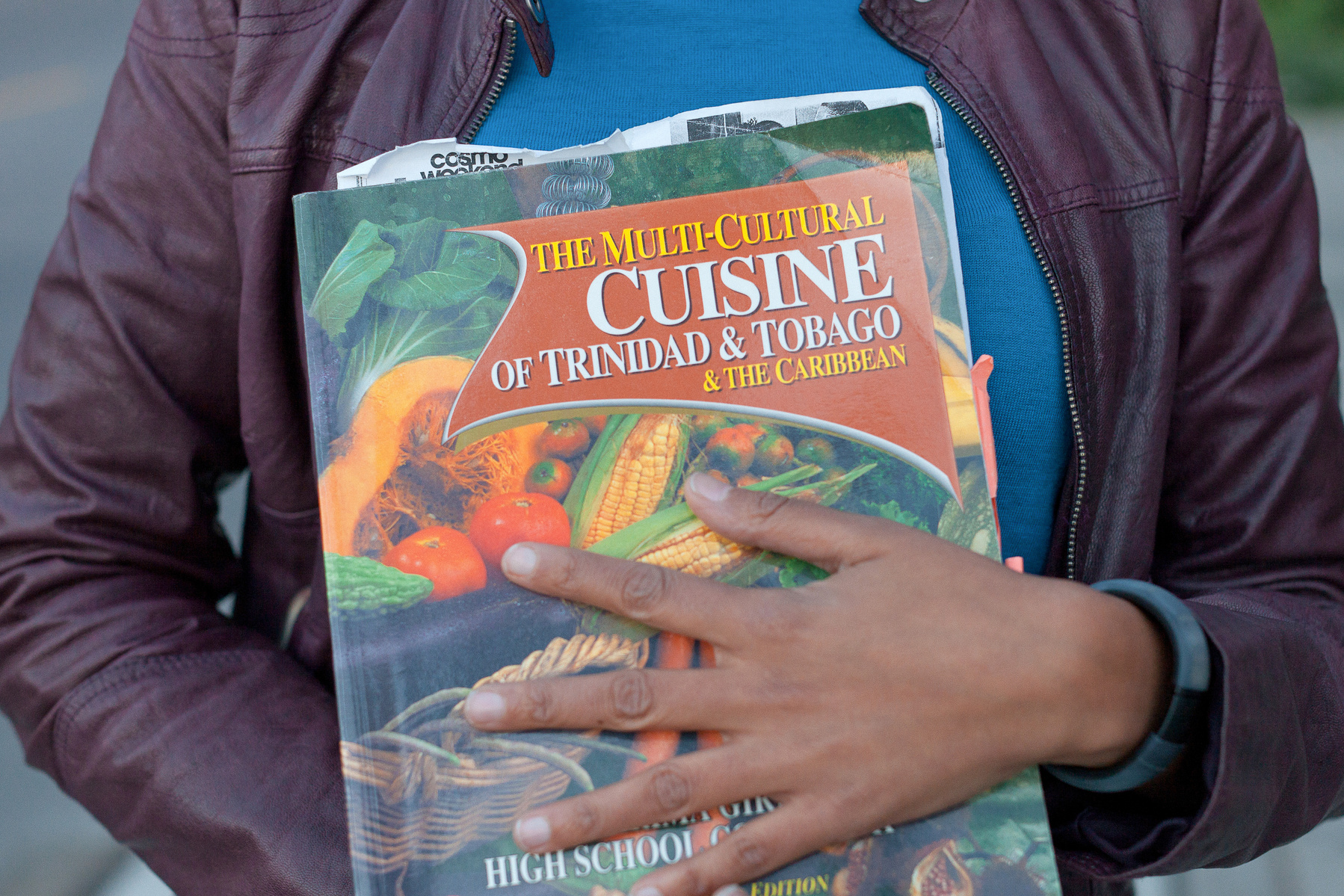 YOUSSER

Born in Tunis, Tunisia |
First image: My family regularly visits La Maison de la Presse in Yorkville to buy French books and magazines. This place brings back memories of the time when, living in Tunisia, we read Jeune Afrique or Paris Match.
Second image: This mosaic demonstrates Tunisia's glorious past. Even though things are rocky in my country of birth right now, I know Tunisians will rise above the adversity.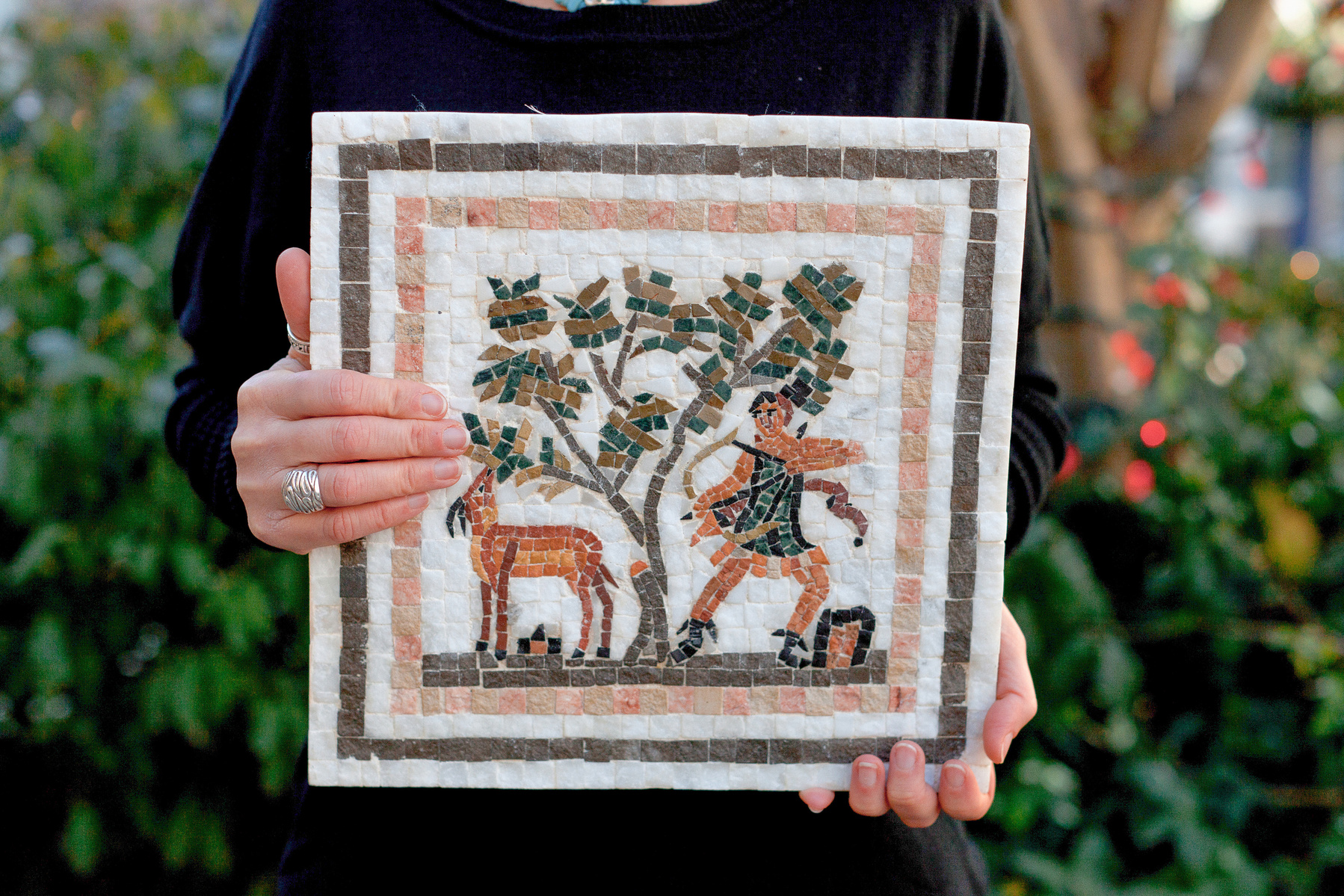 MEHMET

Born in Ankara, Turkey |
First image: Toronto is like a factory of lost souls and I'm one of them. We make this cold machine work. I like to keep a lot of my life private, but if I had to define my "profession," art would be the shortcut answer. I keep my camera equipment, and many of my pieces of art here in the apartment.
Second image: These old photographs from Istanbul feature people I have never met but, when I look at them, I know we are connected.
LALEH

Born in Ashgabat, Turkmenistan |
First image: I have spent countless hours in BMV book-store searching for books by the authors I used to read back when I was in Turkmenistan, such as Rumi, Edmondo De Amicis and Leo Tolstoy.
Second image: Wearing this traditional Turkmen scarf allows me to hold onto a small piece of my past.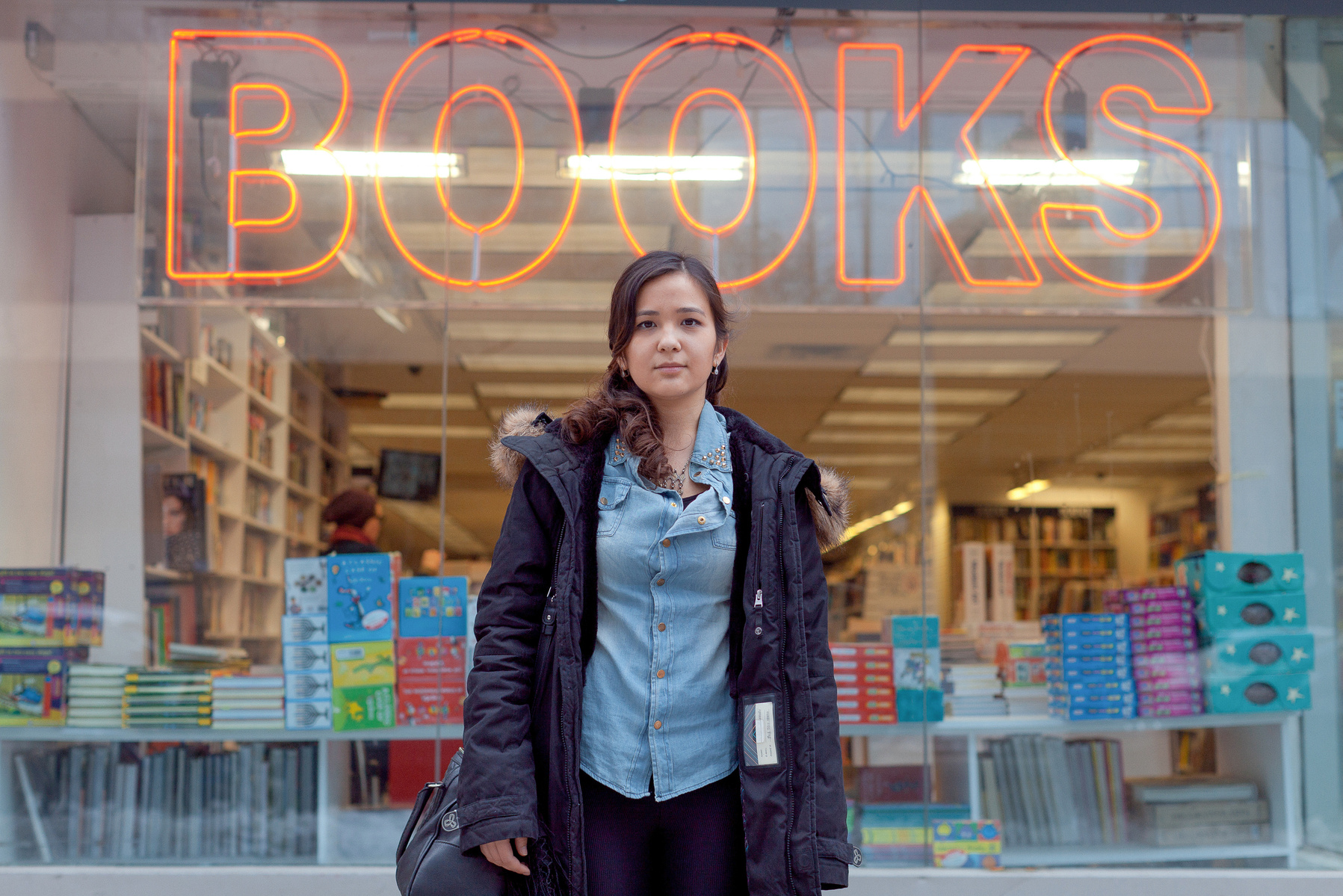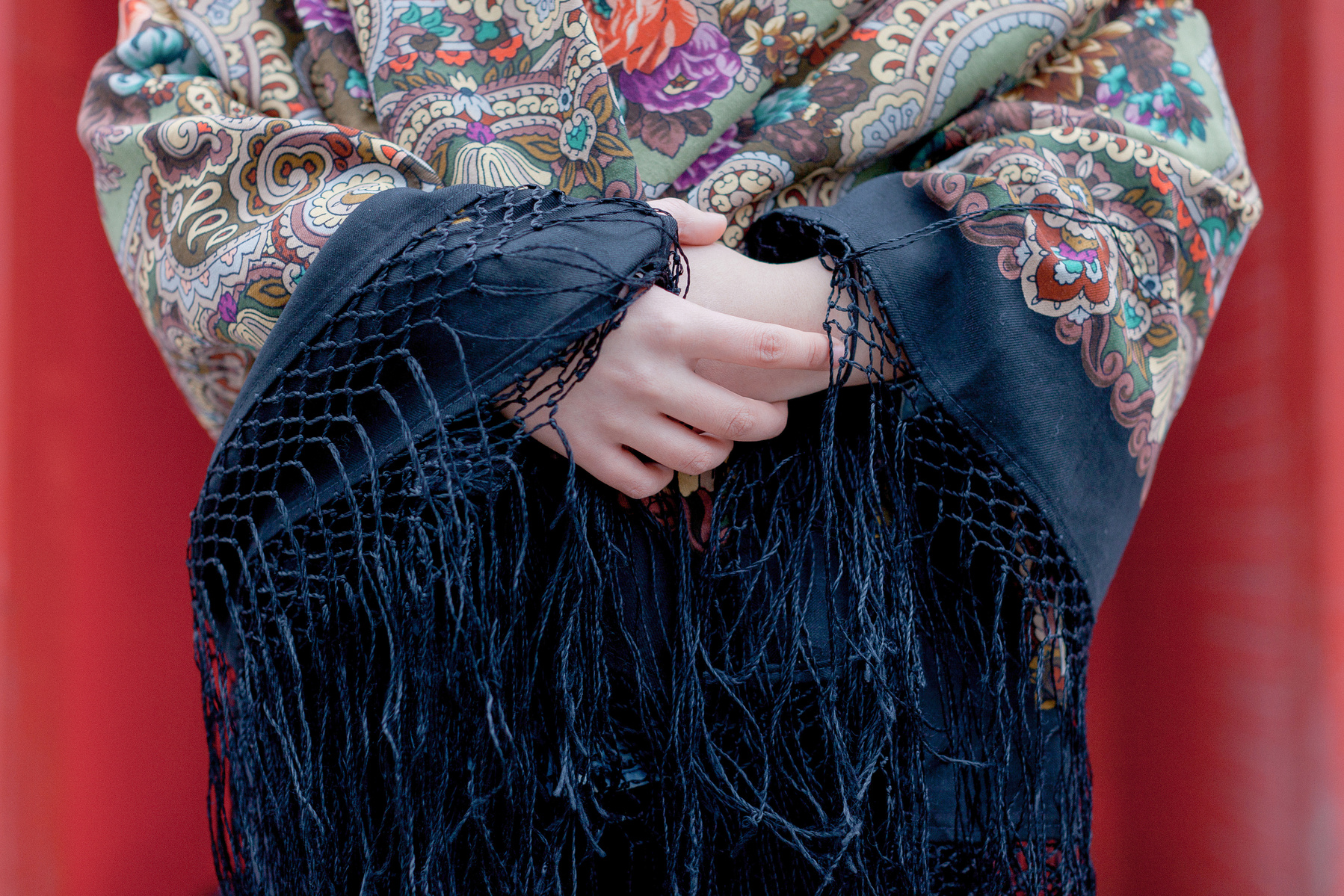 ELISAIA

Born in Funafuti, Tuvalu |
First image: My family spends a lot of time at Whitby's harbourfront. I miss being surrounded by the Pacific Ocean, and Lake Ontario is now the closest body of water to my home.
Second image: When I left Tuvalu I was given, as I was about to board the plane, many lovely seashell necklaces. These handicrafts have a strong traditional significance in Tuvalu and today are gifted as a sign of respect, to people as they leave the island.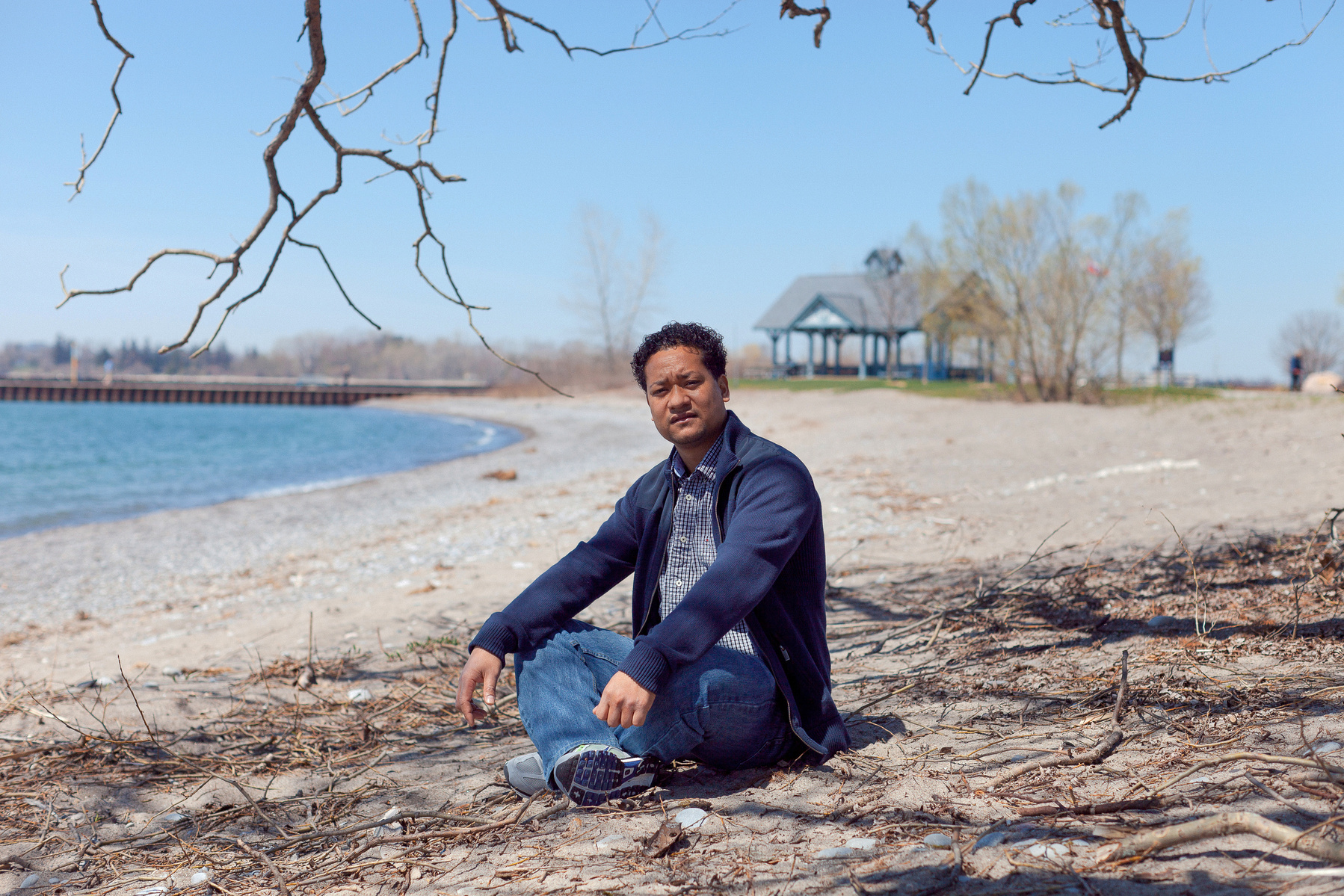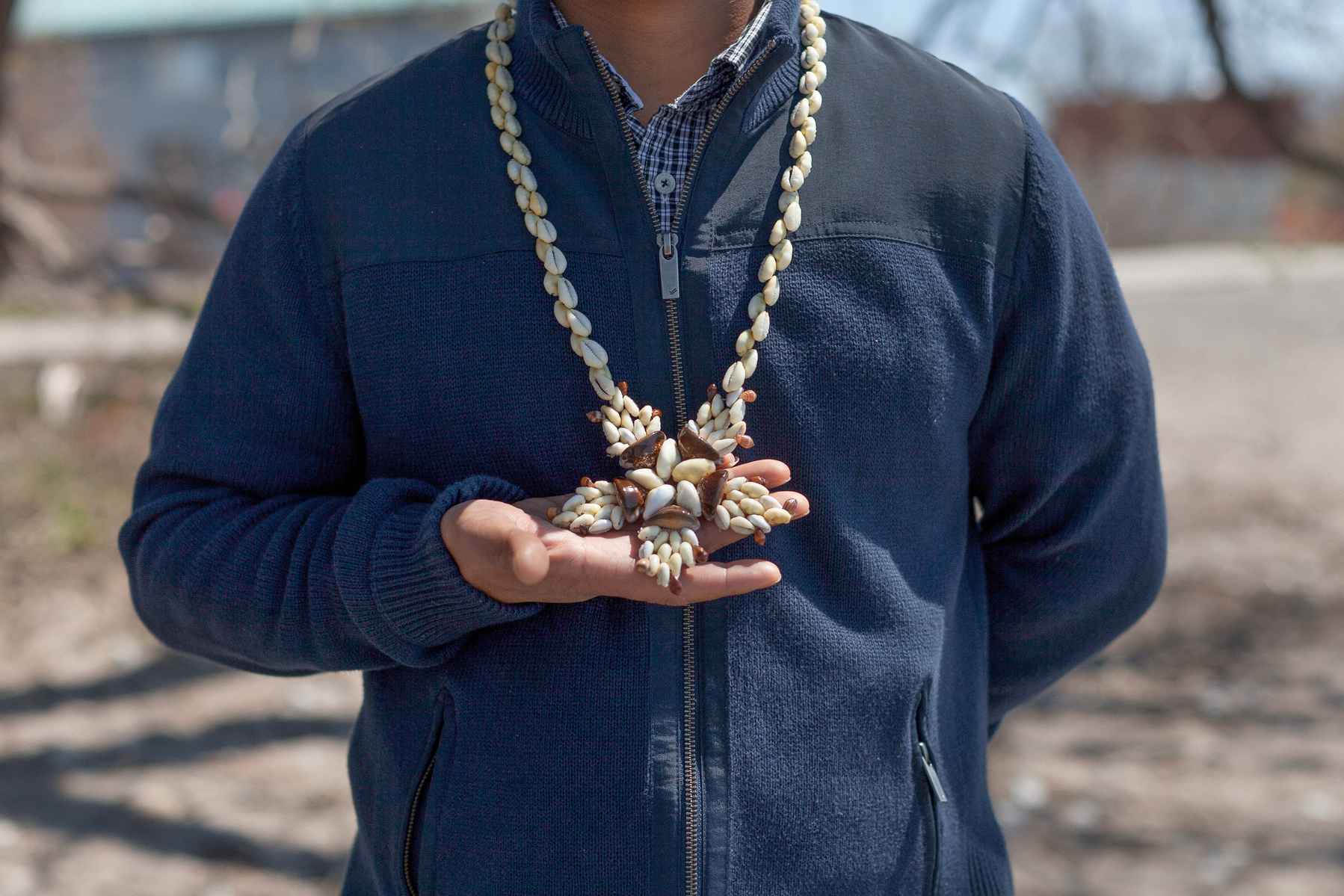 RITA

Born in Entebbe, Uganda |
First image: I am a competitive boxer and spend a lot of time training at The Boxing Loft downtown. Ultimately it is in the ring where I feel most at home in the city.
Second image: This mat was a university graduation gift from my grandmother on a visit to Uganda. This present connects me to my country of birth, and my many relatives still residing there.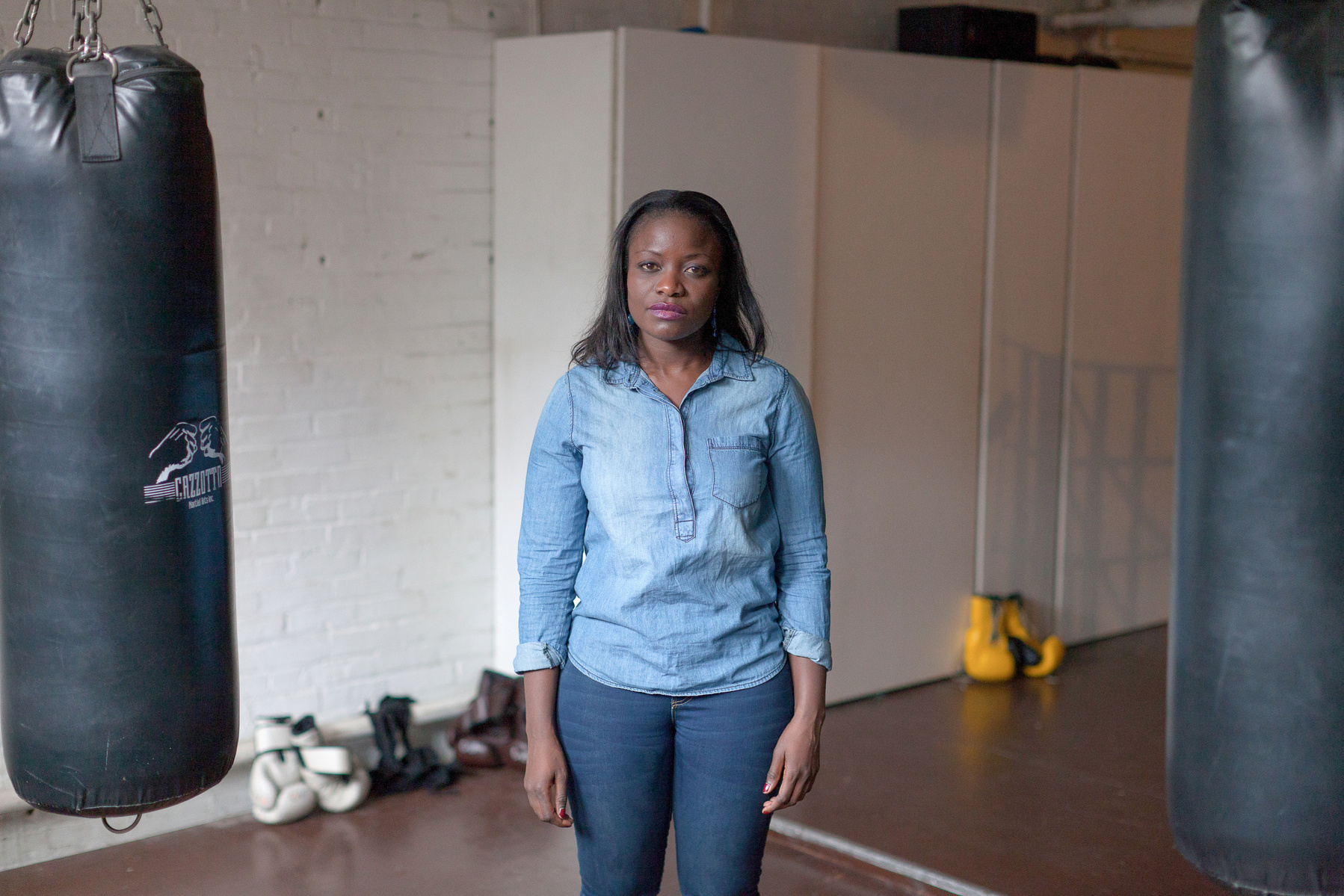 NADINE

Born in Kiev, Ukraine |
First image: The view from the ferry while heading to Toronto Island puts the city—and my life in it—in perspective. I love the carefree community, the bicycle paths, the water sports and the beaches.
Second image: These gold leaf earrings were a gift from my father to my mother and a few years ago, they were passed on to me. This heirloom reminds me that my family originates from a country (USSR) that no longer exists. There is a manufacturing mark, a little star, stamped on the back of each earring—a mark that was put on everything made in the Soviet Union.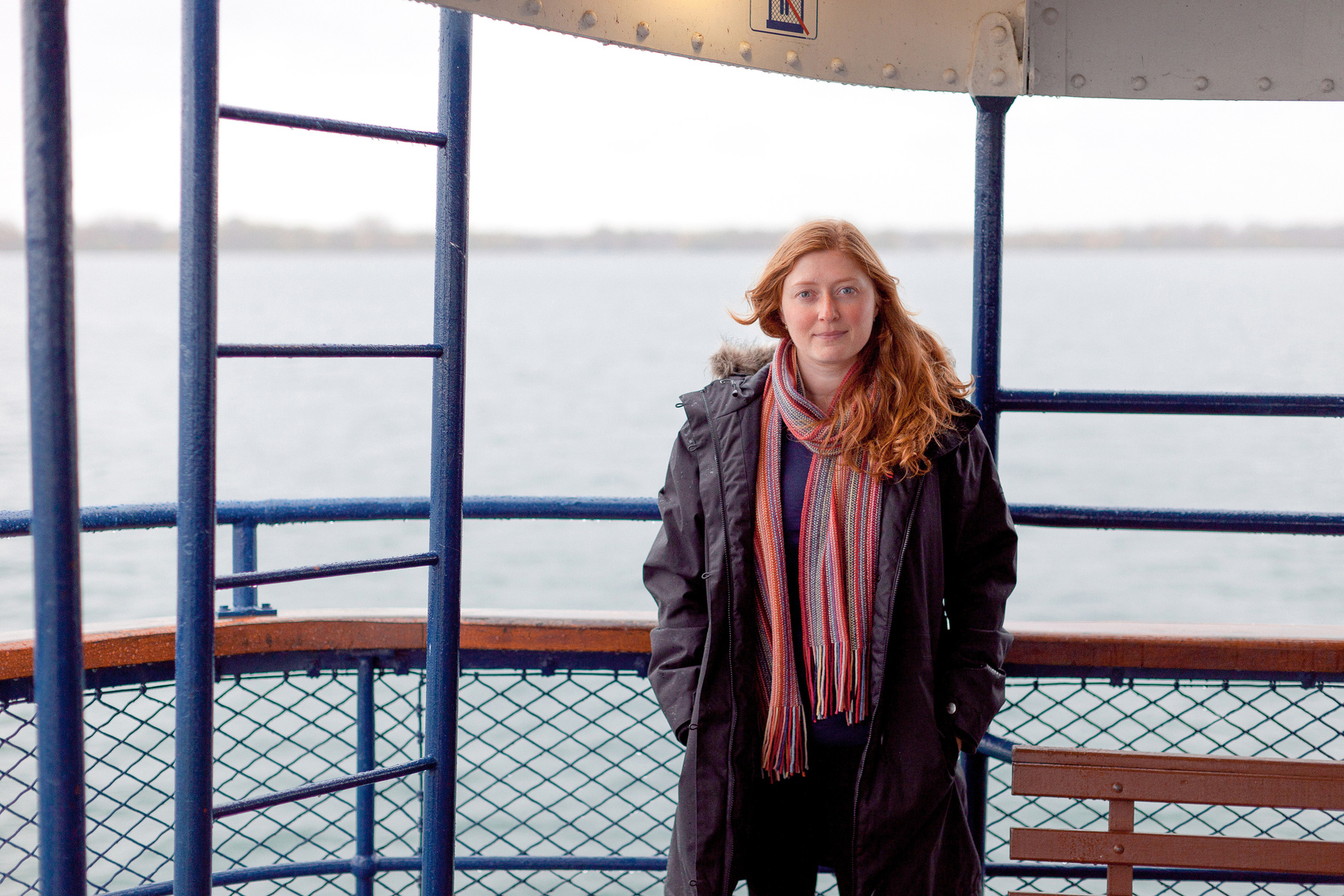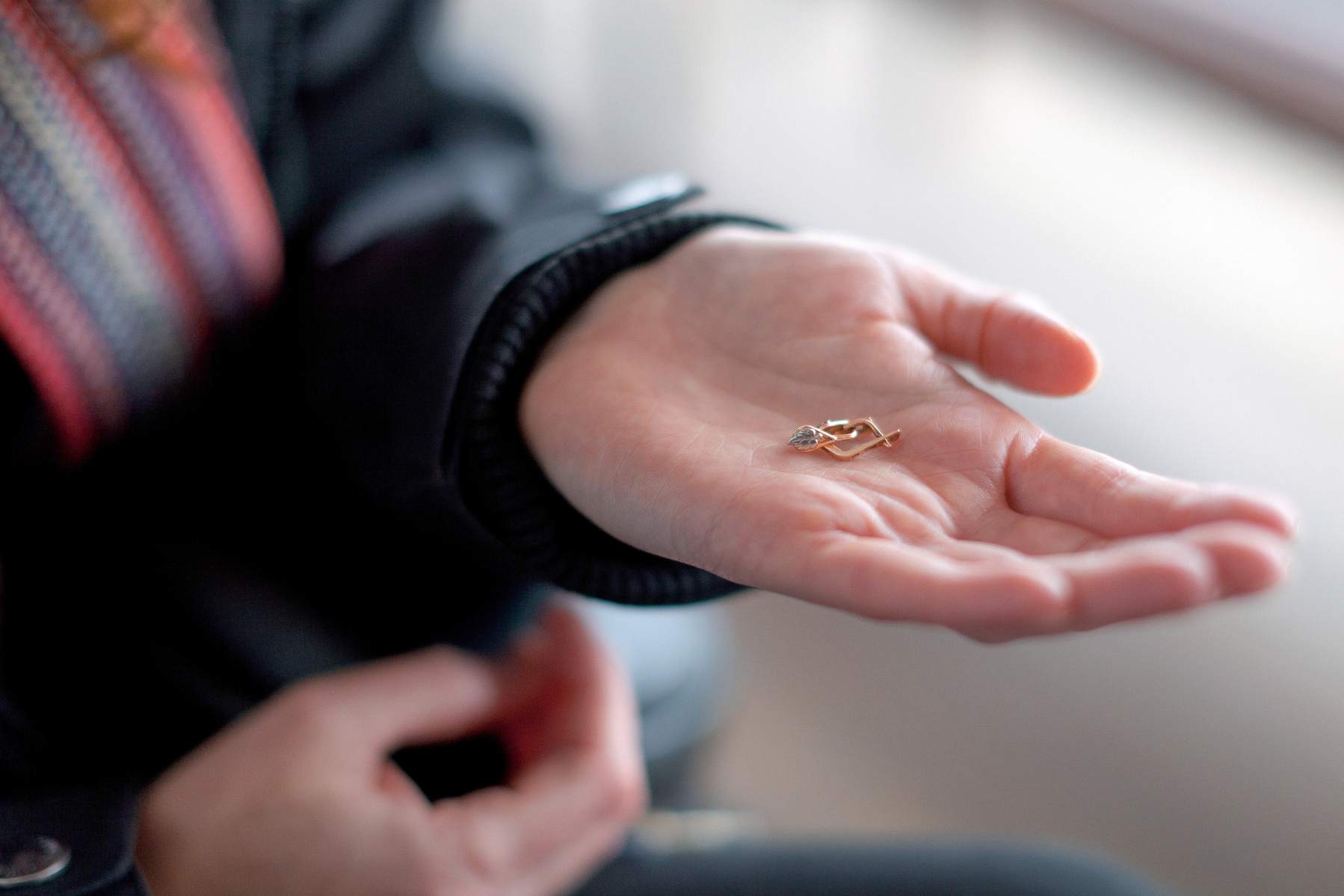 SAHAR

Born in Dubai, UAE |
First image: After arriving in Toronto I spent many evenings on this balcony, gazing into the distance, planning my future, and healing from past betrayals.
Second image: Following my divorce, I started reading my father's copy of Bertrand Russell's "The Conquest of Happiness". This book helped me realize that although society puts pressure on us to behave in a certain manner, we don't have to conform to the status quo to be happy.
EILEEN

Born in Stoke on Trent, United Kingdom |
First image: This is my special spot in the house. When I broke my hip in the early 1990s, my late husband John made this customized chair. It is where I have read, painted, sewn, studied and completed many crossword puzzles.
Second image: These photo albums, full of pictures of the early days with my children, are my most prized possessions. Whenever my children were bored or sick it was always, "Can I look at the albums?" and they all knew that if the house is on fire… grab the photograph albums!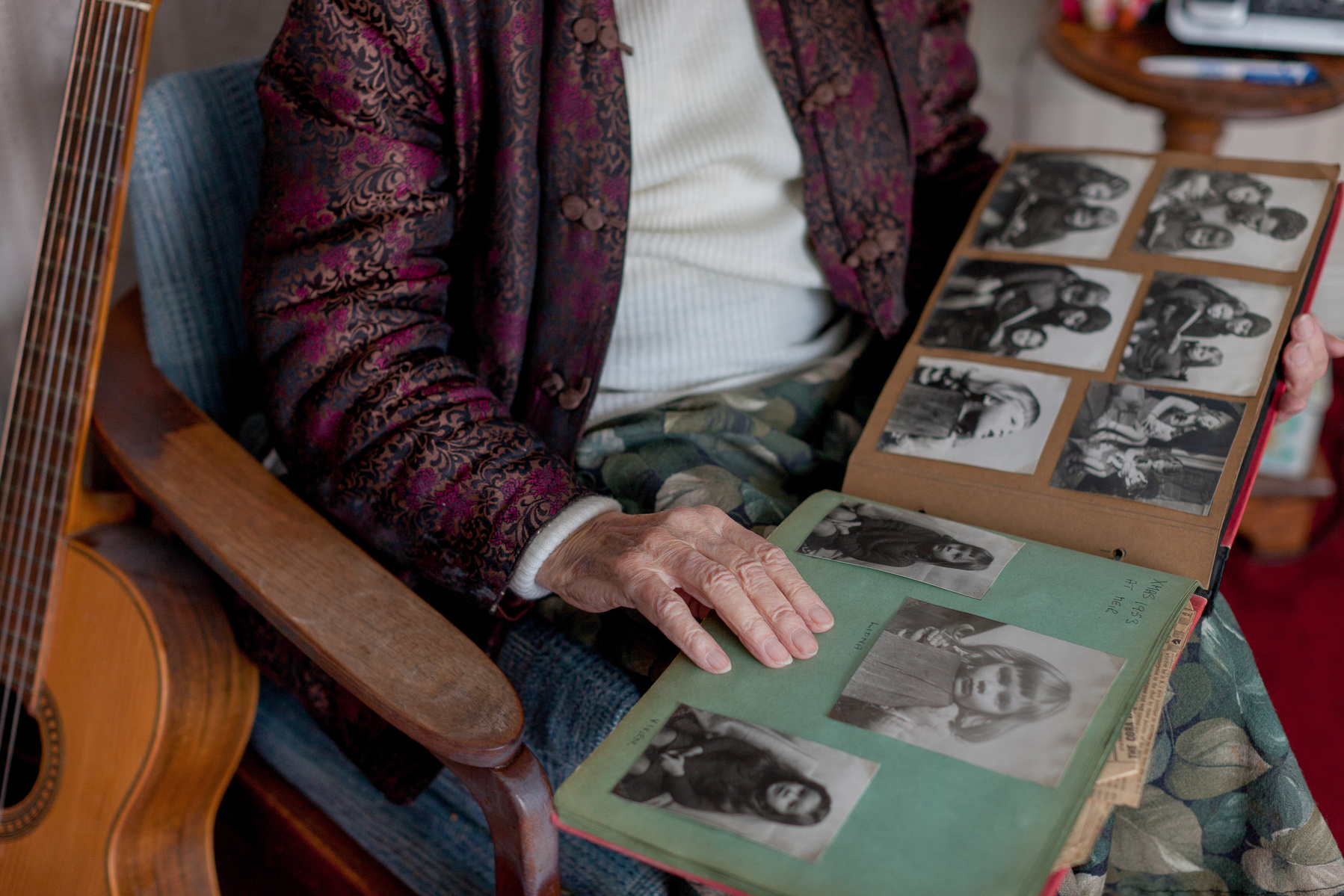 CALUM
Born in Alexandria, Scotland (U.K.) |
First image: After only a few months of living in Toronto, I was able to turn an internship at the CBC into my dream job as an associate producer. There's nothing more Canadian than the CBC and, although I may have felt like a bit of an impostor at first, it has made my bond with Canada ever stronger.
Second image: My love for Aberdeen Football Club comes from my father who at a young age, I saw cheering for the "red team". While I've completely fallen for Toronto's sports teams, my love for Aberdeen can never be matched.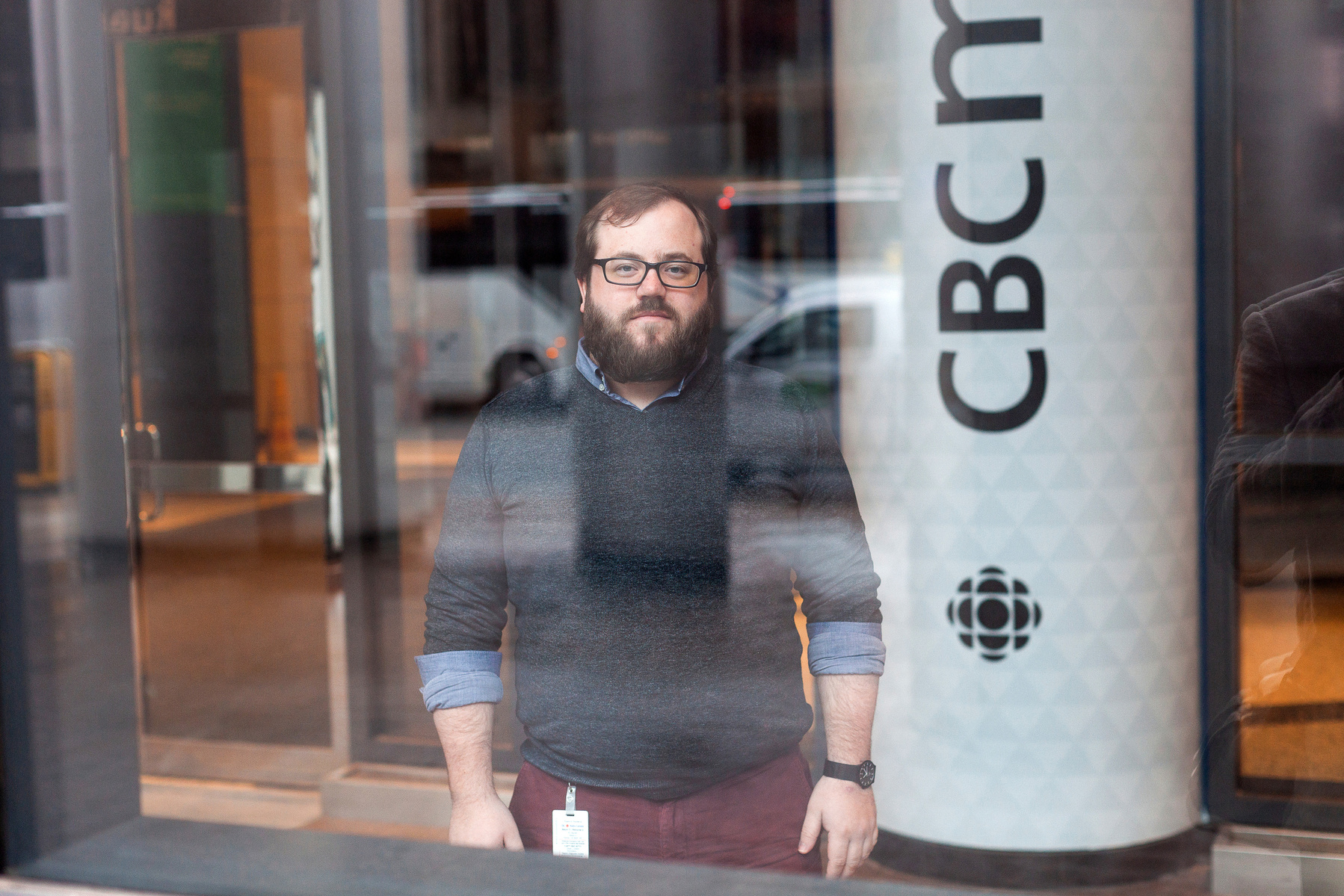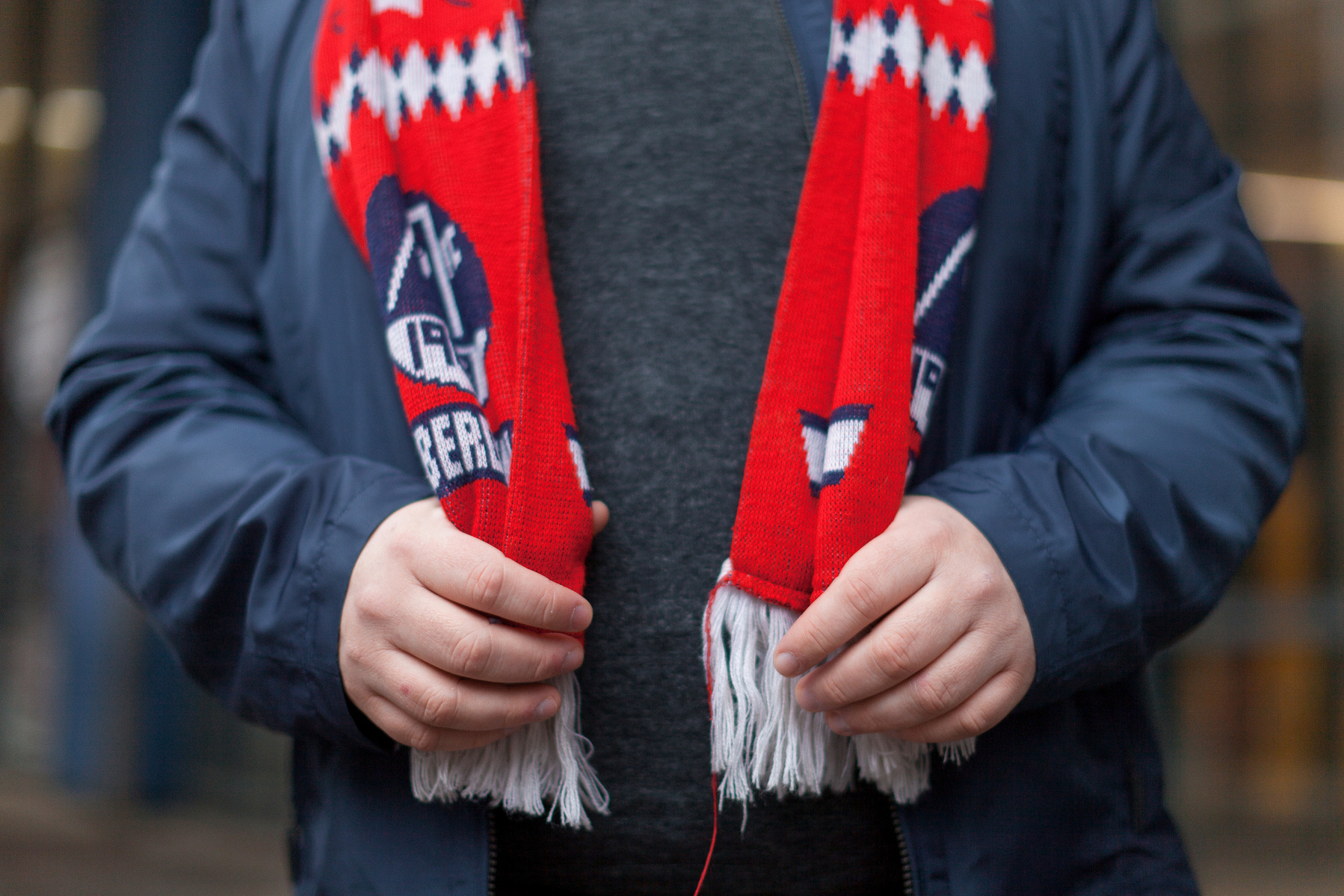 WALES

Born in Monterey Park, USA |
First image: I have a love-hate relationship with Toronto's public transit system. I take pleasure in observing how all walks of life cross paths on the subway.
Second image: This camera was passed down to me by my father. He used it to capture important memories of my childhood in California. Little did he know that I would become a photographer.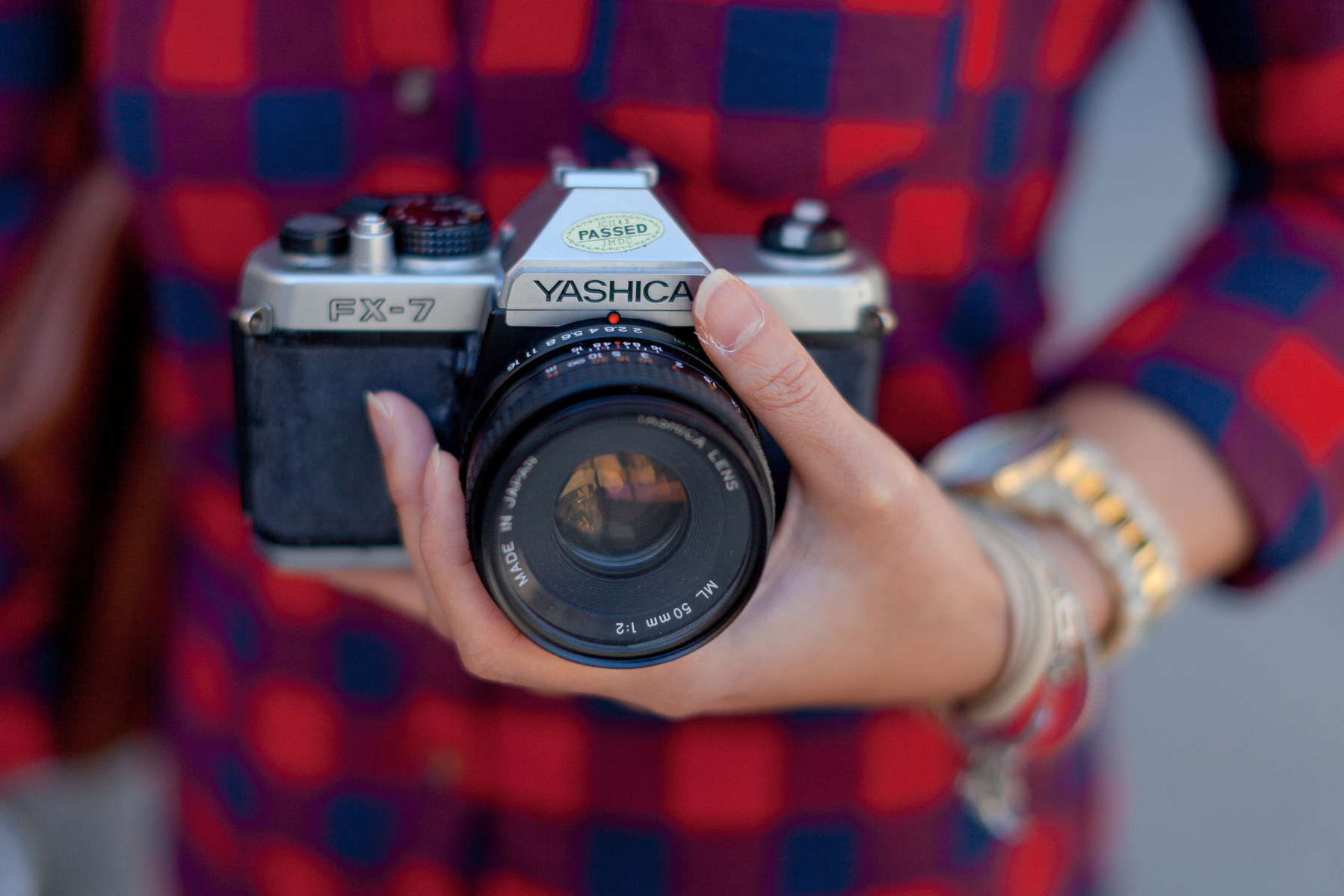 RAFAEL
Born in Caguas, Puerto Rico (USA) |
First image: Perolas Supermarket in Kensington Market is a grocery that caters to the city's Latin American community. Here I can buy red beans, rice and plantains, which are all important ingredients in Puerto Rican cuisine.
Second image: Without sofrito sauce, Puerto Ricans wouldn't be able to make all the recipes that are part of our diet. The smell of this sauce reminds me of the times when my grandmother used to cook for the entire family, and the whole house smelled of sofrito.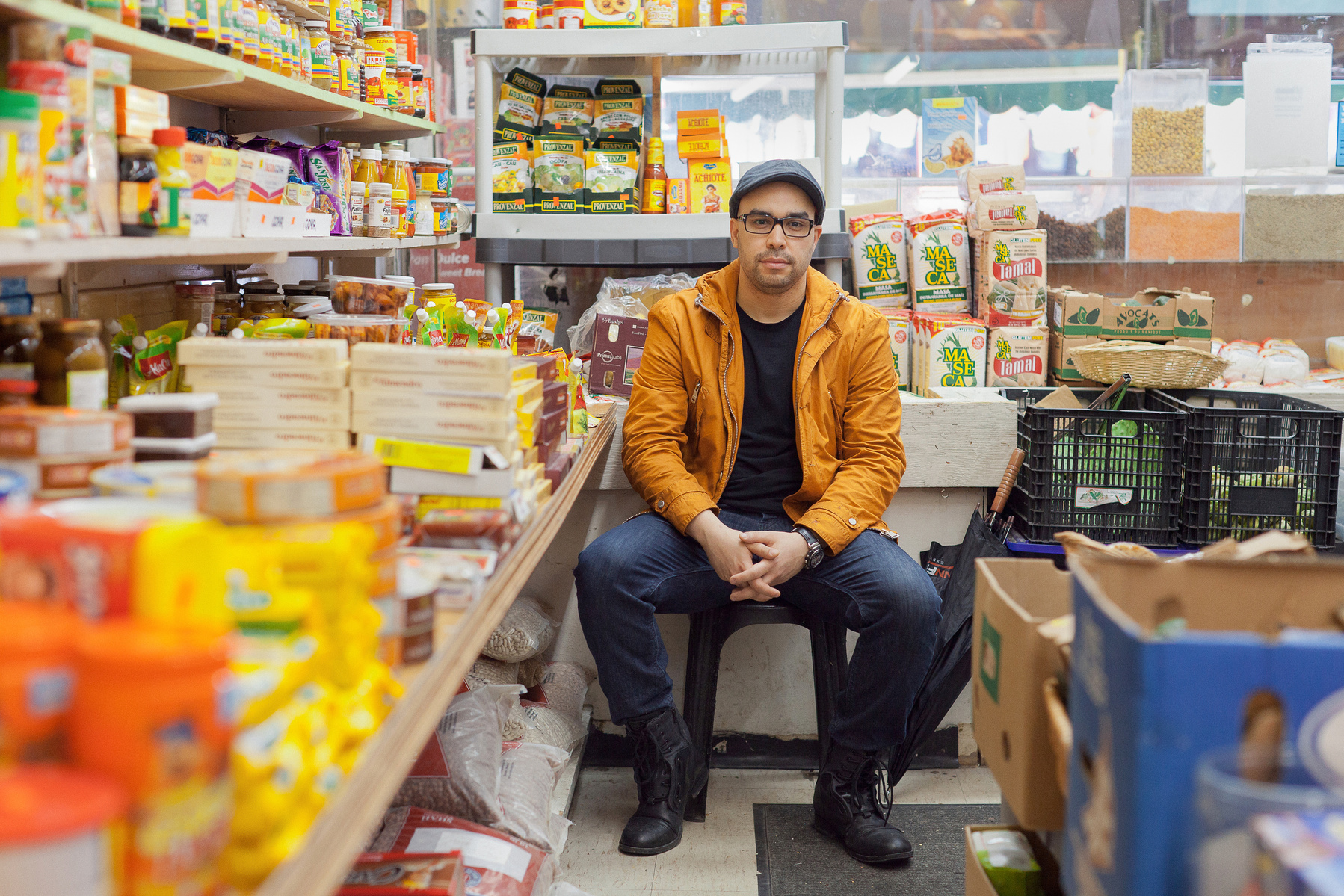 NICOLAS

Born in Ciudad de la Costa, Uruguay |
First image: I am completing my PhD in Political Science at the University of Toronto, and my dissertation focuses on the political economy of Argentina and Uruguay. Like many graduate students, I'm always at a café, and my favourite is Manic Coffee at Bathurst and College.
Second image: This photograph was taken at my baptism, shortly after my family's migration to Canada in the late 1980s. I love seeing the difference in how we looked then compared to how we look today.
LILIYA

Born in Tashkent, Uzbekistan |
First image: I chose to leave Uzbekistan because I no longer felt safe, and I wanted more opportunities in life. Downsview Park is a cute place that I always enjoy exploring with my boyfriend Tim. We look forward to bringing our new baby here.
Second image: My sister wore this tyubiteika for her wedding and handed it down to me. For Uzbeks this hat represents a small particle of the spirit, and it reminds me of my family.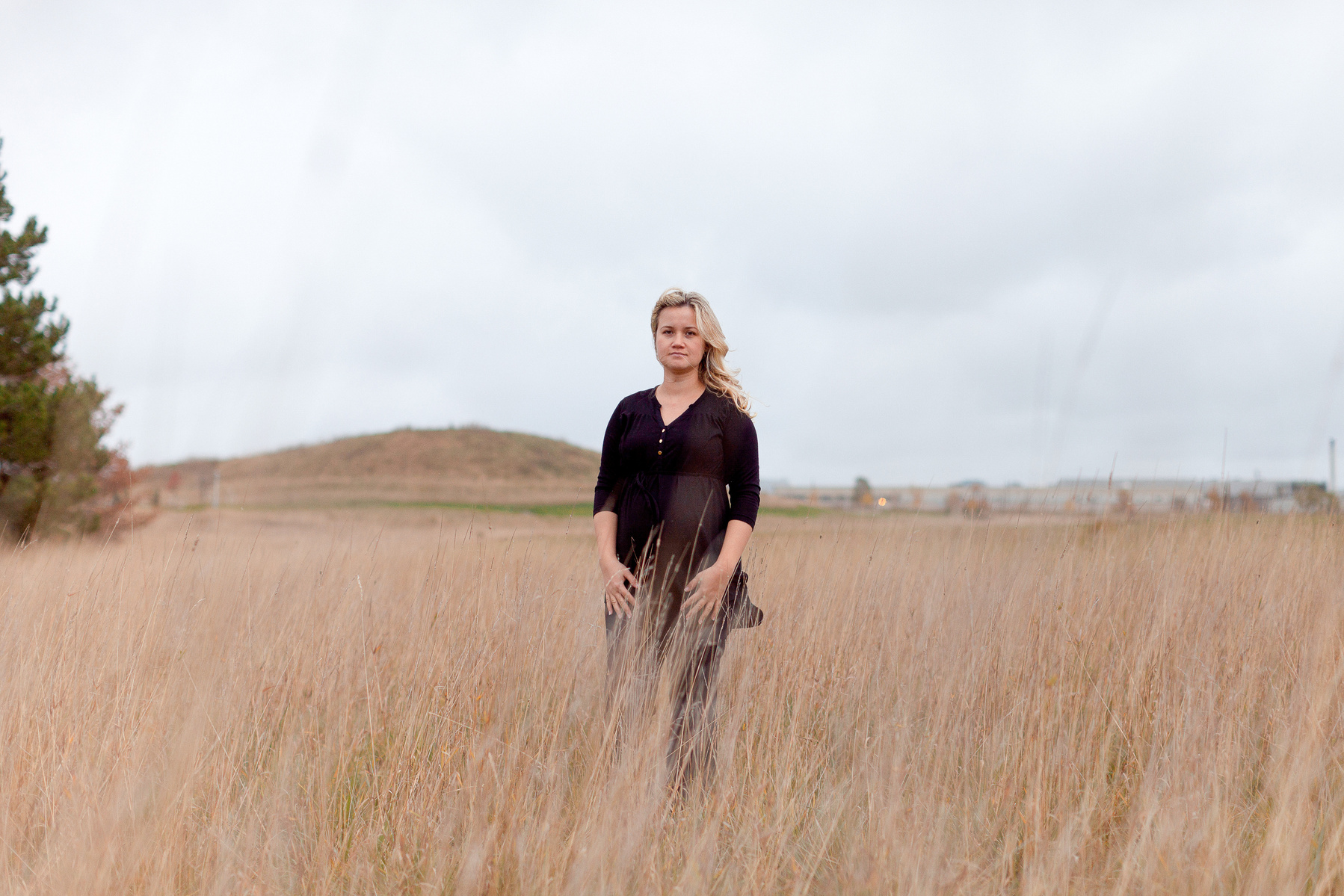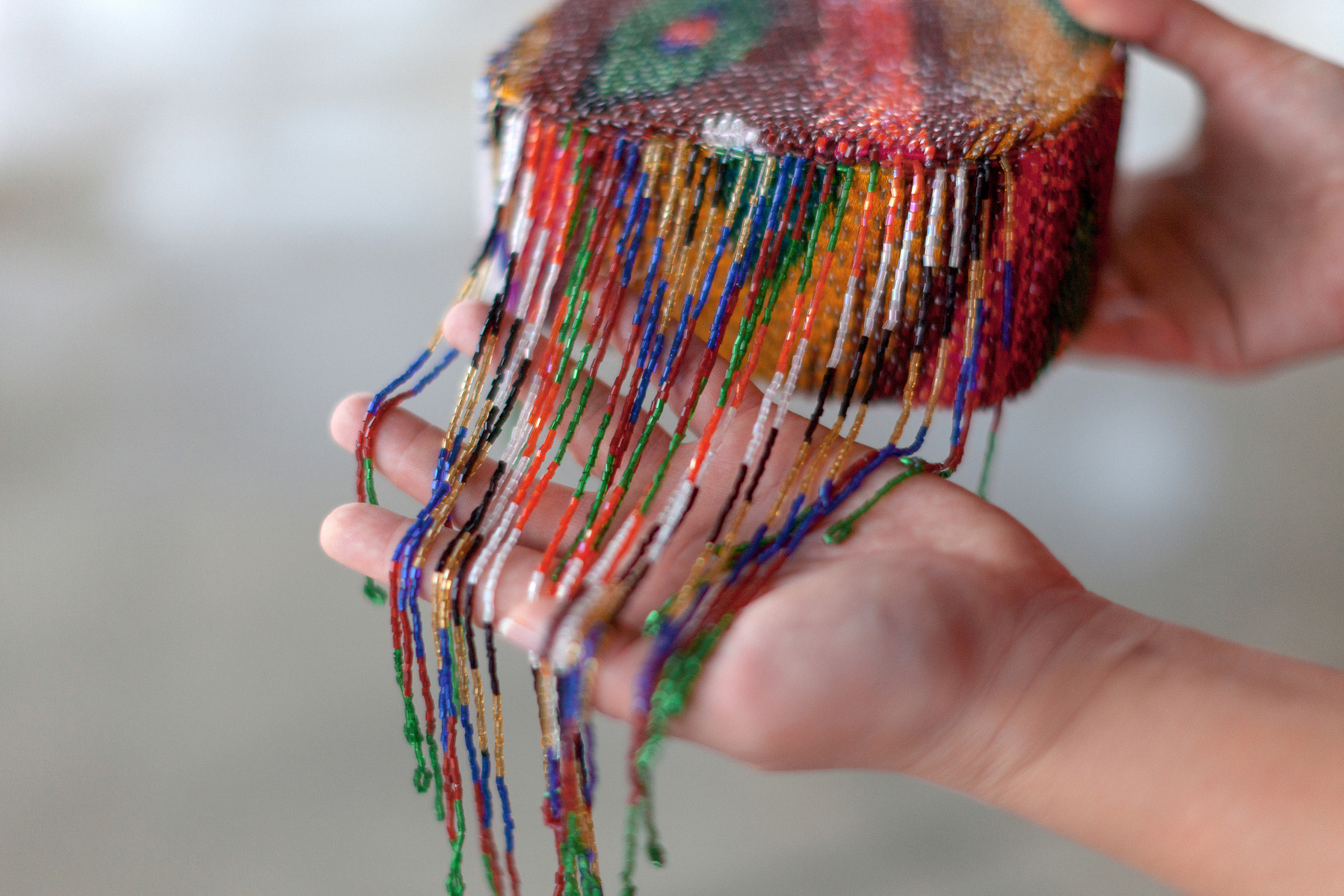 ANDREA

Born in Merida, Venezuela |
First image: Queen Street West is one of my favourite places to walk. Venezuelans are generally very outgoing, and this busy street is the perfect place to socialize.
Second image: This cross necklace was given to me by a dear friend a few days before I left Venezuela. After I spotted it in a mall and commented on it, he surprised me with the gift. This cross represents Catholicism, and it helps me remember to be stronger everyday, no matter what.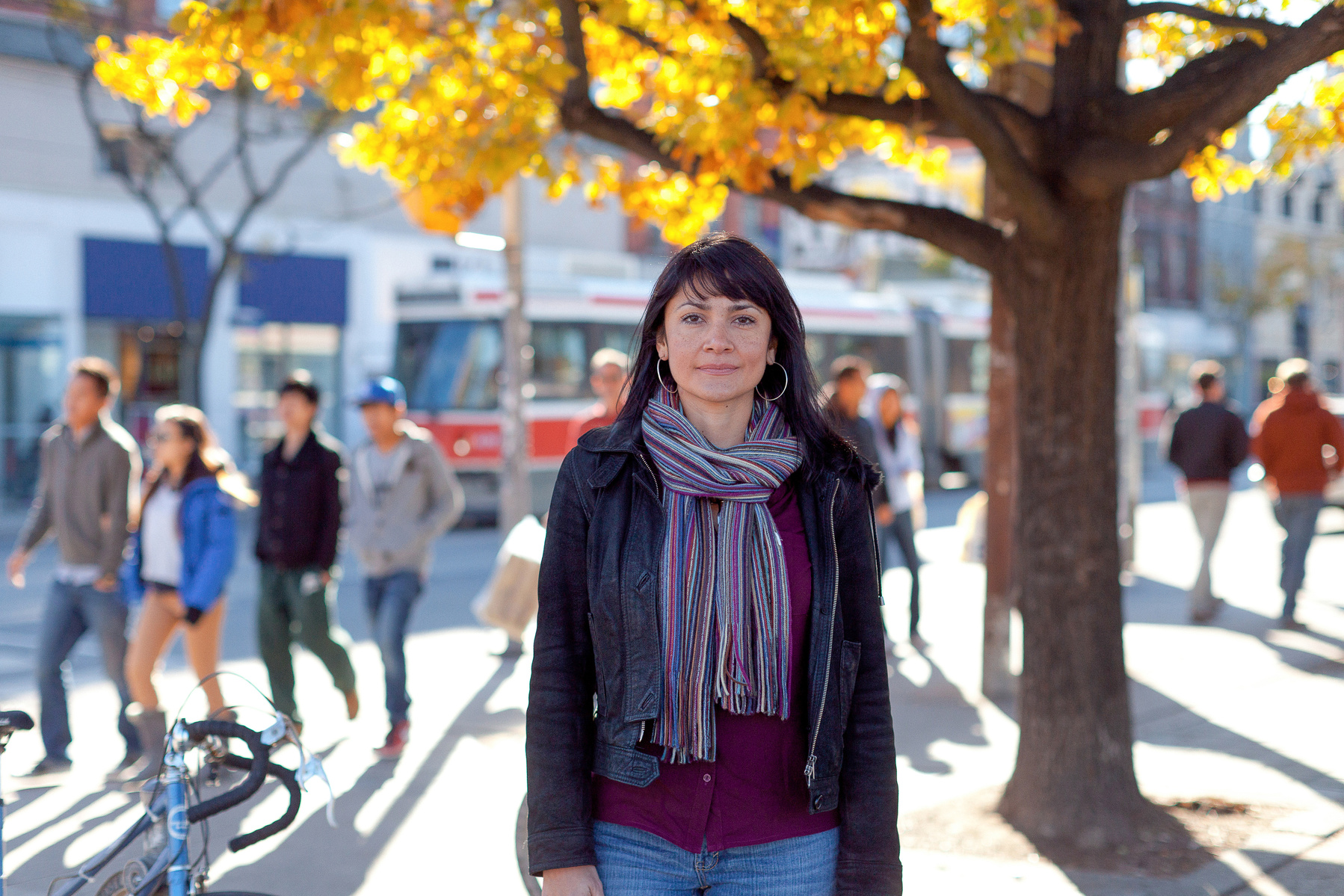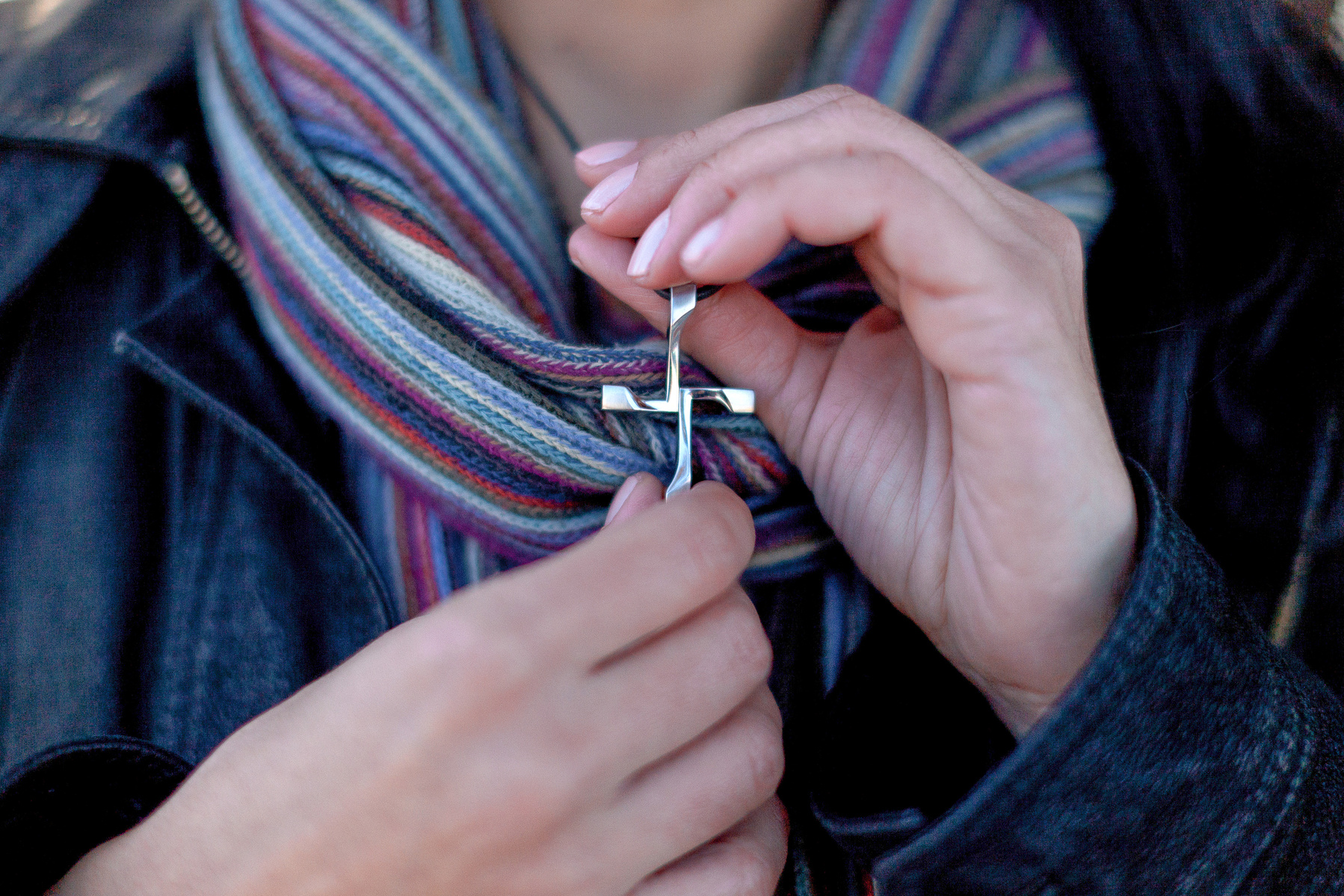 HELEN

Born in Hanoi, Vietnam |
First image: East Chinatown is where my family first lived when we arrived in Toronto. These streets were once my playground.
Second image: This photograph of me as a youngster, along with maternal family members, was taken in Hanoi just before we left. It was almost ten years before my mom was able to return to Vietnam to see her relatives, and after that the rest of the family came to Canada.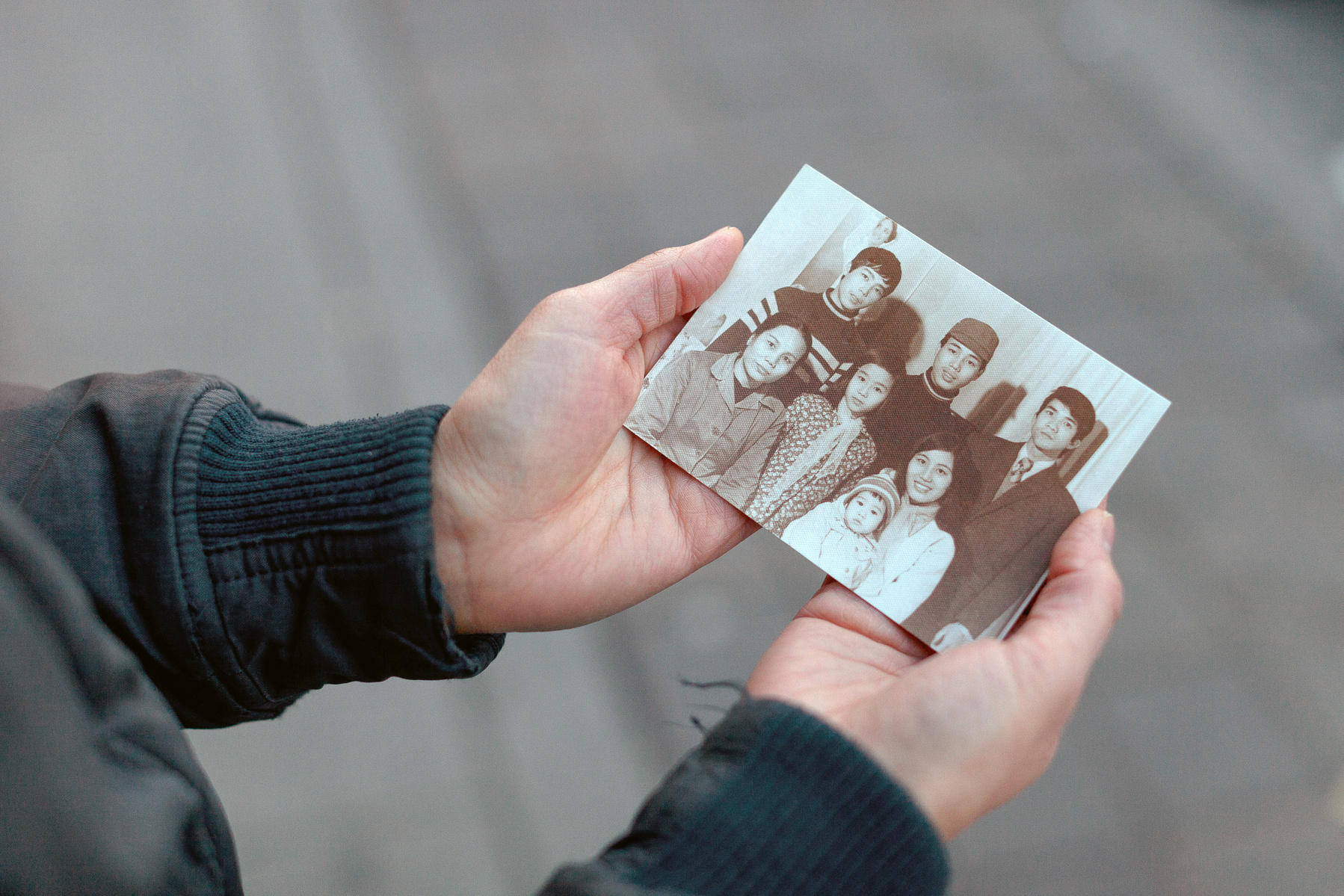 KAMAL

Born in Aden, Yemen |
First image: David Balfour Park is a place where I would often go with my late dog Chester, to sit and appreciate the tranquility and safety of the area. Coming from a country ravaged by war, I do not take my safety for granted. This park is where I decided to write "Intolerable: A Memoir of Extremes" (2012) an award-winning nonfiction about my life and the challenges of growing up in Yemen as a gay man.
Second image: I have had the same keychain since 1988, the year I left Yemen for good. My brother gave it to me and I keep it close at all times, as a reminder of the past.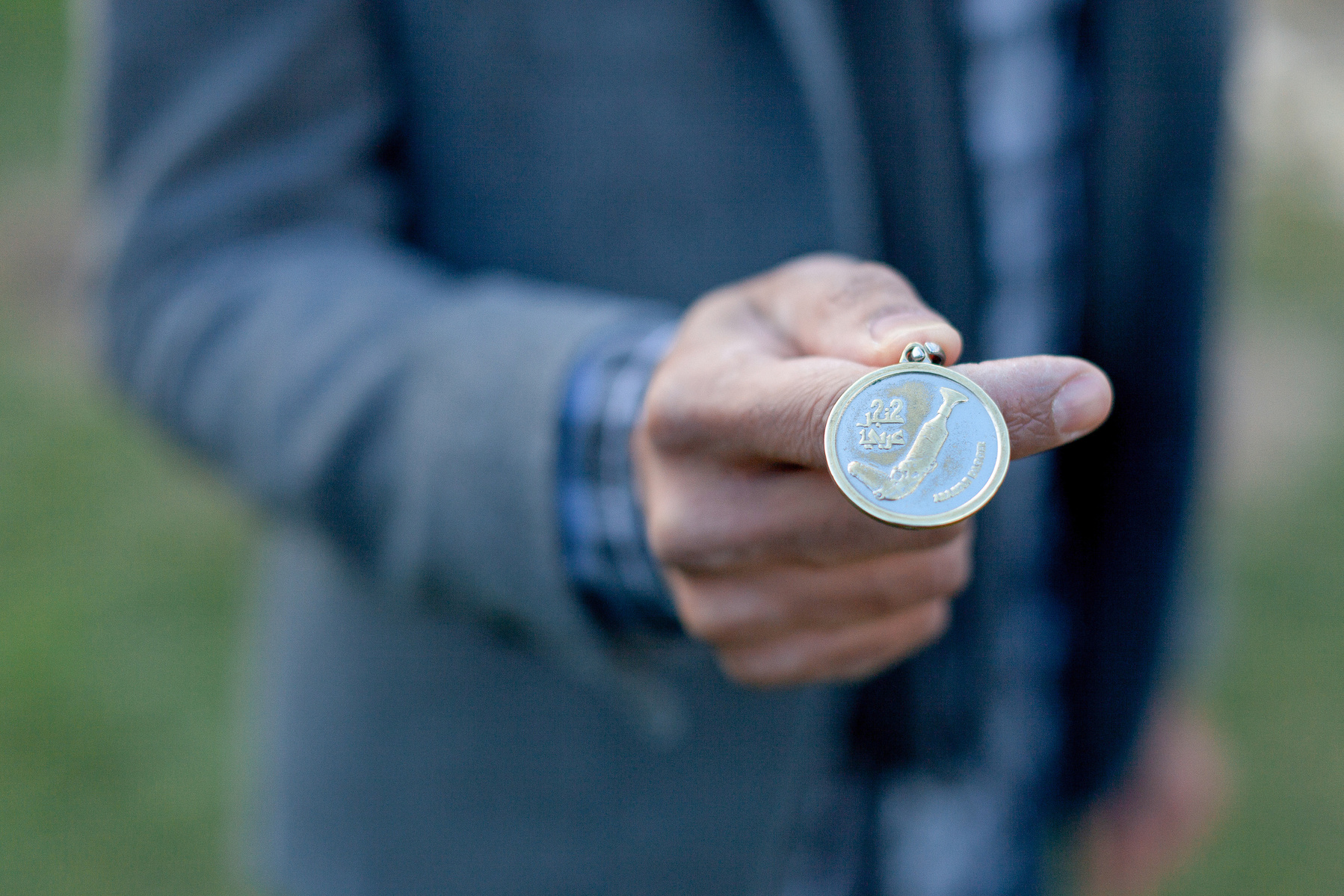 PETER

Born in Mansa, Zambia |
First image: First Canadian Place is where I work as a commercial banker for the Bank of Montreal. I believe that if you work hard pursuing your dreams anything is possible, no matter where you come from.
Second image: I helped start The Social Art Movement which aims to help struggling artists find ways to succeed in their chosen field. One of the artists there did this painting of my mother and hero, Rhoda Lesteris. My mother started the development organization Rural Action International and has helped many African women. I was taught by her that in the developing world, women are the glue that connects society.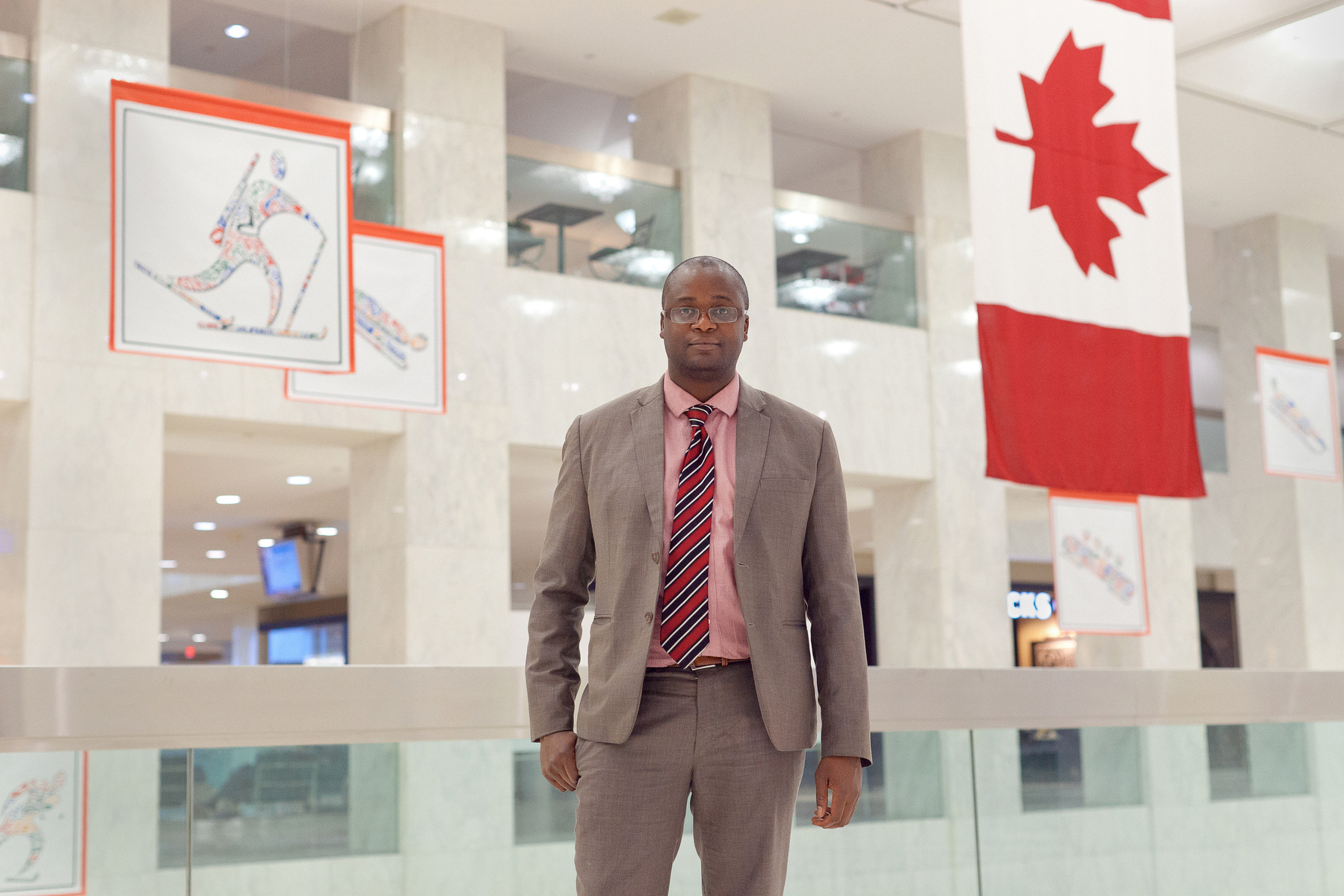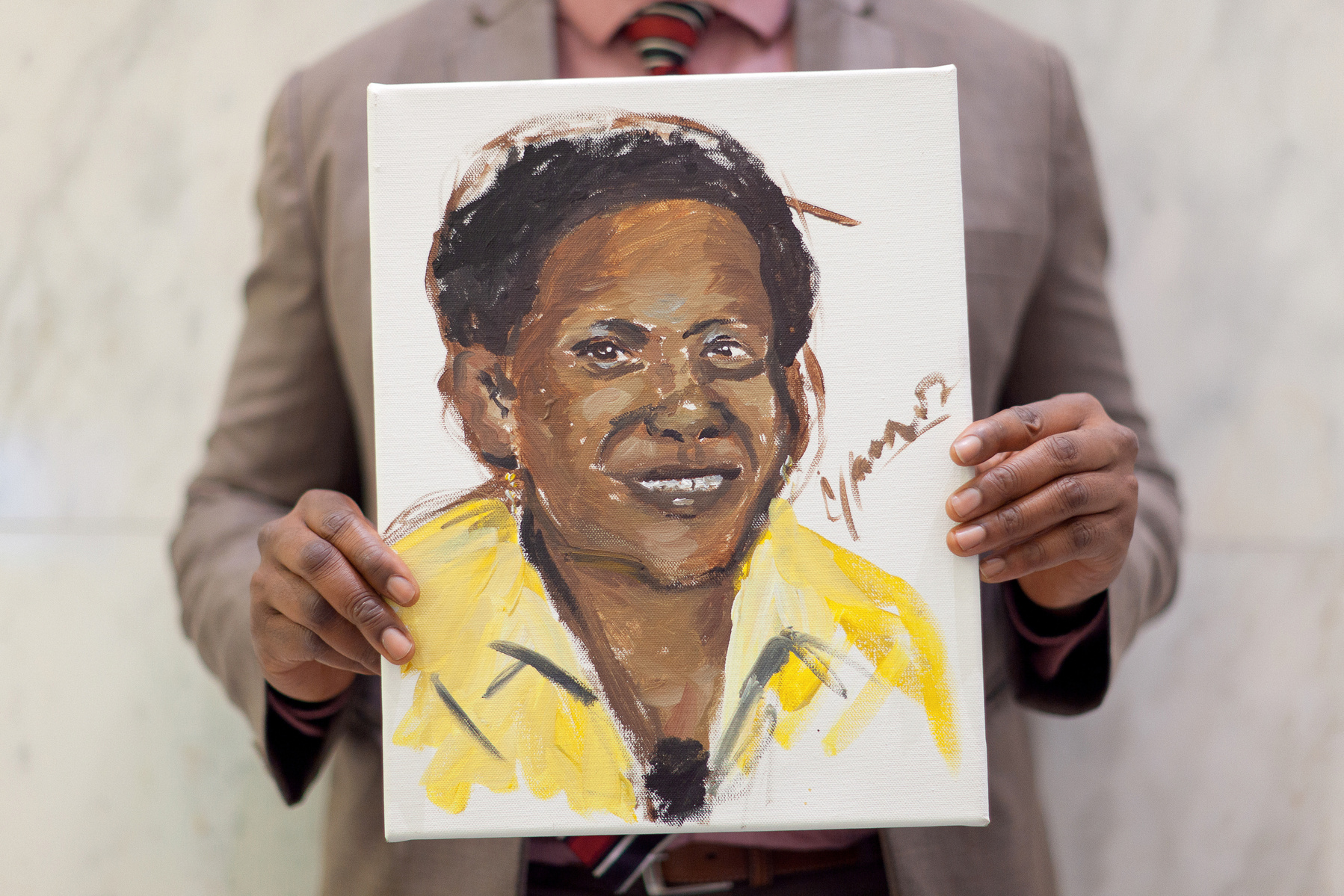 TJIDZANI

Born in Harare, Zimbabwe |
First image: This bench in a midtown Toronto parkette is where my husband Edgar and I made an important decision. It started with a walk and ended up with us sitting here and deciding to get married.
Second image: This totem walking stick, given to me by my uncle upon my arrival to Canada, reminds me of the strong culture of my country of birth and the importance of history and storytelling for future generations.